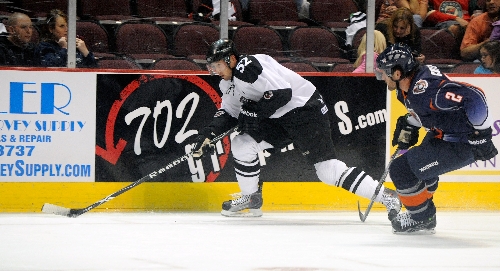 Most college roommates go their separate ways after leaving school, but Wranglers forwards Ryan Weston and Pete MacArthur are the exception.
After living together and playing together for four years (2004 to 2008) at Boston University, the close friends were reunited last season in San Antonio of the American Hockey League and are together again this season in Las Vegas.
"It's really kind of rare to be playing on the same team for that long," said Weston, 27. "I'm really lucky to have a best friend to move through my pro hockey career with. It's been fun."
MacArthur, 26, considers Weston a part of his family.
"Not too many people, besides my family and maybe one other kid, knows as much about me as he does," he said. "We complement each other well. We're kind of like brothers at this point. It's nice to have a familiar face wherever you go."
The pair of East Coast products — Weston hails from Henniker, N.H., and MacArthur is from Clifton Park, N.Y. — also complement each other on the ice, where they assisted on Eric Lampe's goal in Friday's 4-1 win over Ontario (Calif.) at Orleans Arena.
MacArthur had one assist in Saturday's 3-2 overtime win over Bakersfield.
"We're pretty familiar with each other on the ice, and we especially like to play on the penalty kill together," MacArthur said. "We know what the other guy's going to do, and we pride ourselves on working as hard as we can every time we hop over the boards."
Inseparable as friends, the 6-foot-2-inch, 205-pound Weston and the 5-10, 180-pound MacArthur possess disparate playing styles.
"I'm more of a crash-bang kind of guy. He's definitely a skilled, high-end, just a great player," Weston said. "He's very cerebral and smart. He's always kind of open and making the right pass."
Besides sharing the same apartment for the sixth year, "Westy" and "Artie" also share the same goal this season: to bounce back from an injury-plagued year in San Antonio.
MacArthur underwent major season-ending surgery on his shoulder after injuring it in a fight against a much bigger player in the Rampage's 21st game.
Weston suffered a series of injuries — his groin, shoulder and a concussion — and saw limited action in 43 games.
"It was a tough year, injurywise, both for me and Pete," Weston said. "Coming into this year, the focus is to be healthy and to play."
Weston and MacArthur are relishing getting regular playing time again.
"It's definitely been awhile since we've gotten this kind of ice time," Weston said. "It's refreshing. It's great. That's what we want."
While MacArthur is healthy and in great shape, his timing is still off.
"The game timing's the biggest thing. I haven't played many games in a long time," he said. "The more games I play, the better I'll get. But I feel pretty good so far."
MacArthur led Boston University in scoring his junior year and closed his decorated college career with 147 points in 159 games. He scored 42 points in 71 games for Rockford (AHL) in 2009-10 before getting hurt last year.
Once MacArthur gets his game back, Wranglers coach Ryan Mougenel said, he might not be long for Las Vegas.
"He's still a guy who should be on the (AHL) and NHL radar," Mougenel said. "He's just got to get healthy. A lot of teams are waiting to see (whether he is.)
"He's got an amazing shot. He's got great vision, and he skates extremely well. He's a high-end (AHL) player."
Weston spent his rookie year in Albany (AHL) and split time between the Wranglers and San Antonio in 2009-10. Mougenel said Weston always plays the game the right way.
"He gets pucks deep. He finishes his hits, and he's a little bit grittier (than MacArthur). He's in your face," Mougenel said. "It's a nice blend of a little bit of grit and a whole lot of skill. You can tell they come from a great program, too. Their work ethic's ridiculous, and they're both tremendous people in the dressing room."
Contact reporter Todd Dewey at tdewey@reviewjournal.com or 702-383-0354.
LAS VEGAS — 3
BAKERSFIELD — 2
KEY: Eric Lampe scored two goals, including the game winner on a power play with 42 seconds left in overtime, and the Wranglers' Mitch O'Keefe had 32 saves.
NEXT: Utah Grizzlies at Wranglers, 7:05 p.m. Tuesday, Orleans Arena