U.S. Open champ Stosur, playing before home fans, falls to Cirstea in Australian Open
January 17, 2012 - 2:03 am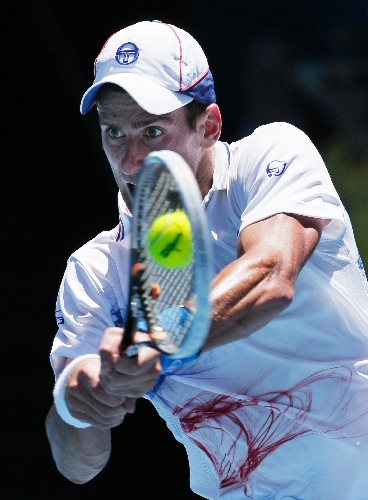 MELBOURNE, Australia — U.S. Open champion Sam Stosur crashed out in the first round of the Australian Open in straight sets earlier today in a crushing blow for local fans desperate to end a long drought at the national championship.
The sixth-seeded Stosur lost 7-6 (2), 6-3 to 59th-ranked Sorana Cirstea of Romania, continuing her terrible run on home soil since beating Serena Williams to capture her first Grand Slam title in New York last September.
Stosur has had one win in three tournaments on home soil in 2012.
She saved three match points while serving to stay in the match, but finally lost it when her looping forehand drifted over the baseline to hush the Rod Laver Arena crowd on the second day of the tournament.
No Australian has won the national title since Chris O'Neil in 1978.
Stosur's first-round loss mirrors that of Petra Kvitova, who went out in the first round of last year's U.S. Open after winning Wimbledon.
"I'm not sure if it's one of my biggest matches, but it feels like that now," said Cirstea, who had lost both her previous matches against Stosur.
"Probably the whole country hates me now."
Novak Djokovic won the men's U.S. Open, one of his three Grand Slam titles in 2011. Anyone who didn't know it only had to look at his shoes on Tuesday — if his emphatic first-round win wasn't evidence enough.
Djokovic started his Australian Open defense with a 6-2, 6-0, 6-0 win over Paolo Lorenzi of Italy, wearing a pair of red-white-and-blue shoes with images of his three major trophies on the sides and a Serbian flag on the heels.
He gave up an early break but immediately broke back at love as he won the next 17 games, saving a break point in the opening game of the second set.
"It was a great performance for (my) first official match of the 2012 season," said the top-ranked Djokovic, whose only loss at a Grand Slam tournament last year was in the French Open semifinals.
He changed his buildup for the Australian Open this year, deciding not to play any warmup tournaments. He was confident it wouldn't harm his chances.
"I'm nowadays a more complete player. I feel physically I'm stronger, I move better. I serve better," he said. "Especially having 2011 the way I had, this gives me more confidence."
The 24-year-old Serb has won two Australian titles — including his first major in 2008 — and his game is well suited to the pace of the hard court. But he struggled at times with the heat at Melbourne Park before his breakthrough season last year, and he didn't always look comfortable against Lorenzi as the temperature hit 90 degrees in the first set.
It didn't stop him from entertaining his fans, though. He played a shot between his legs, with his back to the net, to set up a break-point chance in the fourth game of the third set, which brought the crowd to its feet.
Fourth-seeded Andy Murray, a finalist the past two years in this tournament, overcame a slow start to beat American Ryan Harrison 4-6, 6-3, 6-4, 6-2 and advance to the second round.
On the women's side, top-ranked Caroline Wozniacki, second-ranked Kvitova and No. 4 Maria Sharapova advanced with lopsided wins.
Wozniacki whipped Australian Anastasia Rodionova, 6-2, 6-1.
Kvitova surrendered her opening service game with a double-fault, then won 12 consecutive games in a 6-2, 6-0 win over Russia's Vera Dushevina.
Kvitova reached the quarterfinals here last year at the start of a season in which she surged up the rankings.
Last week, she missed a chance to overtake Wozniacki's No. 1 ranking when she lost in the Sydney International semifinals. She needed to win the Sydney tournament to take the top ranking.
But she gets another chance at Melbourne Park, where she's one of six women who can finish No. 1.
Sharapova, a former Australian Open and Wimbledon champion, won the first eight games of a 6-0, 6-1 win over Gisela Dulko of Argentina in her first match since returning from an left ankle injury.
The 2008 champion needed just 58 minutes for the win, and the only game she lost was on her own serve. She then saved three break points in the last game before serving out the match.
"I've been here for 14 days getting used to the conditions," Sharapova said. "Back in the heat now, but it was like winter before. Different preparation, but sometimes it's just the way it goes."
Other women advancing included No. 14 Sabine Lisicki, No. 17 Dominika Cibulkova, No. 27 Maria Kirilenko, Canada's Aleksandra Wozniak, Shahar Peer of Israel and 2000 Wimbledon semifinalist Jelena Dokic.
Men's No. 5 seed David Ferrer advanced in straight sets, 6-1, 6-4, 6-2, over Rui Machado of Portugal. No. 17 Richard Gasquet, No. 23 Milos Raonic of Canada, No. 24 Kei Nishikori of Japan and No. 32 Alex Bogomolov Jr., now representing Russia, also advanced. Germany's Philipp Petzschner routed Czech Republic's Lukas Rosol 6-0, 6-0, 6-2 to advance.
Rafael Nadal, who lost his No. 1 ranking and six finals to Djokovic last year, wondered if he'd even be able to play his first-round match at the Australian Open on Monday after his right knee cracked and cramped and caused him "unbelievable pain" on the eve of the tournament.
After hours of medical tests and treatment, Nadal decided to play but was "scared" when he took the court against American qualifier Alex Kuznetsov. Judging by the scoreline, the outcome looked very matter of fact: Nadal won 6-4, 6-1, 6-1.
Third-seeded Roger Federer started his bid for a 17th major title with a 7-5, 6-2, 6-2 win over Alexander Kudryavtsev of Russia, showing no signs of a back problem which forced him out of a tournament earlier this month.