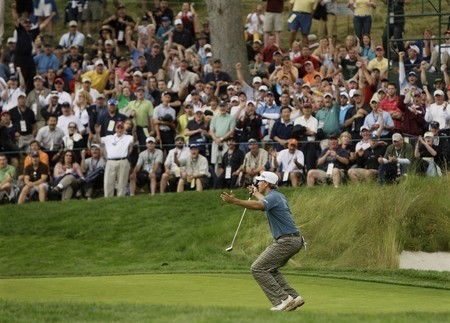 FARMINGDALE, N.Y. — Ricky Barnes flashed a smile as big as his six-shot lead.
He was double digits under par, only the fourth player in U.S. Open history to get that low. He had a six-shot lead over his closest rival, while the stars struggled to make up ground. Phil Mickelson was making as many bogeys as birdies. Tiger Woods fell 15 shots behind.
It all changed in a New York minute.
When darkness settled over Bethpage Black as the final round was still young, Barnes was tied for the lead with Lucas Glover. Both of them were at 7 under par, five shots clear of anyone else. Neither has ever faced the nerves of contending in a major.
What once appeared to be a two-man race suddenly had endless possibilities:
— Mickelson made two long birdie putts on his last three holes for a 69 in the third round, and after pars on the two holes he played in the final round, he was only five shots behind.
— David Duval, a former British Open champion without a victory in eight years, kept coming back from sluggish starts and found himself very much in the hunt at 2 under with 16 holes to play.
— Woods finished a frustrating day on the greens with an 8-foot birdie putt on the 489-yard seventh hole, putting him at even par in the tournament for the first time since the 14th hole of the opening round. He was seven shots behind with 11 to play.
Barnes, who finished the third round of this rain-delayed U.S. Open with a one-shot lead at 8-under 202, chopped his way to bogey on the opening hole of the final round to lose his lead. Then he hooked his tee shot into gnarly clumps of the grass along a hillside left of the fairway on No. 2.
When the horn sounded to stop play, he quickly marked his position and walked briskly off the course.
"It's going to be pressure-packed tomorrow," Glover said. "I'll sleep fine. If not, I guess I'll be tired."
Mickelson, determined to bring a fairy-tale finish to a U.S. Open career filled with disappointment, was on the third tee and had plenty of golf left. He has been the runner-up four times in the U.S. Open — three times in New York — and is desperate to bring a silver trophy of cheer home to a wife who is battling breast cancer.
"I'm one good round away," Mickelson said, excited at the possibilities.
Hunter Mahan and Ross Fisher of England were also at 2 under. Former Masters champion Mike Weir was at 1 under.
Woods at least left Bethpage Black in good spirits.
"It was nice to end the day with a birdie on one of the most difficult holes of the week," Woods said.
The USGA felt good enough about today's forecast to resume the final round at 9 a.m. EDT, leaving enough time for an 18-hole playoff if it comes to that.
It will be the first time a U.S. Open ended in regulation on Monday since Larry Nelson won at Oakmont in 1983.
And if the 21/2 hours of golf played in the final round were any indication, it could be as much about survival as a big charge. The third round ended with 11 players under par. When play was suspended, only seven remained.
Barnes looked as though he might blow this major wide open after rolling in a 25-foot eagle putt on No. 4 in the third round to reach 11 under, joining Gil Morgan (1992), Woods (2000) and Jim Furyk (2003) as the only players to reach double digits under par in a U.S. Open. When he reached the 10th tee, he was six shots clear of Glover.
What looked like a breeze turned into a struggle, however.
Barnes hit only three fairways on the back nine, and after steadying himself with a 35-foot birdie putt on the 17th, he failed to save par on the 18th by missing a 4-foot putt that never touched the hole. He wound up with a 70.
Glover rallied behind flawless golf that included three birdies and a 32 on the back nine, also shooting 70 to stay one behind.
"I knew it was going to be wet and tough, and I knew my nerves would be tested," Barnes said. "I wouldn't have liked to bogey the last hole and end it that way. But I've got to go back, take my shoes off and think, 'Hey, I shot even par on (Sunday) with the lead.' If I go out and do the same thing, someone is going to have to really come back low … to catch me."
The finish might be as unpredictable as the weather that has otherwise made a mess of this U.S. Open.
Mickelson could be the one player to make the misery of slogging through the mud over five days easy to forget. He already is a crowd favorite in New York, and the affection for him has become even more tangible since he disclosed that his wife, Amy, has breast cancer.
Lefty made his share of mistakes, as always, but he countered with seven birdies in the third round to give himself a chance. Not even a six-shot deficit bothered him.
"I feel like if I can get a hot round going, I can make up the difference," he said.
SUNDAY RECAP
OUT IN FRONT: Ricky Barnes and Lucas Glover were tied at 7 under and were on the second hole of the final round when play was suspended because of darkness. Phil Mickelson, Hunter Mahan and David Duval, who were all through two holes, and Ross Fisher, who was on the second hole, were all at 2 under.
TIGER'S SPOT: Tiger Woods made a birdie putt on the seventh hole after the horn sounded to suspend play, getting to 1 under for the fourth round and even par for the tournament, seven shots behind the co-leaders and tied for eighth.
NOTEWORTHY: When Ricky Barnes eagled the par-5 fourth to get to 11 under for the tournament, he joined Gil Morgan in 1992, Tiger Woods in 2000 and Jim Furyk in 2003 as the only players to reach double digits under par in a U.S. Open. Morgan and Woods both reached 12 under.
QUOTEWORTHY: "I frankly didn't think about it today really, that it was. It's just been so screwy, I barely remember it's Sunday." — David Duval, when asked how special it was to remain in contention on Father's Day.
KEY STAT: Of the previous 108 U.S. Opens, the 54-hole leader has gone on to win 48 times.
KEY PAIRING: Barnes and Glover will be on the second hole when play resumes at6 a.m. PDT.
TELEVISION: Today, 6 to8:30 a.m., ESPN (30); 8:30 a.m. until conclusion, NBC (3)