UConn's championship journey — from APR hell to hoops heaven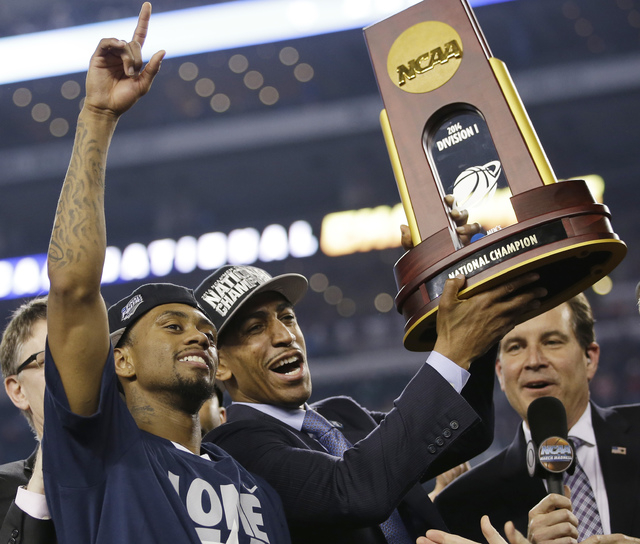 ARLINGTON, Texas
You don't always get rewarded for doing the right thing. Just like you don't always get punished for doing the wrong thing.
In the case of the Connecticut men's basketball team, that premise doesn't apply. The Huskies did get sent to their room after the program's Academic Progress Report dipped below the magic number of 930 and the NCAA wouldn't let UConn come out and play in March a year ago.
Monday, the Huskies took full advantage of the opportunity to redeem themselves, leaving APR hell behind and ascending to hoops heaven at the massive AT&T Stadium, where fundamentals are usually in short supply and underachieving is a staple of the primary tenant — the Dallas Cowboys.
You play defense. You make your free throws. You take the other guy's best shot. And in the end, you're the one left standing, climbing the ladder and cutting down the nets after holding off Kentucky, 60-54.
Two years ago, Jim Calhoun was playing out this same scene in Houston, cutting down his own set of nets and giving Connecticut its third national title. Then he left the program in academic disrepair to go play golf and had former player turned assistant Kevin Ollie stick around to clean up the mess.
Most programs don't survive. But Connecticut was different. When it hit the reboot button, it worked. Because even though Roscoe Smith took off for UNLV and one or two others said adios, the core of UConn's program stayed together. Shabazz Napier. Ryan Boatright. Niels Giffey. DeAndre Daniels. They all could have gone bye-bye like Roscoe Smith did. But they didn't quit on UConn or themselves. And as Bruce Springsteen sang in the rain Sunday night at Reunion Park in downtown Dallas, "Faith will be rewarded!"
They never flinched when the Wildcats made their numerous runs. UConn was scoreless over a six-minute stretch from late in the first half into the early second half. And there were a couple of mini-lulls mixed in. But Kentucky, with all its young, athletic talented players, couldn't wrest control of the game away from Napier and Boatright.
So Julius Randle can wait and see if he's this year's Anthony Bennett as the NBA's No. 1 pick. The Harrison twins can seek fame and fortune too. James Young probably bolstered his NBA resume as well, especially with that posterizing, in-traffic facial he threw down in the second half. And maybe we see John Calipari as the new coach of the Lakers. Rumors were hovering throughout AT&T Stadium like a pack of Texas buzzards that Cal was taking over for Mike D'Antoni with Lakers GM Mitch Kupchak in full-blown denial mode.
But Monday was about Connecticut. It was a perfect 10 (for 10) at the foul line. It was holding Kentucky under 40 percent shooting from the floor. It was surviving Daniels' 4-for-14 performance from the floor as Giffey had 10 points and five boards to help make up some of the difference. It was Boatright shaking off a badly sprained left ankle to stay in the game and maintain Connecticut's continuity.
And it had the best player on the floor. Napier, the Final Four's Most Outstanding Player, had 22 points, including four 3s, and held his team together when it would have been easy to fold. He did what the great ones do — he wouldn't let his team lose. Just like he wouldn't bail on his team in its darkest hour a year ago when there was no postseason for UConn.
Ah, redemption. Don't ya just love it?
Contact reporter Steve Carp at scarp@reviewjournal.com or 702-387-2913. Follow him on Twitter: @stevecarprj.