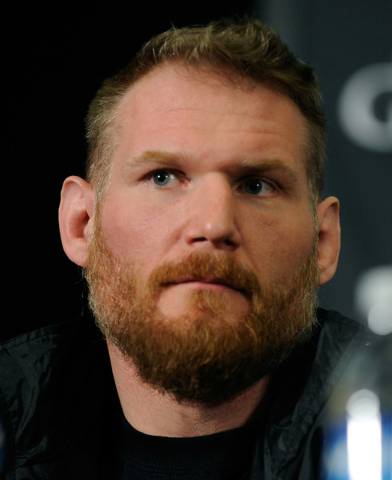 UFC 168 MATCHUPS
A breakdown of the fights on the main card of UFC 168 today at the MGM Grand Garden:
Chris Weidman (champion, 10-0) vs. Anderson Silva (33-5)
■ CLASS: For middleweight title
■ LINE: Silva -160
■ STORYLINE: Back in July, we called for an end to the Anderson Silva era and the prediction came true with a dramatic knockout victory for Weidman. Things could go very differently this time around. The way the first fight ended could give Weidman the confidence to stand with Silva, which would be a big mistake. Silva is still one of the greatest strikers in the history of the sport, even at age 38. Much has been made of Silva's antics in the first fight when he taunted and mocked Weidman before catching a punch on the chin that ended his night. That's just how Silva fights. He has gotten inside the head of opponents throughout his time in the UFC and actually did so to Weidman late in the first round. The punch got Weidman the belt, but it also may have reignited Silva's fire. Weidman has a shot at dominating the fight on the ground. He may not get it there enough, though.
■ PICK: Silva by third-round knockout
Ronda Rousey (champion, 7-0) vs. Miesha Tate (13-4)
■ CLASS: For women's bantamweight title
■ LINE: Rousey -750
■ STORYLINE: Rousey won the first meeting between these two in March 2012 by securing an armbar to force a first-round submission. It's the exact same way all seven of her professional fights have ended. New night, same result. Tate feels she has an advantage in the striking game and is confident she can defend takedowns and throws enough to keep the fight in her comfort zone. The problem is she doesn't really possess the type of power that can end the fight. Even if she can keep it standing for a while, perhaps the whole first round, it's likely Rousey eventually will get it to the ground. Tate is an accomplished ground fighter, just not on Rousey's level. She might be able to fight off the inevitable for a time, but Rousey will lock in an armbar at some point. The real question is whether she lets it go after Tate taps.
■ PICK: Rousey by second-round submission
Josh Barnett (33-6) vs. Travis Browne (15-1-1)
■ CLASS: Heavyweight
■ LINE: Barnett -200
■ STORYLINE: This is about as much of a clash of styles as you could have in the heavyweight division. Browne is a tall, athletic former basketball player with a dynamic striking attack. Barnett is a burly wrestler with a diverse and dominant ground game. The difference-maker in the fight could very well be Barnett's experience. He has been around the sport for a long time and knows all the tricks for dealing with a variety of attacks. Browne has recorded back-to-back first-round knockouts since the only loss of his career. He may, however, find it difficult to finish Barnett, who has only been knocked out twice in his career but not since 2006. Barnett will find a way to work this fight to the ground and, once there, he may very well overwhelm Browne.
■ PICK: Barnett by second-round submission
Jim Miller (22-4, 1 NC) vs. Fabricio Camoes (14-7-1)
■ CLASS: Lightweight
■ LINE: Miller -380
■ STORYLINE: This is a working man's fight. Neither fighter has a very refined stand-up game, so this could turn into a grappling match. Camoes is probably more refined in his jiujitsu game. Miller is the ultimate grinder, though. He's more of a power submission guy and is very strong in transitions. Miller has hit a bit of a talent ceiling in his last few fights, losing to Nate Diaz and Benson Henderson as part of a 2-2 run that includes a no-contest against Pat Healy that was originally a loss. When he's not physically overwhelmed, Miller usually finds a way to win. He may not be able to catch Camoes, who hasn't fought since July 2012, in a submission, but Miller will control position enough to earn the favor of the judges. From a betting perspective, Camoes is probably worth a shot at this price to pull off some kind of submission himself. Picking straight up, however, Miller is the deserved favorite.
■ PICK: Miller by decision
Dustin Poirier (14-3) vs. Diego Brandao (18-8)
■ CLASS: Featherweight
■ LINE: Poirier -210
■ STORYLINE: Brandao didn't even come close to making weight on Friday, coming in at a whopping 7 pounds over the limit of 146 pounds. He only made it down to 151.5 after a one-hour allowance and was fined 25 percent of his purse by the Nevada Athletic Commission. That is often a sign of injury, though little has surfaced in regards to the Greg Jackson-trained fighter. The tough weight cut certainly won't help Brandao's cardio, which has been a major concern. He is explosive and ultra-aggressive and could easily find difficulty if he is unable to finish Poirier early. For his part, Poirier has also been known to come out of the gate with early fireworks. He has shown more of an ability to maintain that pace, however. Either guy can finish in a multitude of ways, making this fight a distinct possibility for fight-of-the night. Expect Poirier to take control late after a flashy, back-and-forth first round.
■ PICK: Poirier by decision
ADAM HILL/LAS VEGAS REVIEW-JOURNAL