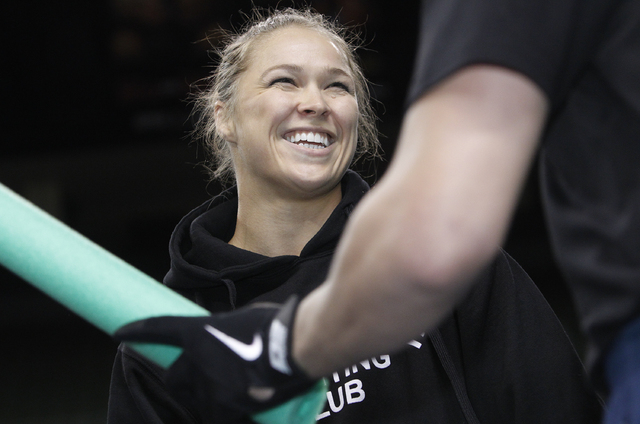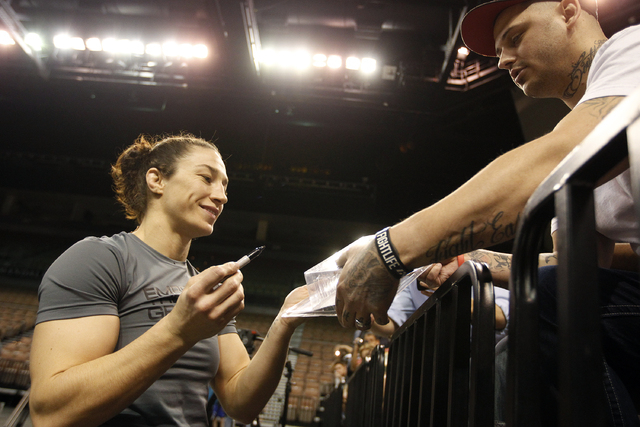 A breakdown of the fights on the main card of UFC 170 today at Mandalay Bay:
Ronda Rousey (champion, 8-0) vs. Sara McMann (7-0)
■ CLASS: For women's bantamweight title
■ LINE: Rousey -450
■ STORYLINE: Ever since the Ultimate Fighting Championship announced a women's division in late 2012, there has been a groundswell of opinion that McMann was the biggest threat to Rousey's dominance. Rousey has had her way tossing opponents all over the cage and keeping them in her comfort zone. She shouldn't have that kind of complete physical dominance against a fellow Olympic medalist such as McMann. If her judo is neutralized at all by McMann's wrestling, this at least for some time could turn into a stand-up battle. Rousey claims her stand-up is the best of anyone in women's mixed martial arts. Her confidence should be applauded, even though there is little proof inside a cage. This could be her chance to showcase those skills. McMann will give Rousey all kinds of trouble and perhaps start to wipe away some of the aura of invincibility around the champion. McMann could even win. The problem is she may not have a path to finishing the fight even if she can take Rousey down a couple of times. Eventually, Rousey does what Rousey does.
■ PICK: Rousey by fourth-round submission
Daniel Cormier (13-0) vs. Patrick Cummins (4-0)
■ CLASS: Light heavyweight
■ LINE: Cormier -1400
■ STORYLINE: Cormier is fighting at lightweight for the first time after being a top contender in the heavyweight division. If he can maintain his strength at the lower weight, he could be dangerous at 205 pounds. His first bout doesn't look like much of a challenge on the surface. In fact, a Cummins victory would be one of the biggest upsets in UFC history. While the angle of Cummins working at a coffee shop and taking the fight on 10 days notice has made him a lovable "Rocky"-like figure, that storyline has buried the fact that he is a legitimate talent who could make a lot of noise in the division at some point. He's a big, strong, athletic guy who trains in gymnastics to improve his strength and flexibility. Cummins worked hard enough to go from walk-on wrestler at Penn State to All-American. His time will have to wait, though. Cormier is too good and too focused. Plus, he stirred up Cormier's emotions with comments he made trying to hype the fight. Cormier dominated Cummins in a 2007 wrestling match. It should happen again.
■ PICK: Cormier by second-round knockout
Rory MacDonald (15-2) vs. Demian Maia (18-5)
■ CLASS: Welterweight
■ LINE: MacDonald -260
■ STORYLINE: MacDonald has spent the past few years ordained as the future champion at 170 pounds. The only thing standing in his way was that his friend and training partner, Georges St. Pierre, was the champion and they maintained they would not fight each other. Then came November. First, MacDonald dropped a split decision to Robbie Lawler. Then, St. Pierre won a split decision and announced a sabbatical from the sport, vacating the title. Lawler will fight Johny Hendricks for the belt next month. MacDonald knows he let a golden opportunity slip away and that he would be fighting for the title had he defeated Lawler. Expect a refocused MacDonald tonight. He remains one of the most talented, well-rounded fighters in the division. Maia is as good as it gets on the ground, but MacDonald has too many tools.
■ PICK: MacDonald by decision
Mike Pyle (25-9-1) vs. TJ Waldburger (16-8)
■ CLASS: Welterweight
■ LINE: Pyle -180
■ STORYLINE: The late-career surge of Pyle, a 38-year-old Las Vegan, came to a screeching halt when his four-fight winning streak was snapped in a 29-second knockout loss to Matt Brown in August. Pyle hopes to prove it was a temporary setback. Waldburger is a submission guy, and Pyle has been around for too long to get caught playing the ground game. Expect him to go headhunting against Waldburger, who has been knocked out six times.
■ PICK: Pyle by second-round knockout
Robert Whittaker (12-3) vs. Stephen Thompson (8-1)
■ CLASS: Welterweight
■ LINE: Thompson -130
■ STORYLINE: Whittaker burst onto the scene as the winner of "The Ultimate Fighter" that pitted Australian fighters against a team from the United Kingdom. The Australian fighter won his first two fights in the UFC before dropping a split decision against Court McGee in August. He started out in karate and still largely utilizes the principles of the discipline in his style. That could be trouble. Thompson was an undefeated kick boxer before transitioning to MMA. His all-around game is rapidly developing, but it's when Thompson has some distance in the striking game that he still shines. The way to beat Thompson is to crowd him against the fence, pressure him and take him down. If Whittaker tries to implement that plan, he's a live underdog. It's more likely he tries to test himself and comes up short.
■ PICK: Thompson by decision
ADAM HILL/LAS VEGAS REVIEW-JOURNAL