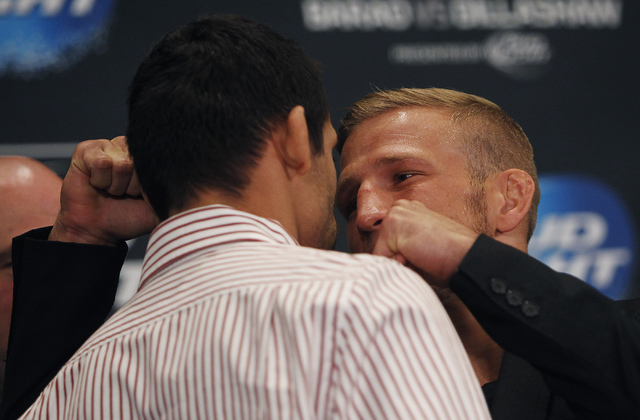 UFC 173 MATCHUPS
A breakdown of fights on the main card of UFC 173 today at the MGM Grand Garden:
Renan Barao (34-1, 1 no contest) vs. T.J. Dillashaw (10-2)
■ CLASS: For bantamweight title
■ LINE: Barao minus-800
■ STORYLINE: All of a sudden, Barao is finally getting the credit he deserves as an impressive champion who has not lost since his mixed martial arts debut in 2005. He has finished his opponent in all three of his Ultimate Fighting Championship title fights and has rarely faced adversity in the organization. In short, Barao is as dominant as it gets in the UFC. Dillashaw just isn't ready. He's a strong wrestler who has adapted his game well into MMA but hasn't been on the big stage. While he's well rounded and comes from the respected Team Alpha Male camp in Sacramento, Calif., Dillashaw has yet to show any type of dominant skill that could cause Barao trouble. This is mostly a showcase fight for the champion.
■ PICK: Barao by second-round knockout
Daniel Cormier (14-0) vs. Dan Henderson (30-11)
■ CLASS: Light heavyweight
■ LINE: Cormier minus-850
■ STORYLINE: Even though this is a matchup of two Olympic wrestlers, don't expect to see much work on the mat. Henderson has evolved into much more of a striker who uses his wrestling to keep the fight standing in search of landing his powerful right hand that tends to end fights quickly. Cormier incorporates his wrestling much more into his attack, but he might find it difficult to take down someone with Henderson's credentials. That doesn't mean Cormier will stand and trade with Henderson, though. That would be foolish. Expect Cormier to try to keep Henderson pressed up against the cage as much as possible to use short punches and elbows, limiting Henderson's ability to find space to land the right hand. Wrestling purists hoping to see what wins out between Cormier's freestyle and Henderson's Greco Roman style are likely to be disappointed.
■ PICK: Cormier by decision
Robbie Lawler (22-10, 1 NC) vs. Jake Ellenberger (29-7)
■ CLASS: Welterweight
■ LINE: Lawler minus-220
■ STORYLINE: This could be the early favorite for fight of the night. Both fighters tend to look for the knockout early and often. Lawler tends to be more of a one-punch finisher, and Ellenberger attacks with a swarm of strikes. Lawler is looking to bounce back from a disappointing title loss to Johny Hendricks two months ago. He asked for a quick fight in hopes of moving on from the loss. He did significant damage to Hendricks, but never finished him off and couldn't earn the judges' favor. Ellenberger hasn't competed since a somewhat disappointing performance in a unanimous decision loss to Rory MacDonald in July. Lawler is incredibly durable, and his chin should help him endure the early onslaught should Ellenberger come out swinging for the fences.
■ PICK: Lawler by second-round knockout
Takeya Mizugaki (19-7-2) vs. Francisco Rivera (10-2, 1 NC)
■ CLASS: Bantamweight
■ LINE: Mizugaki minus-165
■ STORYLINE: This fight has the potential to determine the next challenger for the winner of tonight's Barao-Dillashaw main event. Rivera has steamrolled anyone who has dared step into the cage with him recently, knocking out five of his past six opponents. One of those wins was overturned because of a positive drug test, but his power is unquestioned. Mizugaki is the definition of a grinder. All four fights during his current winning streak have gone to the judges, with two coming by split decision. He will look to clinch and hold Rivera in an effort to neutralize the power. He's good enough and smart enough at implementing his game plan to make the strategy work for much of the fight. At some point, Rivera will find a way to get free, though. Mizugaki has been knocked out only once in his career, so Rivera's task won't be easy. No recent fighters have shown the ability to survive Rivera's power, however, so the underdog is worth a shot here.
■ PICK: Rivera by third-round knockout
Jamie Varner (21-9-1, 2 NC) vs. James Krause (20-5)
■ CLASS: Lightweight
■ LINE: Varner minus-185
■ STORYLINE: Varner has spent much of the week lamenting all the short-notice bouts he has taken at less than full strength. He said those days are behind him. Varner is 2-3 in his return to the UFC, and each of the fights has been crowd pleasing. Now he wants to focus on making a run in the division. Varner says with a full camp and full health, he will finally start showing tonight that he can be a contender and not just an attraction for his style. If part of Varner's plan is to start playing it safer in an attempt to chase wins instead of attention, it would be logical for him to return to taking opponents down as he did so successfully early in his career. That could pose a problem against Krause, who is good on the ground. Krause had won eight fights in a row before suffering an early knockout against Bobby Green in November. The submission game is Krause's most likely path to victory. If Varner can use his wrestling as a defensive tool to keep the fight standing, he should be at an advantage.
■ PICK: Varner by decision
ADAM HILL/LAS VEGAS REVIEW-JOURNAL