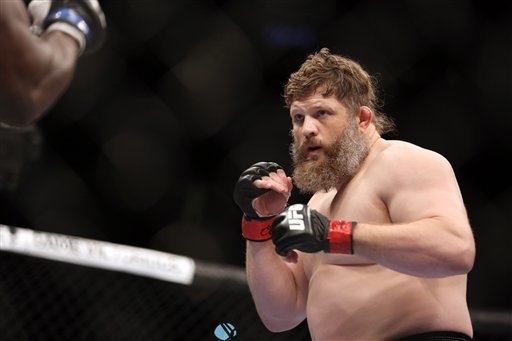 Very little about Roy Nelson's professional mixed martial arts career has given any indication of a desire to get into politics.
Nelson always speaks openly and honestly, with the sense of humor that would get him run right off Capitol Hill.
So it may come as a bit of a surprise that the UFC heavyweight has thrown his hat in the ring, so to speak, as a candidate for the vacant job as executive director of the Nevada Athletic Commission.
Nelson spoke with website Bloodyelbow.com about his desire to take over from Keith Kizer, who resigned earlier this month. A representative for the fighter confirmed with the Review-Journal that Nelson has filed an application for the job.
Nelson, a 37-year-old graduate of Cimarron-Memorial High School, wants to help more money flow into his home state's coffers.
"My wife and I were talking about having something besides fighting to fall back on, and I think I would be able to do some good. This is my hometown, it's where I was born and raised, so I feel it's a way for me to help further the sport," he told the website. "With me, I can draw more people back to Vegas to help the budget. That's a big part of it. Of course I want to help get the sport cleaned up, but helping Nevada financially and bringing more revenue in is one of the primary goals I have."
He knows there is more to the job. Nelson feels his vast experience at all levels of MMA have given him a good sense of what is important to fighters
The rest of his goals "involve making sure we have better officiating and better fighter safety. I haven't told (UFC officials) of my intent, but I don't think they'll mind my intentions here. I think they'd probably be happy that I'm just trying to make the sport better. It would be the building of a relationship that would help the UFC, MMA and all of combat sports in Nevada."
Nelson didn't have to tell UFC president Dana White, with whom Nelson has had quite an adversarial relationship throughout his stint in the organization. White was informed of Nelson's decisions by reporters at a media lunch in Los Angeles on Monday.
According to MMAFighting.com, White's reaction was not exactly supportive.
"What a (expletive) moron," was White's appraisal of the situation. "Let me tell you what, if he puts in an application at (expletive) Kinko's, he isn't getting that job. Let alone the Nevada State Athletic Commission."
Late Monday, Nelson attached a Kinko's logo to his Facebook page.
Kizer's resignation was effective Monday. Applications for his replacement are still being accepted through early April.
■ WEIDMAN WORKING OVERTIME — UFC middleweight champion Chris Weidman doesn't even have a date for his next title defense against Vitor Belfort, but that didn't stop him from spending an entire day in promotional mode Monday.
Weidman spent more than 2½ hours making the rounds at radio row appearing on stations across the country.
"There is a lot of things to do, but that's what I asked for," he said. "I wanted to be champion, and media and popularity comes along with that. It's just part of the job, and you've got to have a positive attitude about it."
Weidman said he had been in Atlantic City and Chicago doing press over the weekend and planned to fly to Ottawa today. He returns to his hometown of New York tonight to continue doing appearances leading up to the Super Bowl.
That's the life of a champion, which Weidman officially is now that he owns two wins over longtime champ Anderson Silva.
Even before defeating him for the first time, Weidman knew he would have to do it twice to solidify his reign.
Now he has done that.
"After fighting him twice, I know I'm the better fighter," Weidman said. "It feels good to be champion and I'm excited to move on from the Anderson Silva era and fight Vitor Belfort."
Weidman will likely fight Belfort in Las Vegas on either the Memorial Day or Fourth of July weekend card.
■ CALL FOR END TO TRT EXEMPTIONS — White is thrilled by the Association of Ringside Physicians' call for the elimination of testosterone replacement therapy in MMA.
Yet White still believes the UFC can't be solely in charge of eliminating steroid users from its bouts, saying government athletic commissions should close the TRT loophole.
White tells The Associated Press he agrees with the ARP's statement Monday supporting the elimination of therapeutic use exemptions for testosterone in boxing and MMA.
Several UFC fighters have been granted exemptions in recent years to use testosterone before their bouts, ostensibly for medical reasons.
White said he hopes the NAC won't grant an exemption to Belfort for his fight against Weidman, and Weidman agrees.
"I think TRT in general, no matter who you are in a combat sport, should not be allowed," Weidman said. "I never would do TRT."
The Associated Press contributed to this story. Contact reporter Adam Hill at ahill@reviewjournal.com or 702-224-5509. Follow him on Twitter: @adamhilllvrj.