Underdog wrestler nabs Olympic berth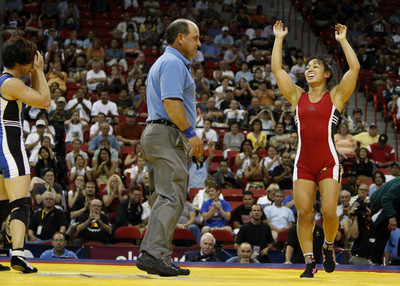 If Clarissa Chun didn't surprise herself Friday, she certainly shocked plenty of others.
Chun, the No. 4 seed, stunned top-seeded and former Olympic bronze medalist Patricia Miranda to win the women's 105-pound (48-kilogram) division at the U.S. Olympic Wrestling Team Trials at the Thomas & Mack Center.
Chun won three matches Friday just to get into the best-of-3 final against Miranda, whom she lost to in the 2004 Olympic trials.
She swept the final series to secure a berth in the 2008 Olympics in Beijing.
"I'm not (surprised)," Chun said. "I knew I could do it. I'm so excited. I did it."
Chun came from behind in the third period, scoring a late takedown, to win the first match against Miranda, a seven-time national champion.
In the second match, Chun won the first period and then used a takedown with 15 seconds left to clinch the trip to the Olympics. Her coach carried her off the mat.
"My coach told me to just be stubborn on the mat," Chun said. "If I was down by one, down by two, I just had to find a way to get it done."
Marcie Van Dusen will represent the U.S. in the women's 121-pound (55-kg) division. The top seed swept third-seeded Sally Roberts, winning two third-period decisions.
Also clinching Olympic wrestling berths were Randi Miller in the women's 138-pound (63-kg) division, Ali Bernard in women's 158-pound (72-kg) and 21-year-old Spenser Mango in 121-pound (55-kg) men's Greco-Roman.
In the judo trials also being contested at the Thomas & Mack, 21-year-old Ronda Rousey secured her second trip to the Olympics. She swept the women's 154-pound (70-kg) division, winning three matches in a combined 2:50.
Men's qualifiers in judo were Taylor Takata at 145 pounds (66 kg), three-time Olympian Brian Olson at 198 pounds (90 kg), Adler Volmar at 220 pounds (100 kg) and Daniel McCormick at over-220 pounds (over-100 kg).
Las Vegas resident James Brewster Thompson lost in the quarterfinals of the men's over-220-pound (over-100-kg) judo class, ending his dream of qualifying for the Olympics.
Thompson, a 54-year-old who first competed on the national level in 1975, was penalized twice for stalling in his quarterfinal match against third-seeded Kirk Hoffmann. The penalty points were the only scoring in the match.
"I tried to pull him off balance, but he was heavy to move," Thompson said.
Judo action concludes today. Wrestling competition continues today and concludes Sunday.
U.S. OLYMPICTEAM TRIALS WHAT: U.S. Olympic Team Trials for men's and women's wrestling, judo; winners compete in Beijing Olympics WHEN: Today and Sunday, 10 a.m.-2 p.m.,5-7:30 p.m. daily WHERE: Thomas & Mack Center TODAY'S CHAMPIONSHIPS Greco-Roman wrestling: 144.5 pounds (66 kilograms), 163 (74kg), 185 (84kg) Men's freestyle wrestling: 121 (55kg), 163 (74kg), 185 (84kg) Women's judo: 105 (48kg), 125 (57kg), 172 (78kg), Over 172 (+78kg) Men's Judo: 132 (60kg), 161 (73kg), 178 (81kg) SUNDAY'S CHAMPIONSHIPS Greco-Roman wrestling: 211.5 pounds (96 kilos), 264.5 (120kg) Men's freestyle wrestling: 163 (74kg), 185 (84kg), 211.5 (96kg), 264.5 (120kg)