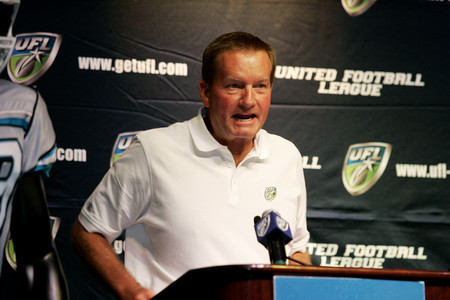 Everything about the United Football League is a gamble, and it's fair to say the league's long-term survival is a long shot. But Michael Huyghue is a gambling man.
Huyghue, the UFL's commissioner, took a risk Monday by announcing the Las Vegas franchise's nickname will be the Locomotives — or "Locos" as the team inevitably will be called.
Huyghue also said the new league will take a stance opposite the NFL by acknowledging that wagering is essential to its success. If Las Vegas sports books want to post lines on UFL games, Huyghue is all for it.
"The popularity of the NFL has grown abundantly because of that," Huyghue said at a news conference at the Palms. "I think it's hypocritical to act like it doesn't exist. We will embrace it."
Huyghue, who has talked with officials from the Nevada Gaming Commission about regulations, said betting is "certainly a tightrope that we'll walk" as the UFL grows.
Las Vegas opens the season against San Francisco on Oct. 8 at Sam Boyd Stadium. Would it be crazy for oddsmakers to make the Locos underdogs in their home opener?
As of now, little is known about the four-team UFL, which also has franchises in Florida and New York.
The Las Vegas team is coached by Jim Fassel, who led the New York Giants to the Super Bowl in 2001. Fassel has a partial roster, highlighted by former Buffalo Bills quarterback J.P. Losman, as he prepares to open training camp in September.
Fassel adds credibility to the UFL and the Locos, whose colors will be silver, blue and white. He even admitted he thought Locomotives was a lame nickname when it was presented to him.
"I remember when they first called me and said Locomotives is the name of the team," Fassel said. "I said, 'What? Locomotives. You've got to be kidding me.' Then you see the history of Las Vegas, and I learned something."
Huyghue said the nickname, selected from about 30,000 fan entries, represents how Las Vegas was established as a railroad town. He said he prefers shortening the name to Locos because it's a "catchy phrase" and reflects the city's "strong Hispanic population."
Nickname nonsense aside, Huyghue termed the UFL's first season a "good experimental year" and "our dress rehearsal" as fans learn more about the product.
"People looked at us with a jaundiced eye and said, 'Have you not heard of the XFL, the USFL and the host of other professional leagues that have failed?' " Huyghue said. "But undaunted by that, we forged ahead. There has been tremendous interest in our league. There's a tremendous amount of interest in non-NFL markets.
"Las Vegas is important to us on a number of fronts. I think for our league to be successful, we obviously need to be successful here."
Each team will play an abbreviated schedule of six games, and the UFL has TV contracts with Versus and HDNet. Naysayers would bet the league eventually will fail, but Fassel said NFL-caliber players will fill UFL rosters and the quality of play will be strong.
"This is an introductory to what this is going to be about. So I'm not worried as much about this season," Fassel said. "As we move forward, it will be a lot different."
Contact reporter Matt Youmans at myoumans@reviewjournal.com or 702-387-2907.