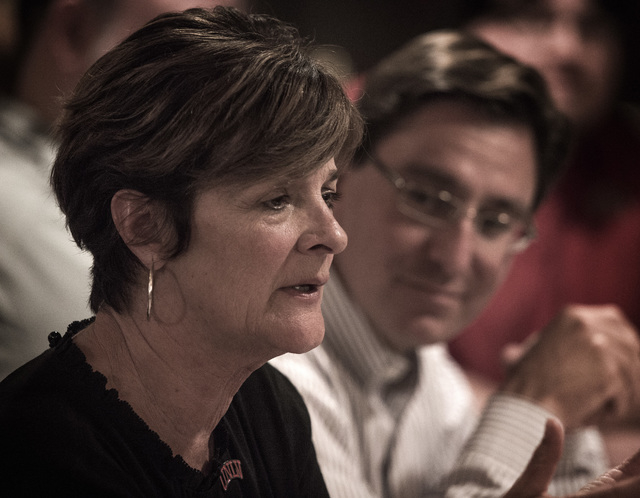 When former UNLV athletic director Mike Hamrick created the Rebel Athletic Fund 10 years ago, he wanted a central and more organized system for those wishing to donate to the athletic department.
All the donations went into that system and were filtered to meet the needs of the department and its various sports.
But donors didn't have the flexibility of contributing to specific sports. That has changed, and now those wishing to give directly to football or men's basketball — or softball or women's swimming — can do so.
"We had heard that people wanted to make sure their money went where they want it to be," athletic director Tina Kunzer-Murphy said. "That was the big thing I kept hearing."
Kunzer-Murphy, hired just more than a year ago as the interim athletic director and Jan. 1 as the full-time AD, met with the media Tuesday to discuss the state of the athletic department.
It's a department that faces a lot of uncertainty because of outside forces. The top five conferences are seeking greater autonomy, and indications are they will receive it.
How that affects UNLV is uncertain. The Rebels already are at a major disadvantage competing in a Mountain West that doesn't receive anywhere close to the TV revenue of the five power conferences.
The Mountain West makes $18 million per year through its CBS and ESPN contracts. When the Big Ten Conference negotiates a new TV deal that would begin in 2017, the price could be driven up so that each league school reportedly could make $40 million annually just off that contract.
So UNLV's dimes are competing against the dollars of the schools in the power conferences, and the Rebels are doing what they can. They could end up playing four Saturdays on ESPN during the football season, which would be worth $2 million, or $500,000 per appearance.
That's big money for an athletic department that this past fiscal year operated with a $29 million budget, and one that isn't expected to go beyond $31 million in the foreseeable future. If not for about a $2 million assistance from the university, UNLV athletics would have been fairly deep in the red.
Kunzer-Murphy said when she took over the department was running a $4 million deficit, and she has found ways to reduce costs by making several personnel changes.
She also is looking for ways to increase revenue, saying the football program will play a big-name opponent every two years. The Rebels will make $1 million for a 2015 trip to Michigan, and similar opponents in 2017 and 2019 are close to being completed.
The 2015 home schedule also should provide a spike in sales, with Boise State, Brigham Young and UCLA visiting Sam Boyd Stadium.
Season-ticket sales are ahead of last season's paltry pace. UNLV sold only 2,800 season tickets for all of last year, and no one representing the Rebels on Tuesday was ready to start dancing over the latest figures.
But at least the sales totals were in the right direction, and anything positive helps Kunzer-Murphy as she seeks those who would be interested in supporting UNLV.
"I don't want to compete in the Mountain West," Kunzer-Murphy said. "We want to win the Mountain West. We're not fully funded, so we have to go out and raise these resources to be able to recruit, to be able to provide all the things we need to do."
She hopes major-gifts announcements will be coming and already is planning for one in about a month that would benefit the baseball program.
Steps are being taken with other programs as well — a new scoreboard for football and ice baths for basketball — to improve the competitive level throughout the department and put the Rebels a step closer to becoming a conference contender in every sport.
"UNLV athletics has an opportunity to do a lot of great things," Kunzer-Murphy said. "We're willing to step up and work hard, but we have a long way to go."
Contact reporter Mark Anderson at manderson@reviewjournal.com or 702-387-2914. Follow him on Twitter: @markanderson65.