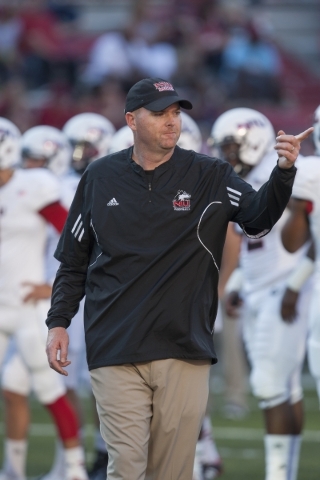 The coaches have gotten the job done.
So have the quarterbacks.
Give one person a headset and another a football, and victories keep coming Northern Illinois' way.
The Huskies have won at least 11 games the past five seasons under three coaches and three quarterbacks.
It's a remarkable string of consistency for a program that was mediocre at best not long ago, and as UNLV prepares to open its season at Northern Illinois at 4:30 p.m. PDT Saturday under yet another regime, the Rebels could do worse than model what's taken place in DeKalb, Ill.
That's the question, though. Is there much UNLV can draw upon, or are the programs too dissimilar?
"I think good football is good football," UNLV coach Tony Sanchez said. "I think quality coaching is just that. They have a great system over there. They expect to win. They prepare to win. When things go bad, I'm sure they don't point fingers. They look internally. Those are the things that allow you to be successful.
"And they're really sound. Offensively and defensively, they're not real complicated in what they do."
Northern Illinois and UNLV have different histories.
The Rebels have burned through coaches in what has been a futile effort to find the one who could turn it around. Maybe Sanchez is the answer, and he certainly has fired up the local fan base with his energy and the aggressive steps he's taken to improve the Rebels.
But he faces a massive undertaking, and nothing is guaranteed for a program that has recorded four winning seasons in 28 years. The Rebels have finished eight of the past 11 seasons with two victories, including last year's 2-11 record that ended in coach Bobby Hauck's resignation.
"I don't know it's about (previous coaches) could and I can't," Sanchez said. "I just know this is an opportunity that I've been afforded, and I'm going to take advantage of it. We're going to give a phenomenal effort. I 100 percent believe we will get this thing going. We will turn it around for a lot of different reasons."
Northern Illinois experienced a fair amount of success before hitting on its recent trifecta of coaching hires.
Coach Joe Novak put together seven consecutive winning seasons beginning in 2000, but in 2007, it fell apart for him as the Huskies went 2-10.
That left quite a rebuilding job for Novak's successor, Jerry Kill. He didn't waste any time turning around the program, taking the Huskies to bowls in his three seasons before taking over at Minnesota.
Kill said keeping the same coaching staff together made a difference, and they simply hit the recruiting trail hard.
"There's nothing magical," Kill said. "We felt like we had to recruit better players. Better players help you win, so that's what we did."
Dave Doeren replaced Kill and took Northern Illinois up a level, leading the Huskies to an 11-3 record in 2011 and the school's first Mid-American Conference championship since 1983. Then came the breakout 2012 season when the Huskies won the MAC and played in the Orange Bowl against Florida State.
Like Kill, Doeren wasn't long for the job, parlaying his success into the coaching job at North Carolina State. His offensive line coach, Rod Carey, stepped in and led the Huskies to a 12-2 record in 2013 and 11-3 mark last season.
"The transition is a lot easier when you have some cohesiveness there," Carey said. "It doesn't guarantee you any success, but it's easier in the offseason. You've still got to do the work, and you've still got to coach them, and you've still got to lift the weights and push the iron."
Being able to play outstanding quarterbacks is pretty important, too.
Chandler Harnish began the current run of success, and he holds the school record with 8,944 career yards passing. He was followed by Jordan Lynch, who became a Heisman Trophy finalist in 2013. The current starter is Drew Hare, who comes off a sophomore season in which he threw for 2,322 yards and rushed for 900.
That's the kind of success Sanchez and UNLV would take without hesitation, and Carey said he didn't doubt it would come.
"I wouldn't even come close to trying to give coach Sanchez any advice," Carey said. "He's a super special coach. I don't care what level you're coaching at, that guy can coach.
"He knows what he's doing."
Contact Mark Anderson at manderson@reviewjournal.com or 702-387-2914. Follow him on Twitter: @markanderson65.