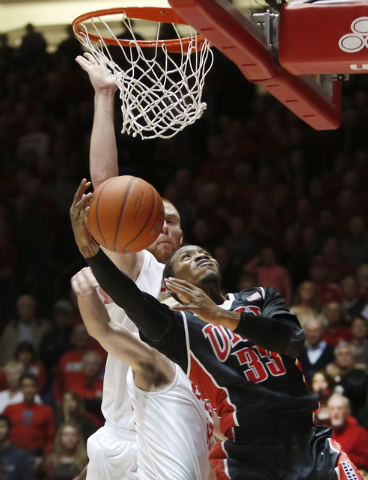 ALBUQUERQUE, N.M. (AP) — With Mike Locksley or without him, New Mexico's result didn't change.
Omar Clayton had 204 yards passing and two touchdowns and Ryan Wolfe had 11 catches for 118 yards as UNLV snapped a four-game losing streak, beating winless New Mexico 34-17 tonight.
Locksley, New Mexico's first-year coach, wasn't at the stadium while he served the final night of a 10-day suspension for his role in a physical altercation with an assistant last month.
"I don't think it had anything to do with coach Locks not being here," New Mexico linebacker Carmen Messina said. "We know what we need to do to go out there and accomplish our goals. We just didn't get them done today."
The Rebels (3-5, 1-3 Mountain West) finally ended their school-record 20-game losing streak in conference road contests and took some of the pressure off coach Mike Sanford, who has faced recent criticism because he has just 14 wins over five seasons.
"It's good for him," Clayton said. "He finally gets that monkey of his back. People can stop asking him about it. You know, it's good for the whole team. A lot of the seniors have been around as long as he has."
Defensive backs coach George Barlow was named interim coach and wore the main headset for the Lobos (0-7, 0-3). He praised the team's intensity but said the Lobos struggled to get into an offensive rhythm and the defense couldn't stop UNLV's running game.
"I thought the kids had a pretty good look in their eyes," Barlow said. "I don't know if it was a lack of intensity."
Wolfe became the Mountain West's career leader in receptions shortly before halftime. He boosted his career total to 270 catches, breaking the conference record of 262 by San Diego State's J.R. Tolver from 1999-2002.
"I congratulate him," Sanford said. "I think he's an outstanding player, and I think, the best receiver that I've ever been around."
With or without Locksley, New Mexico has struggled all season. The Lobos trailed 21-3 at the break before toughening and giving UNLV a second-half scare.
Donovan Porterie threw a 25-yard TD pass to Daryl Jones on New Mexico's first possession of the third quarter and, after UNLV's Kyle Watson kicked a 33-yard field goal, the Lobos made it 24-17 early in the fourth on Porterie's 13-yard TD to Lucas Reed.
New Mexico's defense was charged up and forced a punt on the Rebels' ensuing possession, but Bryant Williams mishandled the catch and UNLV's Terrance Lee recovered at New Mexico's 11 — the game's first turnover.
Two plays later, Mike Clausen's 4-yard TD run put the Rebels up 31-17.
"The thing we need to do is quit beating ourselves," Barlow said. "We had some motion penalties, fumble on the punt, and those little things continue to kill the momentum. I thought the effort was a lot better. We've just got to quit making the mistakes to beat ourselves."
Clayton completed 20 of 30 attempts without an interception. He also ran six times for 50 yards, and Channing Trotter added 13 carries for 65 yards as UNLV piled up 210 yards rushing and 423 total yards.
"The offense went smoothly," Clayton said. "Throughout the whole game we were able to start fast. We were keeping the ball. We didn't have any turnovers. We finally stopped our streak. That was a relief. It feels really good to go out and get a road win."
New Mexico's defense could do little in the first half to slow Clayton and the Rebels, who scored on their first two possessions to open a 14-0 lead. UNLV successfully converted 7 of 8 third downs in building their 21-3 halftime lead.
Porterie was 20 of 30 for 219 yards passing with two TDs, but the Lobos' defense continued a trend by spending too much time on the field. UNLV had the ball for 33 minutes, 36 seconds, compared to New Mexico's 21:31.
"I thought we were going to get our first win tonight," Porterie said. "I'm just heartbroken. I'd give anything for a win."