UNLV players paint the Fremont Cannon red
October 28, 2013 - 5:40 pm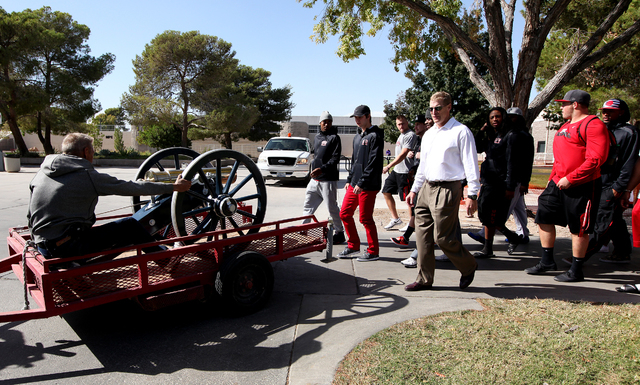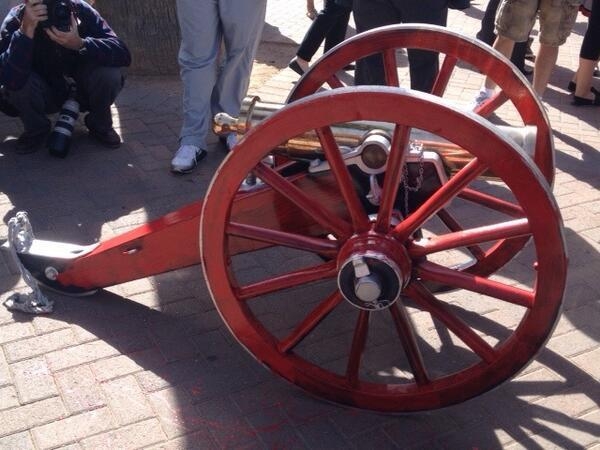 It was a day a long time in coming, the Fremont Cannon being led in a procession from the Lied Athletic Complex to the UNLV student union on Monday.
University president Neal Smatresk was there, part of a crowd of about 300 to watch the Rebels' senior football players and coach Bobby Hauck turn the cannon from blue to red.
UNLV got the cannon back with Saturday's 27-22 victory at UNR, ending eight years of heartache — and heartbreak — of losses to its upstate rival.
"Seeing the reaction coming from the students here on campus, it's definitely a good sign," UNLV quarterback Caleb Herring said. "It's good for us to be around this type of thing and know that people are behind us. A lot of the students here have never seen the cannon in person, so it's a really exciting atmosphere right now."
The day was so festive, it seemed like an end-of-season celebration, but the Rebels still have four games remaining.
They also still have some work to do, needing one victory in those final four to become bowl eligible. The Rebels haven't been to the postseason since 2000.
UNLV (5-3, 3-1 Mountain West) must refocus in time to welcome San Jose State (4-3, 3-1) to Sam Boyd Stadium at 1 p.m. Saturday. It won't be an easy task, with the Spartans and their powerful offense 4-point favorites and the total set at 66 points.
Hauck said he wasn't concerned about his team losing its concentration, saying the painting ceremony was a reward and a way to look to the future.
"I think doing this probably helps you (move forward) because there's something we did to kind of put it to rest," Hauck said. "Rather than sitting around talking about it all week, we can say, 'Hey, we did that. … Now it's time to go on to the next one.' "
The coach downplayed the urgency of still needing one victory to become bowl eligible, saying that was more for talk outside the locker room. He said he instead was more focused on trying to win the Mountain West championship.
UNLV's chances took a hit when Fresno State (4-0 MW) survived San Diego State (2-1) to win 35-28 in overtime on Saturday, but the Rebels still have an outside shot at the West Division title. The most likely scenario is No. 16 Fresno State gets upset and UNLV wins a three-way tiebreaker since the Rebels lost to the Bulldogs 38-14 on Oct. 19.
Or Fresno State could lose twice, as unlikely as that might be.
The West Division winner plays the Mountain Division champion for the conference title on Dec. 7 at a home site.
UNLV's path to a bowl is much simpler. One victory, and the Rebels can expect to play an extra game somewhere.
That alone could be enough to keep their attention.
"If this rivalry game had been for bowl eligibility, it might be a little harder to get focused," Herring said. "But knowing the team goals that we have still set — we're going down the list still — is definitely keeping us focused."
The Rebels could make their hometown Las Vegas Bowl, but probably need more than one victory to be invited to that game, which owns the first choice of the Mountain West. UNLV's other probable bowl destinations are the Famous Idaho Potato Bowl, New Mexico Bowl and Hawaii Bowl.
But early Monday afternoon wasn't about that.
The Rebels and their supporters had some savoring to do on a windy fall day.
"I think it's big time," running back Tim Cornett said of the celebration. "I feel like it'll help recruiting a lot, knowing that football really can get over the hump."
NOTE — UNLV's Nov. 9 home game against Utah State will kick off at 5 p.m. and will be televised by ESPNU.
Contact reporter Mark Anderson at manderson@reviewjournal.com or 702-387-2914. Follow him on Twitter: @markanderson65.