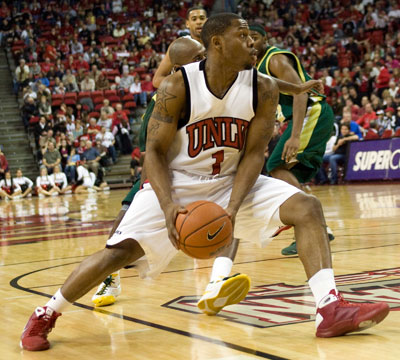 In the reserve role he has learned to like and play well, senior guard Mareceo Rutledge provided the jump-start UNLV needed Saturday night.
Rutledge's long-range shooting got the Rebels off and running, and he finished with a career-high 12 points in an 89-70 victory over Colorado State at the Thomas & Mack Center.
In his two-year UNLV career, Rutledge has come off the bench in all 57 games he has played. And that's just fine with him.
"I don't prefer to be starting," he said. "Coming off the bench, as long as I'm out there motivating the whole team, I feel like that's my job. That's the starting point for me."
Rutledge made all four of his 3-pointers, and his first-half scoring burst all but spelled the end for the Rams. Sophomore guard Tre'Von Willis scored 21 points as six players scored in double figures for the Rebels (19-6, 7-4 Mountain West Conference).
Rene Rougeau finished with 14 points, Oscar Bellfield and Joe Darger each had 13 and Wink Adams had 10. UNLV set its season scoring high.
Colorado State stopped a 19-game regular-season conference losing streak by beating UNLV 71-69 on Jan. 14. But the Rebels made certain early they would get revenge.
"We need to bring that every night," Rougeau said. "There's no way you can lose when you play like that." Rutledge made two 3-pointers during a 14-6 run that stretched the Rebels' lead to 35-25 with 6:22 remaining in the first half. "Mo made those shots, and that's what really got us separated from them," Rougeau said.
UNLV led 51-34 at halftime, but the Rams staged a brief second-half rally and closed to 72-60 on Marcus Walker's jumper. Rutledge responded by making a 3-pointer from the top with 7:37 left.
"It was great to see Mo doing that," Rebels coach Lon Kruger said. "He's shooting the ball with a lot of confidence. He had a great run there in the first half.
"Confidence is huge. That's a big lift when a guy who comes off the bench is knocking down those shots."
The left-handed Rutledge rarely shot with confidence last season, when he hit 28 percent on 3-pointers. He was shooting 42 percent from long range going into Saturday.
"I used to tell him, 'Mo, you've got that nice, sweet little stroke going. You've got to put it up.' He's been knocking them down, and he's really been playing well," Willis said.
Rutledge found only a small flaw in his performance.
"I missed a couple layups, but as long as the 3s are falling, that's good enough for me," Rutledge said.
Continuing his stretch of improved play, Willis shot 8-for-12 and had six assists.
Darger made three 3-pointers as UNLV hit 11 of 22, including 8 of 11 in the first half.
Bellfield finished with six assists and no turnovers. The Rebels had 23 assists to eight turnovers in a smooth, fast-paced offensive performance.
"We had a lot more attack to what we were doing offensively, and defensively we were more aggressive," Kruger said.
Walker scored 18 points and Andre McFarland, a former Durango High standout, had 11 for the Rams (8-17, 3-8).
Contact reporter Matt Youmans at myoumans@reviewjournal.com or 702-387-2907.
Slideshow