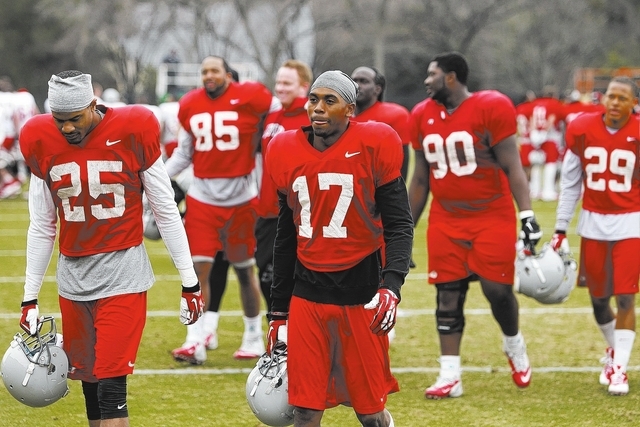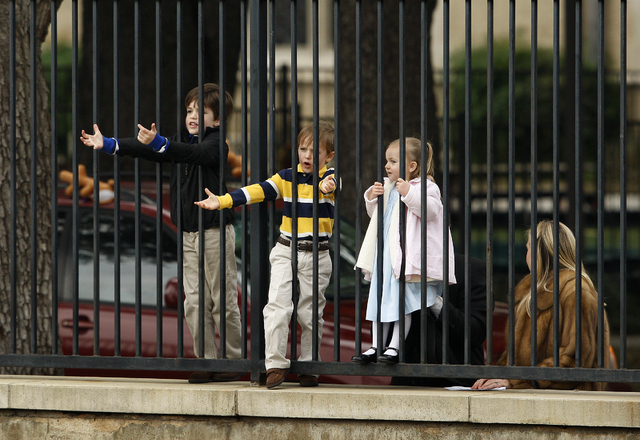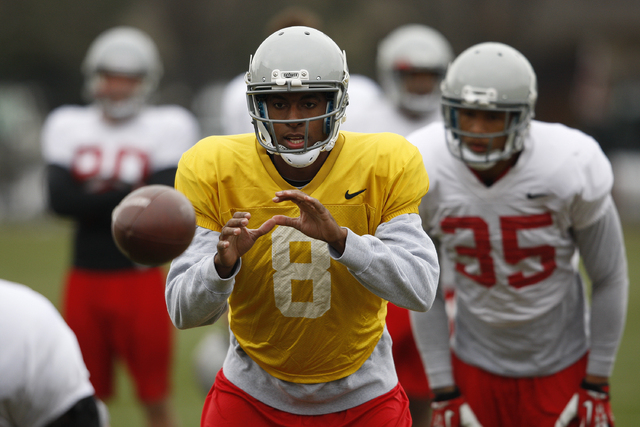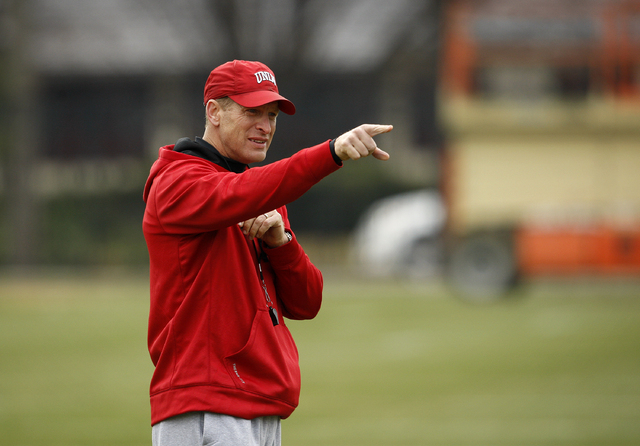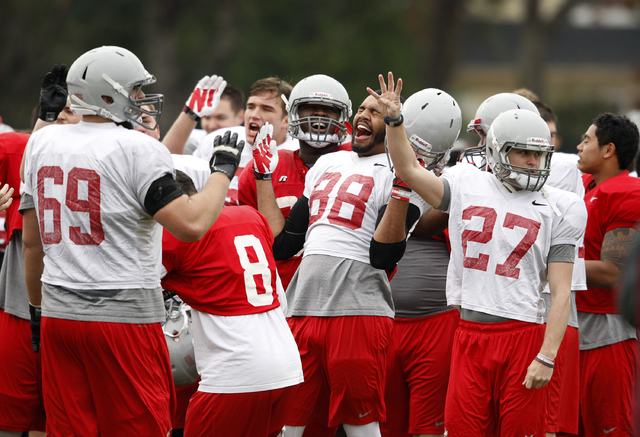 DALLAS — When San Diego State hit UNLV with a 39-yard touchdown pass off a flea flicker to open the Nov. 30 game, that would have seemed the perfect time for the Rebels' secondary to wilt.
As it had so many times in previous seasons.
Not this time, though.
UNLV's secondary didn't give up another scoring pass in the 45-19 victory, ending the regular season with another strong performance by a group of defensive backs who struggled in prior seasons.
"I feel like before when we used to get hit with those type of plays, we used to take it down and say, 'Oh, we're kind of done for,' " said safety Peni Vea, who leads the Rebels with 97 tackles. "Now we pick ourselves back up and continue playing."
UNLV's improvement in the secondary is one reason the Rebels are preparing for Wednesday's 9 a.m. PST matchup with North Texas in the Heart of Dallas Bowl.
The Rebels allowed 214.5 yards passing per game, best in the Mountain West and 32nd nationally. They also held opposing quarterbacks to a 117.0 pass efficiency rating, second in the conference and No. 26 in the country.
Cornerbacks Kenneth Penny (16) and Tajh Hasson (11) each have the most pass breakups by any Rebel since Mil'Von James finished the 2007 season with 19. UNLV's total of 53 pass breakups is the most since the 1993 team had that many.
"I think it's just a matter of the guys themselves putting it on their own shoulders, and they have improved every day from the start of spring ball until now," defensive coordinator Tim Hauck said. "There were some question marks, there was no doubt about it."
The hiring of Tim Hauck to run the defense this season has been one of the keys to the turnaround.
Hauck, brother of head coach Bobby Hauck, has made proper adjustments all season, and he dealt with injuries to the secondary.
"We're more confident as a group," Penny said. "Coach Tim Hauck is a technician, so our technique is much better than years before, and guys are out there making plays."
The defensive backs have benefited from an improved pass rush, even if the statistics don't bear that out. UNLV has 20 sacks, same as last season, but the Rebels have forced quicker throws.
It works both ways, however. With the secondary making more plays, the Rebels helped the front by becoming more aggressive.
"The way our guys have played in the man-to-man stuff, now I feel like I can open the playbook up and basically run what I want to run rather than limit what we're doing because our personnel can't hold up," Tim Hauck said.
UNLV's secondary could've gone back to its old struggles after the adversity it has faced.
Veteran Sidney Hodge started at cornerback, but after two games was lost with a shoulder injury. Penny stepped up in his place and delivered.
Then late in the season, starting free safety Frank Crawford, who has a team-high four interceptions, went down with a leg injury, thrusting former walk-on Mike Horsey into the starting lineup. Horsey produced in the final two games.
Bobby Hauck talks often about establishing a next-man-up mentality, meaning no dropoff should occur when a reserve replaces a starter.
For the secondary, the mindset went beyond subbing one player for another. It also was about forgetting negative plays and moving forward.
And as the Rebels moved on this season, the negative plays in the secondary became fewer.
"When you're talking about the back end, you've got to play with confidence because if you play scared, you're going to give up big plays," Tim Hauck said. "You're still going to give up some plays, but at least you've got a chance."
Contact reporter Mark Anderson at manderson@reviewjournal.com or 702-387-2914. Follow him on Twitter: @markanderson65.
WHERE: Cotton Bowl, Dallas
WHEN: January 1
TV: ESPNU
HEART OF DALLAS BOWL MATCHUP
UNLV offensive left tackle Brett Boyko vs. North Texas defensive ends Aaron Bellazin and Brandon McCoy
Boyko, a second-team All-Mountain West selection, is coming off a terrific regular season. He faces a North Texas duo that has combined for 62 tackles and 17 for loss, including 12½ sacks.
Bellazin, who has 11 tackles for loss, including 7½ sacks, could be lined up against Boyko most often.
"They bounce them around a little bit, but both of the ends are quick and athletic and rangy," UNLV offensive line coach Chad Germer said.
— MARK ANDERSON/LAS VEGAS REVIEW-JOURNAL