UNLV states strong case for bowl, awaits decisions by games, ESPN
December 2, 2013 - 7:24 am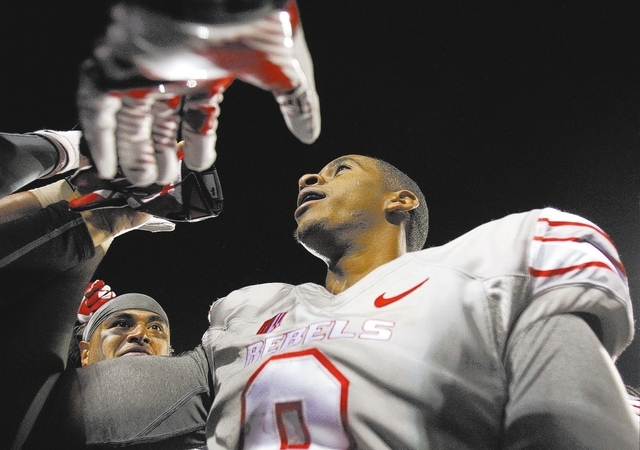 Now UNLV must wait.
The Rebels might not know whether they will be part of the bowl season until Sunday, though a decision could come sooner.
They sent their own message by blasting San Diego State 45-19 on Saturday to improve to 7-5, their first winning record since 2000. That year also was the last time UNLV appeared in a bowl.
UNLV is one of seven eligible Mountain West teams for six conference-affiliated bowl slots. And, in reality, the Rebels are among five teams for four slots because the top two bowls — those in Las Vegas and San Diego — almost certainly will take other schools.
The remaining games are ESPN-owned, and that network will weigh in on which teams go where, probably adding more factors — and uncertainty — to the equation.
For UNLV fans searching for hope the season isn't over, three of four major national projections have the Rebels making a bowl. CBSSports.com and ESPN.com's Brad Edwards put them in the Famous Idaho Potato Bowl in Boise on Dec. 21, and Phil Steele has the Rebels going to the Hawaii Bowl in Honolulu on Dec. 24. ESPN.com's Mark Schlabach left UNLV out of his bowl lineup.
But reading too much into any projection is tricky because so much occurs behind the scenes in setting the different games.
UNLV's best bet is to appear in Hawaii, Boise, the New Mexico Bowl on Dec. 21 in Albuquerque, or the Armed Forces Bowl on Dec. 30 in Fort Worth, Texas. Two of those bowl executive directors spoke to the Review-Journal on Sunday.
The Hawaii Bowl's David Matlin and Boise's Kevin McDonald said UNLV was being considered, but both also said it's too early to know how the selections will shake out.
"I think it's going to the weekend before things sort themselves out," McDonald said. "That's my guess."
Movement could take place before Sunday, Matlin said, if it becomes clear which teams will be available. But such a scenario didn't appear likely.
With Boise State off UNLV's schedule this season and next, the Rebels could make a valid argument to go to Idaho, but their strongest chance probably is Hawaii.
Matlin said it worked in the Rebels' favor that they finished with a strong game against San Diego State, didn't play at Hawaii this season, and Las Vegas possesses a special relationship with the islands. Las Vegas often is referred to as the ninth island.
"There's no question Vegas and Hawaii have a connection that is strong and real," Matlin said. "They had a great turnaround season. Those are all factors. But there isn't any one factor.
"I think Vegas could have some other options, too."
UNLV coach Bobby Hauck said he believed his team did what it needed to get a bowl's attention.
"If people have been watching, they'll like what they see," Hauck said. "We'll go anywhere to play anybody, and we're just excited to be in that conversation. We'll go, we'll bring fans, we'll go out of our way to put on a good performance, and they'll enjoy having us, whoever picks us up."
UNLV wouldn't be sweating it out if Fresno State hadn't been upset 62-52 by San Jose State on Friday. That created the potential for a Mountain West team to get caught on the outside looking in.
Rebels quarterback Caleb Herring said the team watched that game, which like the bowl-selection process, is something UNLV couldn't do anything about.
"We did what we can control, and I think that's the feeling that you have after a game like this," Herring said. "Whatever happens, wherever things lie, is in somebody else's hands right now. We did our part to make things turn out well for us."
Contact reporter Mark Anderson at manderson@reviewjournal.com or 702-387-2914. Follow him on Twitter: @markanderson65.