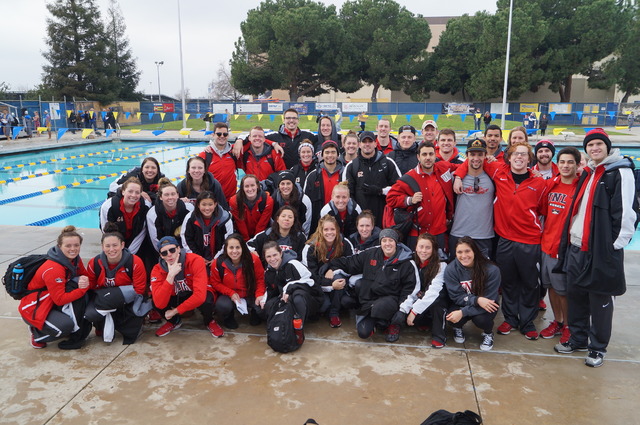 Ben Loorz didn't go the half-truth route to describe his first season as the UNLV men's and women's swim coach.
"It's been a busy one," Loorz said. "It's like drinking from a fire hose with a winding road. I'm just now getting to know the student-athletes. I didn't recruit or previously worked with the student-athletes. It's about building that connection and earning that trust."
Loorz admits it wasn't a smooth transition to have 42 swimmers adjust to his coaching philosophy. Fortunately for Loorz, the college swim season is half a year long.
The Rebels have found their stride heading into the conference championships.
The UNLV women compete in the Mountain West meet on Feb. 15 and the men battle Western Athletic Conference foes on Feb. 22.
"We've had some hurdles, injuries and other bumps, but I think we're a full team now," said Loorz, who was an assistant coach for UNLV from 2007 to 2010. "We have a handful of competitors who can make noise in the conference championships and go into the NCAA championships. It feels good to know that we'll have our top team to end the season."
On the men's side, Tom Paco-Pedroni has hopes of advancing to the NCAA competition as an individual and on a relay team. The senior excels in the 100- and 200-yard freestyle.
Paco-Pedroni is part of the 200 and 400 freestyle relays with redshirt junior Or Sabatier and senior captain Kasey Foley. Forrest Beesley and Dylan Tarazona are in the mix for the fourth spot.
"We're excited to see what Tom can do in the big meets," Loorz said. "We feel good about him making the NCAA championships. Our men's relay team is very strong and they have a good shot at the NCAAs."
The future looks bright for the UNLV women's team with freshmen Sofia Carnevale and Ida Schutt.
"They're only freshmen but I think both of them can finish in the top eight in their events for the Mountain West competition," Loorz said.
Senior standout Kristina Hendrick looks to crack the conference top three in the 100 and 200 breaststroke and 200 and 400 individual medley. Kyndal Phillips excels in the 100 and 200 backstroke, 100 butterfly and 200 IM.
"There's talent on both sides and I want to see us swim to our full potential to end the season," Loorz said. "We honor our team with effort and that's all you can ask for."
SOFTBALL
The Rebels open the season by hosting the Sportco Kick Off Classic at Eller Media Stadium on Friday.
In the coaches' preseason poll, UNLV was picked to finish sixth in the Mountain West. Fresno State, the two-time defending champion, was chosen to finish first ahead of San Diego State and San Jose State.
Lisa Dodd enters her fifth season as coach of the Rebels.
UNLV seniors Morgan Ettinger and Kwyn Cooper are top returners.
Contact Gilbert Manzano at gmanzano@reviewjournal.com or 702-383-0492. Follow @gmanzano24 on Twitter.
SCHEDULE
Men's tennis: at Stanford, Friday, 3 p.m.; at Santa Clara, Sunday, 11 a.m.
Softball (all games at Eller Media Stadium): vs. Indiana State, Friday, 11:15 a.m.; vs. Virginia Tech, Friday, 1:30 p.m.; vs. Louisville, Saturday, 11:15 a.m.; vs. Southern Utah, Saturday, 3:45 p.m.; vs. Cal State Bakersfield, Sunday, 1:30 p.m.
Women's basketball: vs. UNR, Cox Pavilion, Wednesday, 6 p.m.; at San Jose State, Saturday, 2 p.m.
Women's golf: at Northrop Grumman Regional Challenge, Palos Verdes, Calif., Sunday, all day
Women's tennis (all matches at Fertitta Tennis Complex): vs. Idaho, Friday, 10 a.m.; vs. Youngstown State, Saturday, 10 a.m.; vs. Southern Utah, Saturday, 2 p.m.
Women's track: at New Mexico Don Kirby Invitational, Albuquerque, N.M., Friday and Saturday, all day