UNLV, UNR to battle for Fremont Cannon in season finale
February 20, 2014 - 3:56 pm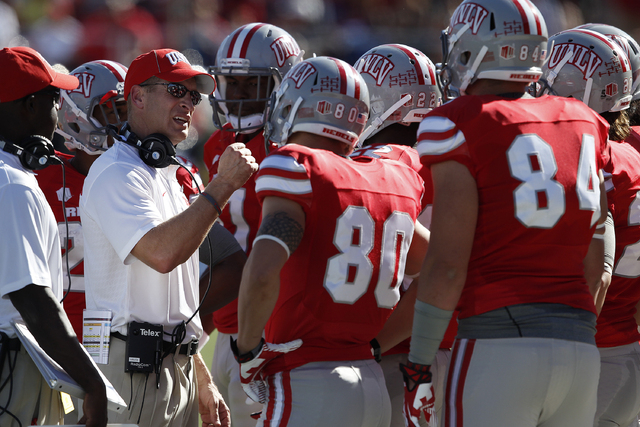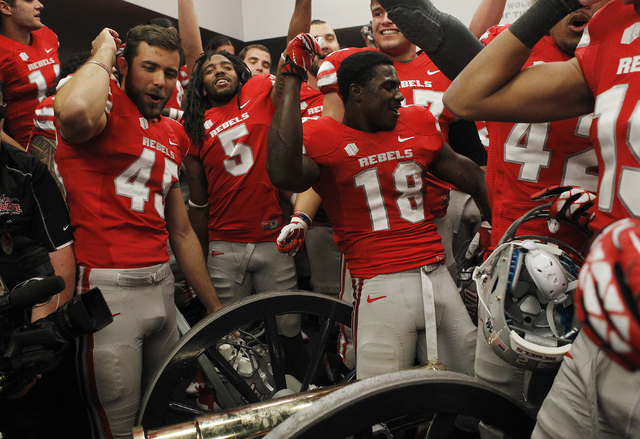 UNLV coach Bobby Hauck has been wanting to face UNR at the end of the football season.
He got his wish.
The Rebels' schedule came out Thursday, and they will face their chief rival Nov. 29 at Sam Boyd Stadium.
This is the first time UNLV will face UNR in the regular-season finale since 1977.
"That's something I've been a proponent of for a long time," Hauck said. "It's rivalry weekend in college football around the country. I think that's when it should be played."
UNLV ended an eight-game losing streak to the Wolf Pack last season by winning 27-22 in Reno. The Rebels came out slow the following weekend, falling behind 24-3 to San Jose State and losing 34-24.
"If you look at how poorly we played in the first half after the rivalry game, I think that's fairly common," Hauck said.
The bad news for UNLV is it plays the Wolf Pack right after a Nov. 22 trip to Hawaii.
"The trip to Hawaii's difficult," Hauck said. "There's no doubt about it. You couple that with being the second of a back-to-back road-game stretch, which we have two of, those are no easy thing."
UNLV plays those two back-to-back road games Sept. 27 at San Diego State and Oct. 4 at San Jose State, then Nov. 15 at Brigham Young followed by the Hawaii trip.
"To me, that's maybe the most difficult thing is going back-to-back road games," Hauck said. "That's the way it shook out, so we have to deal with that."
UNLV also has two bye weekends — Sept. 20 and Oct. 18 — but that is not new for the Rebels, who had two off weeks last season.
"Those (byes) are what you make of them," Hauck said. "It depends on the makeup of your team.
"Last year, we used those weeks as academic weeks and a chance to get freshened up. The first open date is fairly early in the season, so we'll have to see what our health is at that point to see how much we practice that week."
UNLV, which opens Aug. 30 at Arizona, comes off its best season in 13 years. The Rebels went 7-6 and played in the Heart of Dallas Bowl.
Contact reporter Mark Anderson at manderson@reviewjournal.com or 702-387-2914. Follow him on Twitter: @markanderson65.
UNLV'S FOOTBALL SCHEDULE
Aug. 30 — at Arizona
Sept. 6 — Northern Colorado
Sept. 13 — Northern Illinois
Sept. 27 — at San Diego State
Oct. 4 — at San Jose State
Oct. 11 — Fresno State
Oct. 25 — at Utah State
Nov. 1 — New Mexico
Nov. 8 — Air Force
Nov. 15 — at Brigham Young
Nov. 22 — at Hawaii
Nov. 19 — UNR