UNLV will play North Texas in Heart of Dallas Bowl
December 9, 2013 - 12:24 am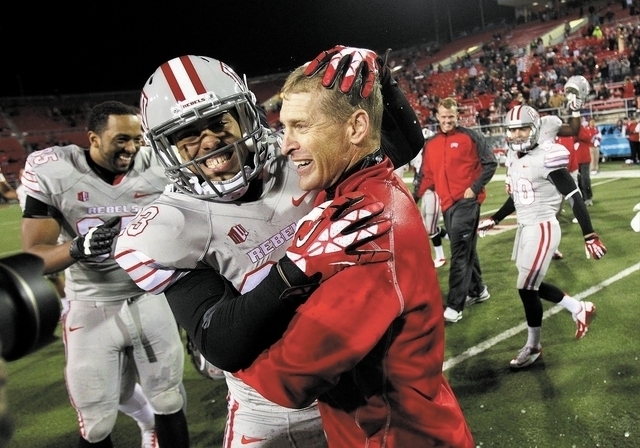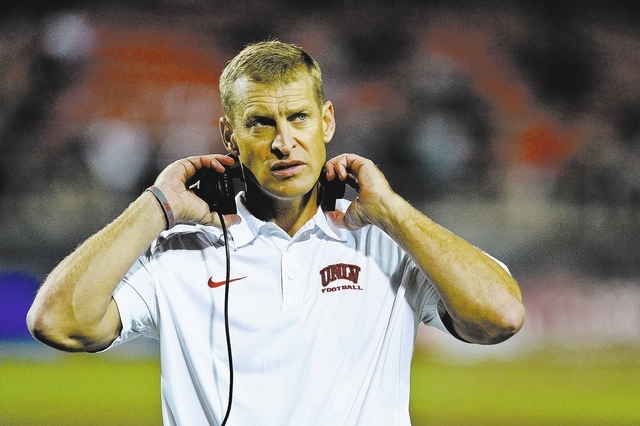 The bowl situation changed all week.
UNLV was going to Hawaii, then to Fort Worth, then back to Hawaii. Or maybe the Rebels weren't going at all, and then they became a near lock to be selected.
Then came Sunday, the day they had waited for, not just a week since the end of the regular season but for 13 years.
The wait is over. The University of Nevada, Las Vegas received an invitation to the Heart of Dallas Bowl where they find an opponent in North Texas with a similar story.
The Jan. 1 game will take place at the famed Cotton Bowl, and will kick off at 9 a.m. PST. ESPNU will televise the bowl, UNLV's first postseason appearance since the 2000 Las Vegas Bowl.
"When I heard that the Heart of Dallas Bowl on New Year's Day was an option, secretly I held out hope we had a chance to play in that game," UNLV coach Bobby Hauck said. "When that came through as the actual game we were going to play in, I was ecstatic."
UNLV (7-5) meets an opponent in North Texas (8-4) undergoing a similar transformation. This is the Mean Green's first bowl since 2004, and third-year coach Dan McCarney has overseen the turnaround in a program that went a combined 13-58 in the six years before he got to campus.
"I've dreamed of this day since I've taken this job, and I'm sure Bobby felt the same way since he took the job at UNLV," McCarney said. "There's nobody taking anything for granted. We all appreciate everything we have. I don't have one player that's ever been in a bowl game. I don't have one player that's ever been part of a winning season."
UNLV President Neal Smatresk might have a difficult time choosing which team to cheer for. He recently agreed to take the same post at North Texas.
No doubt Smatresk is happy for both programs, and he has seen firsthand the difficulties in trying to revive UNLV, which entering this season had won two games each of the past three years.
"When we first got here in 2010, I thought we were one of the worst teams in college football. The same in our second year," Hauck said. "We were playing the who's who in college football. But a lot of our kids played in those games as freshmen and sophomores. We're stronger and better for it."
UNLV didn't even know for sure it would be part of the postseason when San Jose State upset Fresno State 62-52 on Nov. 29, giving the Mountain West seven bowl-eligible teams for six spots. Because of a nationwide glut of eligible teams, finding a non-affiliated bowl was unlikely.
The Rebels helped their cause by routing San Diego State 45-19 on Nov. 30 to ensure a winning record, but finding a postseason home wasn't guaranteed.
They at first appeared likely to go to the Hawaii Bowl, but then Boise State seemed to be the favorite, apparently sending the Rebels to the Armed Forces Bowl in Fort Worth, Texas. Hawaii came back in the picture Saturday when word emerged Boise State didn't want to go to the islands.
That changed either Saturday night or Sunday morning, and Boise State did indeed wind up accepting a bid to Hawaii. The Armed Forces Bowl made a deal to send the Mountain West representative to Dallas, which is how UNLV ended up in Big D.
"We're just happy this wonderful bowl decided they wanted UNLV in their game," Rebels athletic director Tina Kunzer-Murphy said. "A lot of the things that happened behind the scenes we weren't privy to.
"There are a lot of teams that wish they were in our place right now. We're getting to play in a bowl game, and I'll tell you we're very, very grateful and humbled by this experience."
San Jose State, the team that sprung the upset and cost the conference millions of dollars in Bowl Championship Series revenue, was the Mountain West school left out of the postseason. The Spartans (6-6) were the only eligible conference team without a winning record.
As for UNLV, the Rebels let it be known from the beginning the destination wasn't important. They just wanted to play a 13th game.
Now they will.
"Sort of like the guys at North Texas, we've had to believe in ourselves when maybe there weren't a whole lot of others that could or should," Hauck said. "It's just tremendously rewarding to be where we are right now."
Contact reporter Mark Anderson at manderson@reviewjournal.com or 702-387-2914. Follow him on Twitter: @markanderson65.