Football, men's basketball challenges for next UNLV athletic director
December 26, 2016 - 9:00 am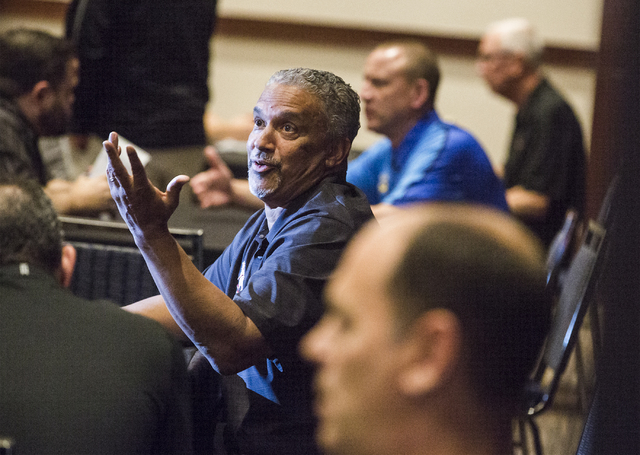 Editor's note: This is the second of a two-part series detailing what the next UNLV athletic director faces. Part I, which appeared Sunday, took an overall look at the program and the parameters of the search. Part II looks at the state of the football and men's basketball programs.
UNLV is winning conference championships and making postseason appearances at a near historic rate, capturing four league titles last spring and sending three teams this past fall to the postseason.
As is the case at most schools, however, most fans care about football and men's basketball and little else, and that's where the problem lies.
Both revenue-producing programs are in different stages of rebuilding — a process that has stretched back to the 1980s in the case of football.
As UNLV president Len Jessup searches for a new athletic director, he will look for someone who has many challenges, including trying to work with second-year football coach Tony Sanchez and first-year basketball coach Marvin Menzies on how to right those programs.
Because Sanchez (four-year contract) and Menzies (five-year deal) have multiple years remaining, the new athletic director won't be expected to come in and make changes at the top.
"We'll look for somebody that appreciates the assets and the people that we have and wants to come and wants to build on that," Jessup said. "That's the kind of person we'll be looking for, not someone that wanted to come in and feel like they needed to make changes to the personnel."
FOOTBALL
UNLV's football program is led by a charismatic coach who has spent nearly as much time selling the program to the community and raising funds for a new facility as he has coaching. This is where a new AD could relieve some of the burden and let Sanchez focus on what is most important.
Sanchez's contacts and energy helped UNLV raise about $17 million for the Fertitta Football Complex, which could break ground in early 2017. The entire project is estimated at between $24 and $26 million.
An even more ambitious venture is a new football stadium the Rebels would share if the Oakland Raiders relocate to Las Vegas. The state Legislature has approved a hotel room tax that would generate $750 million to help fund it.
If the Raiders don't move, the state would still put $300 million toward a stadium for UNLV, provided the university raised an additional $200 million within two years for the project.
"We keep improving (facilities), and I really think those are important for us to move forward," athletic director Tina Kunzer-Murphy said. "We're not going to keep great coaches if we don't do those things, and there's got to be a commitment. The community, I think, has stepped up. I think it's really important that the institution do the same thing."
UNLV's downtrodden program has posted only three winning seasons in 24 years. Before Sanchez arrived in December 2014, the Rebels finished eight of the previous 11 seasons with two victories.
That stretch also included failing to meet Academic Progress Rate standards in 2014, only to later hit the minimum.
"When I came in, we had a mess," said Kunzer-Murphy, who first was hired as the interim AD on July 1, 2013. "We went on probation for APR, and I sat in the middle of it. You know what we did? We changed it. We got more academic advisers. We got people to help us. That was the first thing that I stepped into."
Sanchez's two recruiting classes were ranked high by UNLV standards. Rivals.com put the 2015 class fifth and rated the 2016 class third among the Mountain West's 12 teams, the highest since John Robinson's 2003 class was ranked second. The two classes before Sanchez took over, both under Bobby Hauck, were each 11th.
Hauck, though, did go 7-6 in 2013, taking the Rebels to the Heart of Dallas Bowl. But his other four teams each won just twice.
Sanchez has won seven games in his two seasons, the most for a Rebels coach through his first two seasons since Robinson won 11 games in 1999 and 2000. But the Rebels also were blown out 45-10 in the season finale at home to a UNR team whose coach, Brian Polian, agreed to leave the following day.
That loss showed that for all the gains that Sanchez has made, he still has a big job in front of him.
"I wake up out of bed like, 'Argh, I just want to feel good about everything,'" Sanchez told reporters after the season. "When Tina gave me the job, I'll never forget her looking me in the face and saying, 'Before you say yes, understand this is a tough job.'
"Well, I kind of understood it. I'm understanding it a whole lot more now."
MEN'S BASKETBALL
The rebuild for men's basketball isn't nearly as long in the making. In fact, it's just underway.
Expectations were high for the Rebels as recently as last season because of the highly ranked recruiting classes under coach Dave Rice. Early victories over Indiana and Oregon justified those expectations before the season took a quick turn and Rice was fired three games into Mountain West play.
The timing of the firing ignited criticism nationwide, and then how the search process played out brought even more negative attention.
UNLV offered the job to Cincinnati's Mick Cronin, who turned it down. The school then hired Chris Beard from Arkansas-Little Rock, but the athletic department and state regents battled back and forth over process, dragging out the official hiring. The regents finally approved Beard's hiring April 8, but four voted against it.
Beard then left a week later for Texas Tech, and UNLV moved quickly to hire Menzies, who had been a finalist with Beard.
Though the process with the regents was smoother, the damage was done. So much so that board chairman Rick Trachok moved to take the regents out of the hiring process for future coaches, and the board voted unanimously Sept. 8 to do just that.
The midseason firing of Rice created dissension and a wave of players transferred or turned pro. By the time Menzies took over, only three scholarship players remained, and he not only was late in recruiting for the 2016 class, but 2017 as well.
"We're still trying to create relationships against guys who had relationships for two or three years," Menzies said in July. "You've got to remember, the upper-echelon players have been recruited for three of four years by the top-25 programs. I didn't recruit a lot of the players we are recruiting right now at New Mexico State."
He and his staff were effective in putting together an almost entirely new roster, but expectations aren't close to what they were last season with a team of future NBA players. The 94-45 loss to Duke on Dec. 10 showed how far this program has to go.
And the entire athletic department, which has potential and has made progress in different areas, has some work to do as well.
"I came into it, and we had to fix a lot of things," Kunzer-Murphy said. "I think we fixed some of those. But the next person will come in and put their mark on it."
Contact Mark Anderson at manderson@reviewjournal.com or 702-387-2914. Follow @markanderson65 on Twitter.