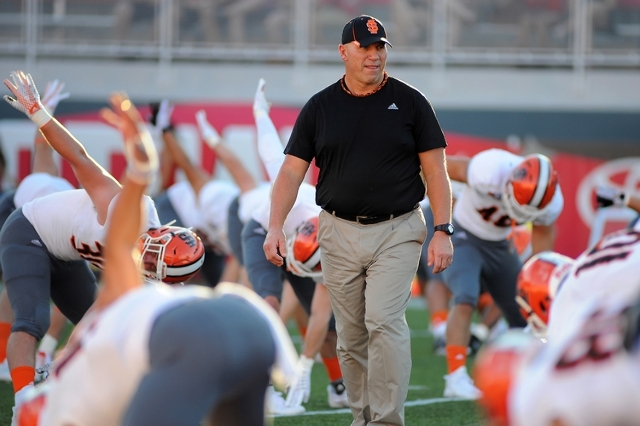 Idaho State coach Mike Kramer was livid at his team's performance in an 80-8 loss to UNLV on Saturday night.
One man's misery is another man's delight or something like that.
Kramer's post-game news conference provided perhaps the most entertaining quote sheet ever distributed in the Sam Boyd Stadium press box.
His annoyance was obvious before he was ever asked a question.
"God awful. Six turnovers. Just miserable in all facets," Kramer said in his opening statement. "Miserable in the kicking game to begin with. Miserable on defense to end it. Eight points won't be the end of it."
He was just getting warmed up.
"We can't stop stretch and that's the most basic play in football. We can't get a line to it. We can't get off blocks, so we can't even stop it when their (backups) are running. It's God awful. It's God awful."
That's three God awfuls and three miserables for those counting at home.
The final score was shocking to anyone not watching the game. UNLV has struggled to score 80 points in a season, much less a game.
Idaho State had high hopes for at least competing in the game, especially since the Rebels have struggled with lower-division teams in recent years.
The Bengals, however, were never in the game after getting blown out at Boise State last week.
"Demoralizing. The bottom of the barrel, I hope," Kramer said of the blowout loss. "It's a huge step back (for the program), a monster step back. Two of these back-to-back will gut your program, if you're not careful. I have to be careful how I handle this. I need every ounce of coaching ability I have to rally us now because we are back to square one."
The key for Kramer will be getting his team to bounce back emotionally in time to play a very good Cal Poly team on Oct. 3.
For all of his frustration, Kramer at least has belief in his own ability to rally the troops.
"It will take everything I've got," he said. "Every ounce of coaching savvy I have and I've got a lot of savvy, so I think we'll be alright."
You will be alright, Mike Kramer, you definitely will.
Contact reporter Adam Hill at ahill@reviewjournal.com or 702-224-5509. Follow him on Twitter: @adamhilllvrj