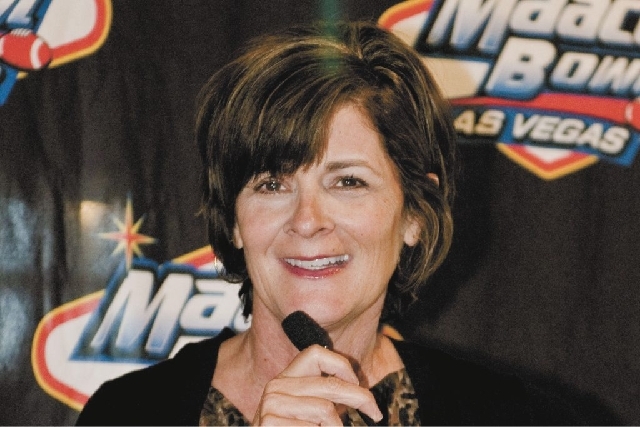 UNLV interim athletic director Tina Kunzer-Murphy is reorganizing the athletic department, changing positions throughout and instituting substantial pay cuts.
She informed the staff Wednesday of the changes, and those affected have until Aug. 5 to accept their new positions or quit.
Kunzer-Murphy said Thursday the changes were made to create a smoother transition for whoever is hired as the full-time athletic director.
"It is a tough situation making any changes, but it's the perfect time to do it," she said. "We're streamlining the reporting structure and improving communication. It's important to have a new structure more in place for a new athletic director. Nobody lost their job, which is a good thing."
Kunzer-Murphy said she made the changes in consultation with university president Neal Smatresk.
Smatresk said that reorganization has been taking place for four years throughout the university, and athletics wasn't immune to needing to make changes.
"The only unit in the university that didn't reduce its overall staffing expenses was athletics," he said. "We took a look at the organizational structure, and it was unusual in that there were a large — a very large — number of kind of senior-level positions. We felt that it would tie the hands of a new AD, who would have to first sort through everything, because when you come here as a newcomer, you kind of don't know which end's up.
"All the functions are covered with fewer very expensive senior administrators, and now when the new person comes in, they can decide if they want to grow the organization, purse it down some more, whatever. It should be an easier go. They can do it in one bite instead of maybe two or three."
Kunzer-Murphy denied the steps were taken for her to become the permanent athletic director.
"I'm not applying for the AD job," she said. "I've said that from Day One. You won't see me sitting in that chair."
She wouldn't specify which employees were demoted and who received pay cuts, saying nothing is in place until they make their decisions whether to accept the new responsibilities.
One person who accepted quickly was Julio Freire, who was dropped from senior associate athletic director to associate AD.
"I certainly understand President Smatresk's and Tina Kunzer-Murphy's interest in reorganizing the department prior to the hiring of a new athletics director," Freire said. "With that being said, my primary interest is in continuing to serve the university, the athletics department and the student-athletes of UNLV."
The most significant changes were to remake the reporting structure of the various sports by limiting the number of associate athletic directors in charge. Men's and women's basketball and football will report directly to the athletic director, and the senior associate AD and senior women's administrator will oversee the remainder of the sports.
Another change is putting the associate athletic director for compliance, Eric Toliver, directly under the president rather than the athletic department.
Also, Terry Cottle's position of senior associate AD for football operations has been eliminated. Kunzer-Murphy said the director of football operations job will be created instead to report directly to coach Bobby Hauck.
The new athletic director, expected to be named in September or October, will come in without having the changes associated with his name, which appears to be a strong motivation behind making the moves now.
"It's difficult for the interim to do the job and move into that chair," Kunzer-Murphy said. "I think when you look at it, it's hard because it affects people's lives. Reorganizing is like hitting the refresh button."
Contact reporter Mark Anderson at manderson@reviewjournal.com 702-387-2914. Follow him on Twitter: @markanderson65.