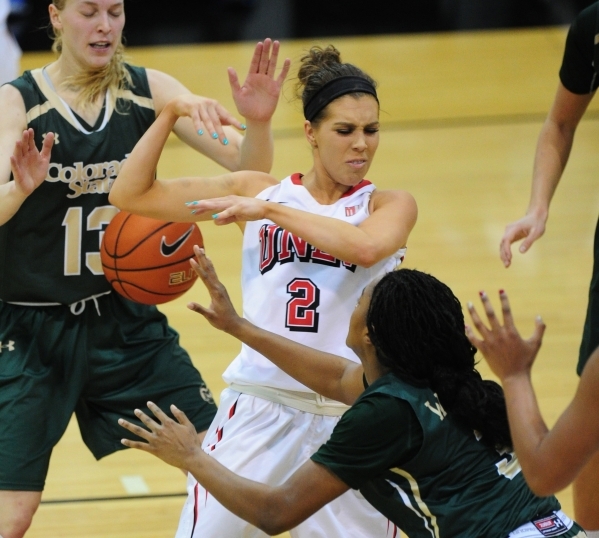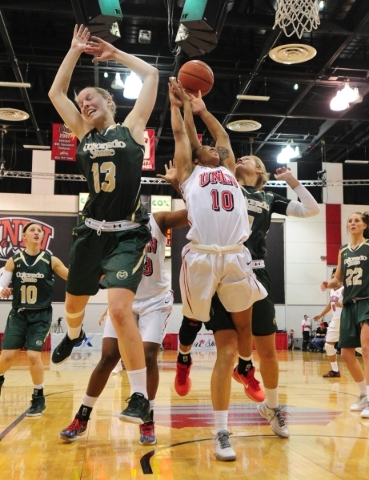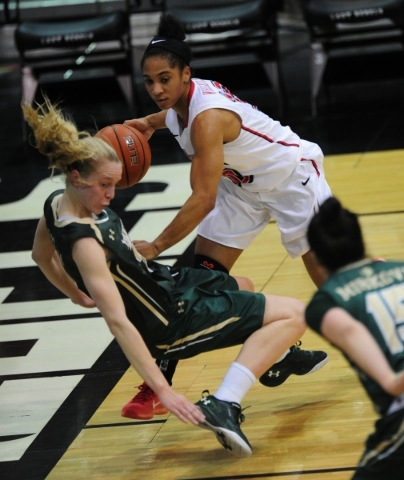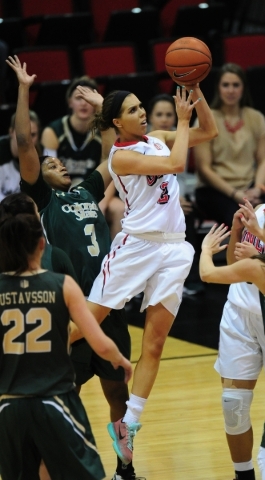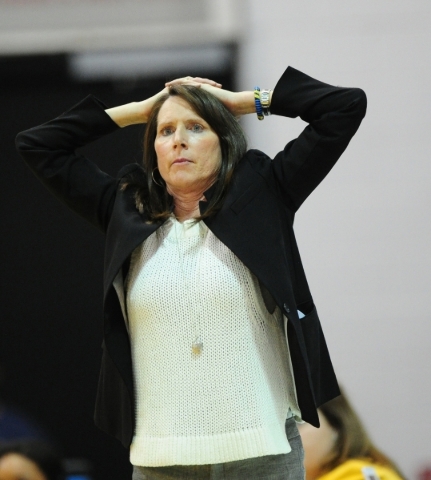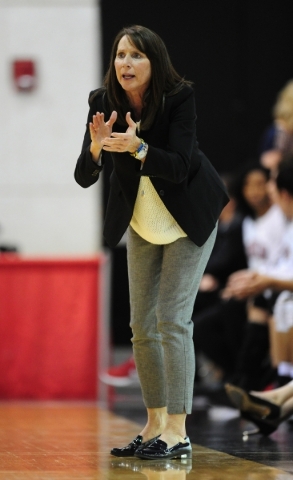 The UNLV women's basketball team had its hands full with arguably the best team in the Mountain West Conference in town.
That task became even more daunting when Aley Rohde injured her ankle during shootaround, five hours before tipoff against Colorado State.
Despite losing their best rebounder and a poor first half, the Lady Rebels made it interesting until the final seconds as the Rams held on for a 64-56 victory at Cox Pavilion on Wednesday night.
UNLV (7-6, 0-2 Mountain West), which shot 22 percent from the field in the first half, trimmed Colorado State's 19-point lead to six with 1 minute, 2 seconds left.
"It was tough not having (Rohde)," UNLV sophomore guard Nikki Wheatley said. "Not just because she can rebound and score, but because she's a senior. She knows all the sets and guides us out there.
"Once we regrouped, we started to get going."
Every time it seemed the Rams (12-1, 2-0) were ready to extend their lead to 20 points, the Lady Rebels would cut it back down to 10.
A passionate Dakota Gonzalez ignited a fourth-quarter rally after knocking down a 3-pointer followed by a mid-range jumper to make Colorado State's lead 51-41 with 4:41 left.
"It doesn't matter if we're down 25 or 10, Dakota is going to keep fighting," Wheatley said.
Wheatley scored a career-high 22 points and grabbed nine rebounds. Gonzalez scored 15 of her 17 points in the second half.
The Lady Rebels went on a 9-0 run to make the score 58-52 after Wheatley completed a three-point play.
After a steal by Gonzalez, Wheatley missed a jumper in the paint that would have cut the deficit to four points with 27 seconds left.
"Nikki does a good job attacking," UNLV coach Kathy Olivier said. "I thought Nikki showed a lot of pride and said, 'Get on my back; I got this.' She carried us in the second quarter."
The Lady Rebels missed 16 of their first first 17 shots as the Rams went on a 9-0 run to start the game.
UNLV didn't make its first basket until 4:28 of the first quarter. The next basket didn't come until the 7:30 mark of the second quarter.
Despite the offensive futility, UNLV was down only 28-18 at halftime.
Just like the first quarter, Colorado State started the third with a 9-0 run to force Olivier to call timeout.
The Lady Rebels recently have struggled to convert layups, and that was the case during the first half, but that wasn't an issue for Wheatley.
Wheatley relentlessly attacked the rim with confidence in the first half and finished acrobatic layups to keep the Lady Rebels in the game. The sophomore guard scored UNLV's first seven points and ended the first half with 11.
"We needed contribution from more players," Olivier said. "We can't keep missing the bunnies."
Colorado State shot 39.7 percent from the floor (23 of 58) while UNLV had a shooting percentage of 26.8 percent (19 of 71). Jamie Patrick led the Rams with 15 points, and Ellen Nystrom scored 14.
Rohde, who averages 10.4 points and 9.6 rebounds per game, was on the bench in a walking boot.
— Contact Gilbert Manzano at gmanzano@reviewjournal.com. Follow him on Twitter: @gmanzano24