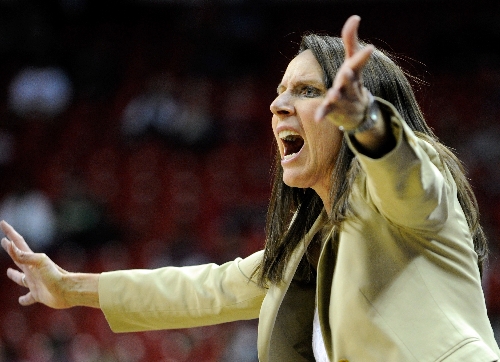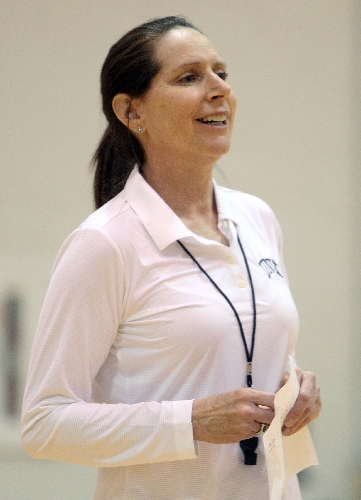 Securing her 300th victory Saturday against Boise State was special, and to reach that milestone while coaching her alma mater made it even more significant for Kathy Olivier.
It's a number that indicates a successful career, one to be celebrated.
It's also a number that might overshadow what could be Olivier's finest coaching job during her five seasons with UNLV's women's basketball program.
Olivier lost three starters off last year's 22-10 team, and then found out before this season the Lady Rebels wouldn't have point guard Mia Bell because of knee surgery.
Then second-leading scorer Alana Cesarz went down Jan. 23 with a season-ending knee injury. Cesarz, who averaged 15.6 points and 7.1 rebounds per game, is scheduled to have surgery Thursday.
"I thought, 'Freshmen, time to grow up quickly,' " Olivier said Monday.
But, with Olivier going with two 6-foot-2-inch freshman starters in the post, the Lady Rebels have won back-to-back games to get to 4-3 in the Mountain West (8-13 overall) and put themselves in position for a fairly high seed at next month's conference tournament. UNLV is alone in fourth place.
"We still feel like we can be even better," Olivier said. "We haven't really jelled yet. We're starting to jell."
Cesarz's injury prompted Olivier to start freshmen Rejane Verin and Amie Callaway at the post positions.
Callaway was a starter already, and Verin had been getting quality minutes off the bench. As co-starters, Callaway plays center, and Verin handles power forward. Verin plays center when Callaway sits.
Since going to that lineup, Callaway produced a combined 19 points and 15 rebounds at UNR and against Boise State, and Verin totaled 17 points and 22 rebounds in the two games.
It's little coincidence that UNLV won both games – 66-61 over UNR and 75-61 over Boise State.
"I think at first, we were like, 'Oh, shoot, we're down. How are we going to make this up?' " Callaway said. "Now that we've found our way and found the solutions, I think we have newfound optimism."
Six-foot senior guard Kelli Thompson, who had been carrying the team, now has the help that should benefit everyone. But she still can dominate, scoring 20 against the Wolf Pack and compiling 33 points and 10 rebounds against Boise State. Thompson, the team's only returning healthy starter, averages 18.6 points and 6.1 rebounds.
"She looks like a woman playing with girls," Olivier said.
Thompson also is being counted on for leadership, a role she takes seriously.
Losing Bell and then Cesarz were difficult blows, but Thompson said the youngsters are showing what they can do.
"These kids work their tails off," Thompson said. "I feel like as long as they trust in me, we can get the job done. It's fun because they are so young. They don't realize how good they are.
"The more that we jell and the more that we see that it's not as hard as we make it, I think we'll be all right."
Olivier also is pleased with the way the team has responded.
Reaching 300 victories would've been significant anyway, but it meant even more with the recent surge.
"I've been super, super lucky, super blessed to be around really, really good people," said Olivier, who also coached UCLA for 15 seasons and is a combined 300-287 at the schools. "My staffs have been great. I think that's what 300 means more than anything.
"This year's been hard because you want to win, but I feel like we're getting so much better, and I feel like we're making a difference with these players."
Contact reporter Mark Anderson at manderson@reviewjournal.com or 702-387-2914. Follow him on Twitter: @markanderson65.