New UNLV AD Desiree Reed-Francois short on specifics, high on expectations
Updated April 18, 2017 - 8:37 pm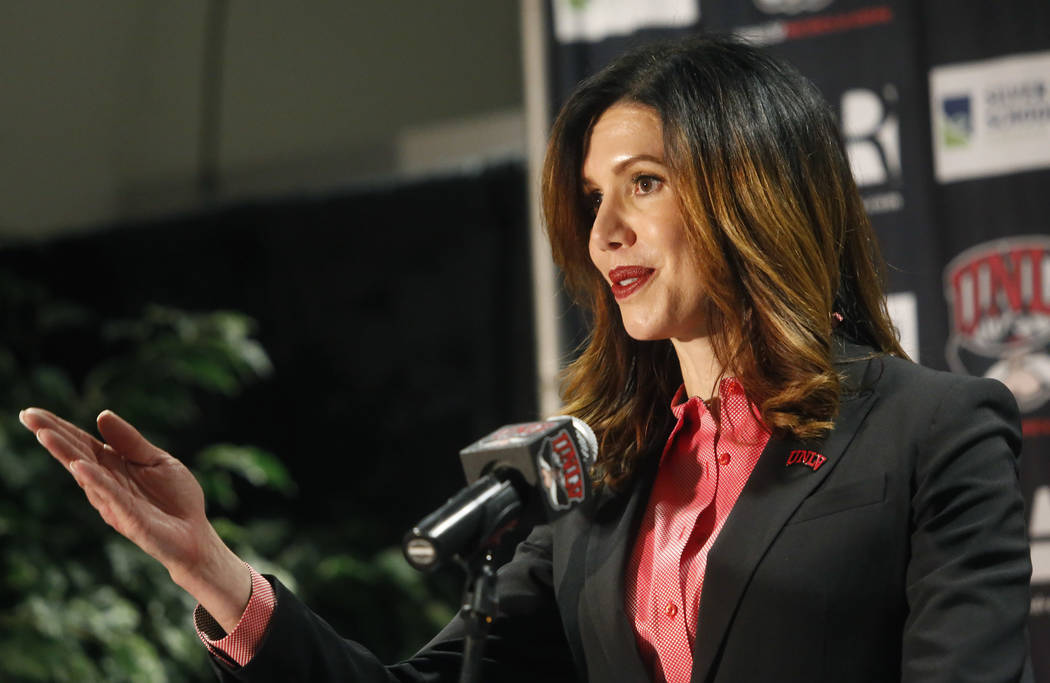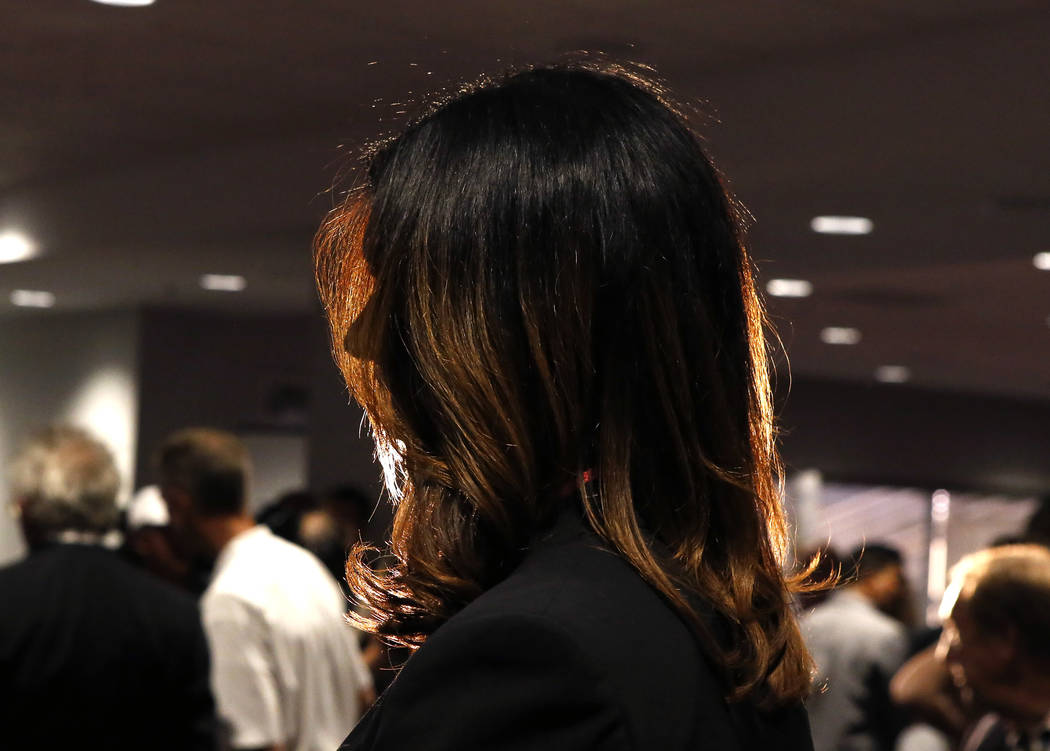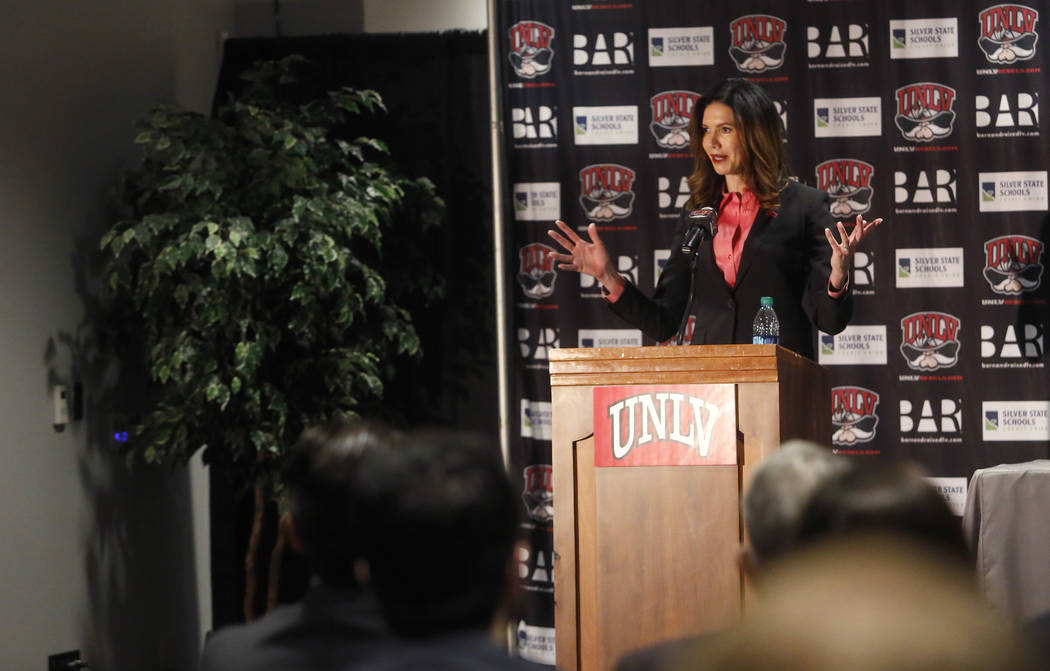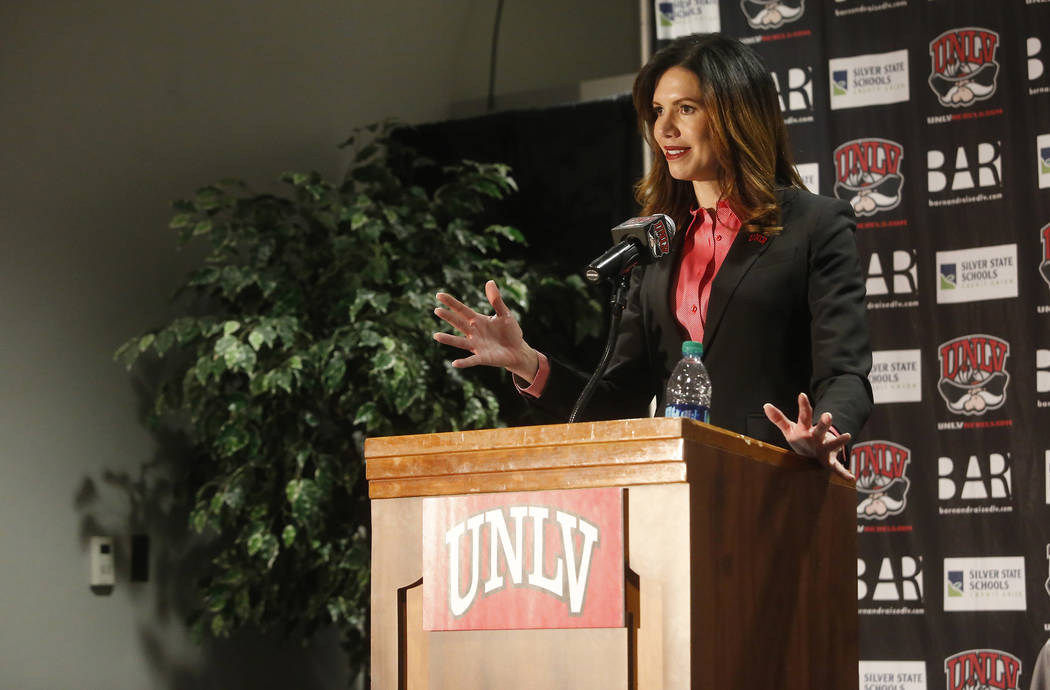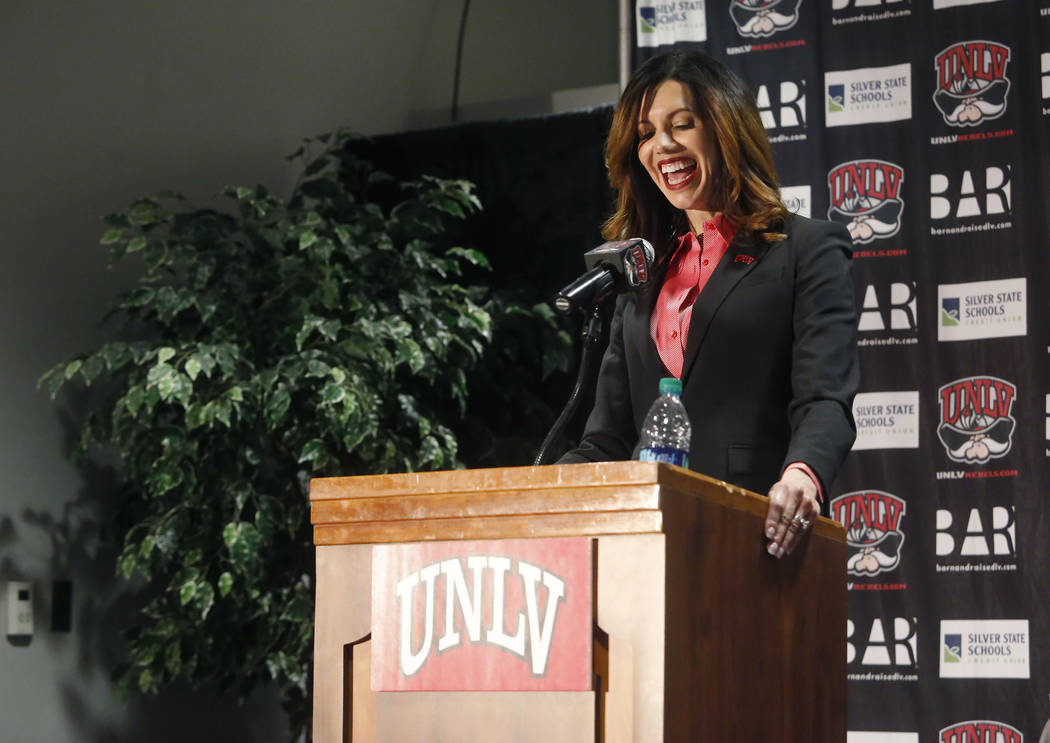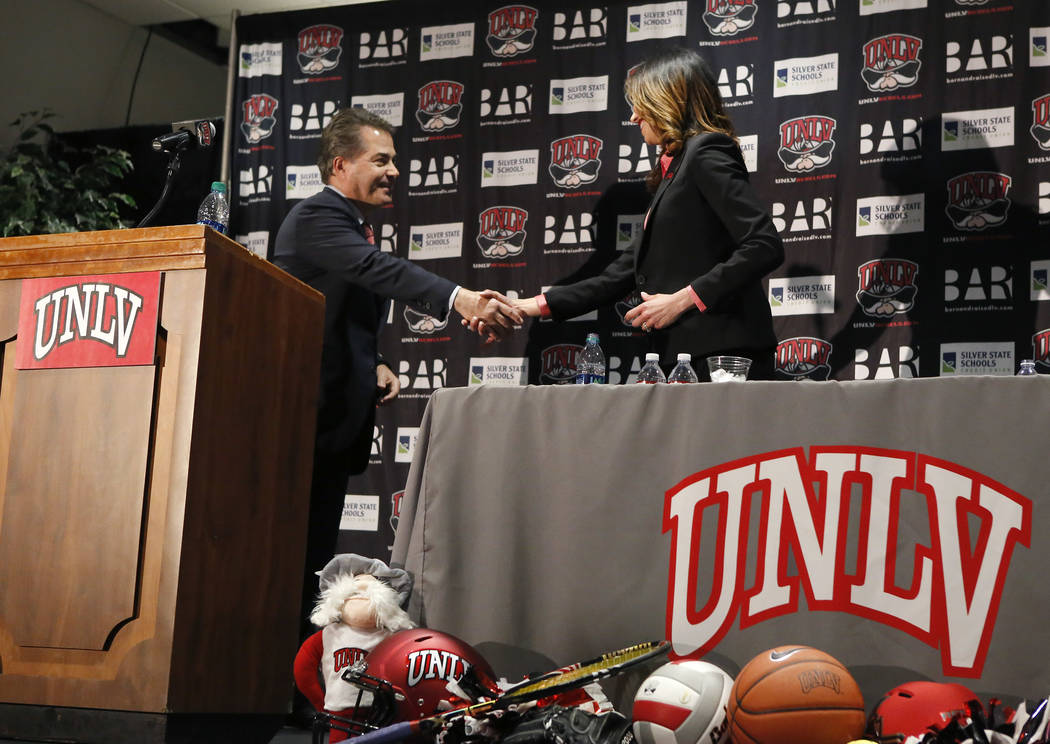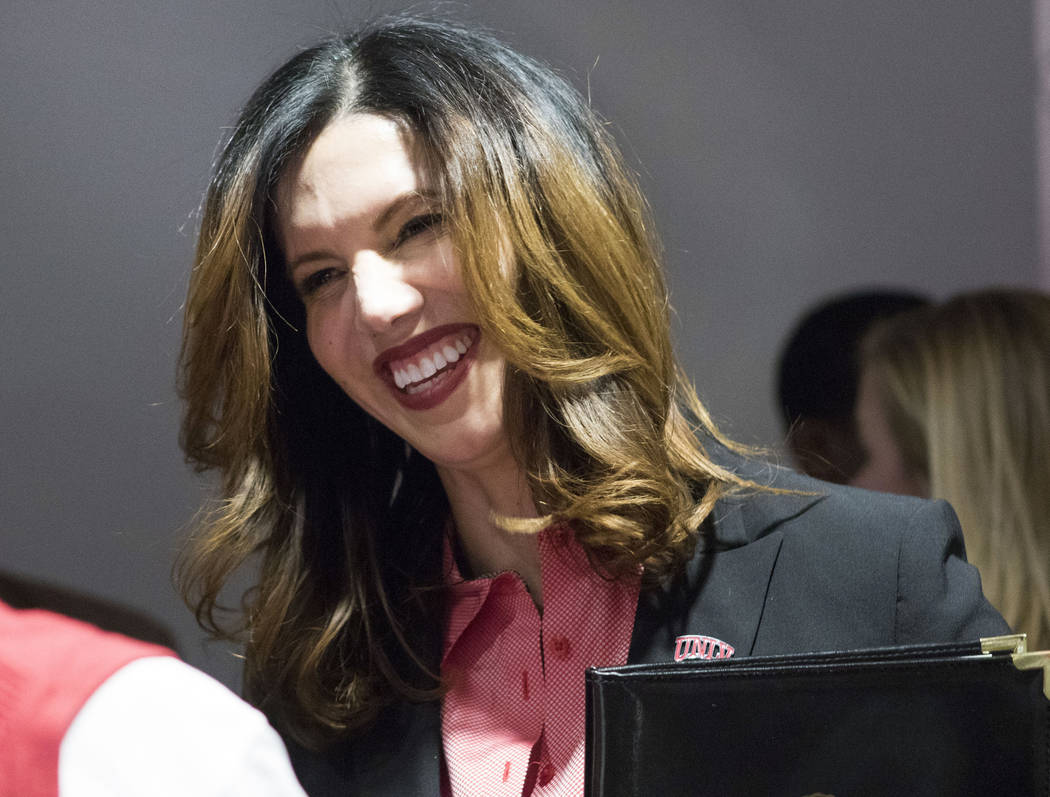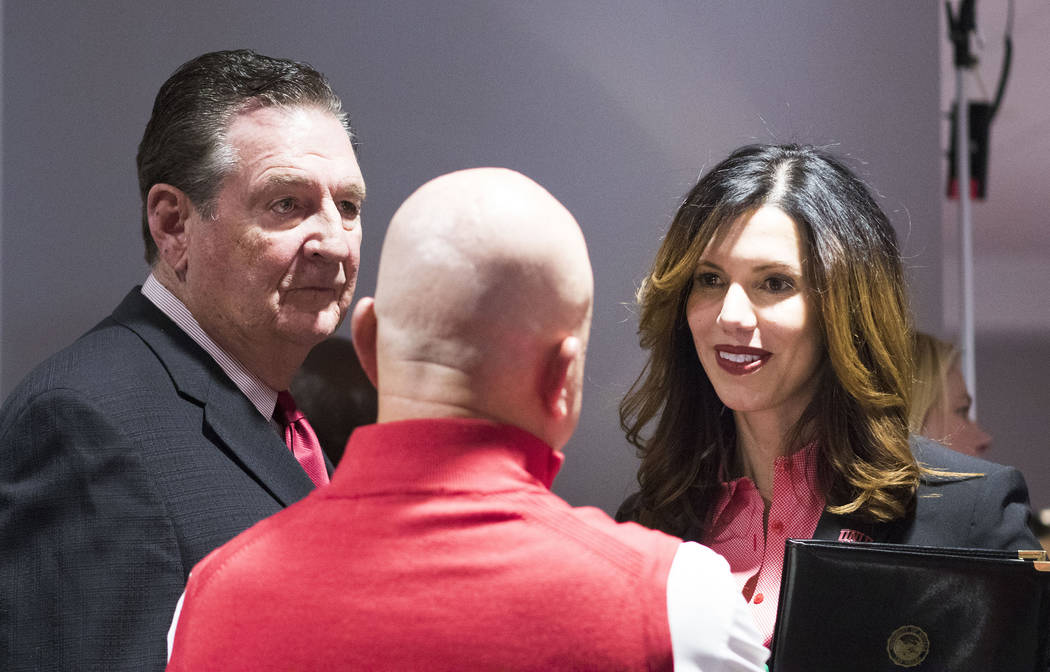 UNLV president Len Jessup had just completed his interview with Desiree Reed-Francois, and he was immediately impressed.
But he wanted to be sure, so he consulted with the seven or eight search committee members who traveled with him two weeks ago to Salt Lake City International Airport.
"I thought, 'Wow,'" Jessup said. "She looked good on paper, but she was so good in this interview. I couldn't wait to get back downstairs to compare notes with the committee, and they felt the same way."
On Tuesday, Jessup introduced Reed-Francois to coaches, athletic department officials and other dignitaries at a news conference at the Si Redd Room in the Thomas & Mack Center.
Reed-Francois, the deputy athletic director at Virginia Tech, begins a five-year, $350,000 annual contract on June 1.
She was cautious in answers to media questions, saying she wants to hear from those who know UNLV and Las Vegas best before forming opinions on how to move Rebels athletics forward. Reed-Francois made it known, however, that her expectations are high.
When asked specifically what she knows about the massive rebuilding job with men's basketball, she said: "If we're going to keep score, we might as well win. I know that coach (Marvin) Menzies is a competitor, and I'm a competitor, and it's my job to provide him with the resources and the support he needs. We know that the community of Las Vegas and the broader global UNLV community expects success. That's what we intend to deliver."
Reed-Francois, 44, will have a lot facing her, including a budget deficit that was projected to hit $4.9 million by the end of this fiscal year. But Jessup said steps are being taken to narrow the deficit and he thought "it would be much less than that." He said the plan is to completely erase the deficit in two or three years.
To accomplish that goal, Reed-Francois will need to be creative in looking for additional revenue streams and effectively courting donors.
Having control of the Thomas & Mack and Sam Boyd Stadium should help Reed-Francois in her efforts to increase funds. The university had overseen those facilities.
"The Thomas & Mack is really unique in college athletics in that it's such a top revenue stream for our institution," Reed-Francois said. "Having opportunities to work with the Thomas & Mack is really important, and I know that President Jessup and his team felt that it was time to move that back over to athletics, which I'm very appreciative."
Jessup noted that Reed-Francois' experience as a legal associate for the Oakland Raiders, who plan to move to Las Vegas by 2020, and the NFL's Management Council will help UNLV negotiate favorable terms with the new football stadium. The Rebels will be tenants at the Raiders' new venue.
Getting the financial end correct is UNLV's short-term aim. The long-term goal is entry into a Power Five conference.
"You think how long it took the University of Utah to get to the Pac-12 (11 years)," Jessup said. "That's the kind of time frame we're looking at. It's going to take awhile, a decade or more."
Reed-Francois has experience at Power Five schools, and even if it's a long-term objective to enter one of those leagues, that doesn't mean the work doesn't begin now.
She said the fundraising effort for a new football facility is an important part of that initiative, but Reed-Francois said the most imperative step is for UNLV to win big in the Mountain West. She also said taking care of the athletes was important.
"If you do all of those three things, you're going to have options," Reed-Francois said.
Contact Mark Anderson at manderson@reviewjournal.com or 702-387-2914. Follow @markanderson65 on Twitter.
RELATED
Desiree Reed-Francois'passion for athletics starts with her brother
What they're saying about UNLV hiring Desiree Reed-Francois as new AD
5 questions for UNLV's new athletic director
Desiree Reed-Francois gets UNLV AD job, control of facilities