1998 UNLV men's golf team showed toughness as well as talent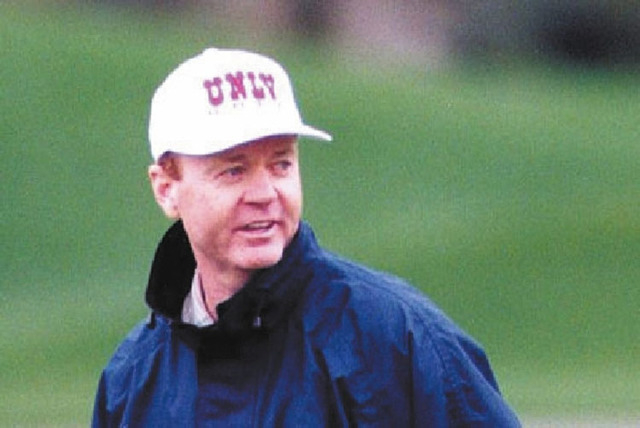 They were talented. They were tough. They were clutch.
They were national champions.
UNLV has had two NCAA title teams. In 1990, Jerry Tarkanian's Rebels sat atop the college basketball world. This story is about the 1998 men's golf team, which clinched the title at the University of New Mexico, winning by three shots over Clemson after squandering a 10-shot lead.
"They were a tough-minded group," coach Dwaine Knight said of his championship team, which will be honored Friday at Orleans Arena as part of the Southern Nevada Sports Hall of Fame's Class of 2016 along with Frank Mir, Marty Cordova and Sig Rogich. "It was an extremely competitive team. It was tough to make the starting five. But I think that had a lot to do with their success. You really had to earn your way onto the course. Nothing was given to you."
How tough was it? Charley Hoffman, now one of the PGA Tour's top players, had to battle to make the starting five and sat out several events. That team, which included Jeremy Anderson, Bill Lunde, Chris Berry, Scott Lander, Daron Dorsey, Chris Thornley and Scott Wingfield, won seven tournaments that season.
"We didn't want to lose to each other," Anderson said. "We all had the mindset that if we could beat each other, no team could beat us."
Yet, it took an embarrassing performance to rally UNLV to get to the top. It was late September 1997 and the Rebels had finished last at the Jerry Pate Invitational in Alabama. On the plane ride back to Las Vegas, Knight addressed the team.
"We had played flat-out awful," Anderson said. "Coach Knight said he wasn't used to finishing last and that he was not going to Florida for our next tournament and he was going recruiting instead to find some real golfers.
"We thought he was bluffing. But Coach had a great way of motivating his players. He wasn't on the trip. Casey Leonard, our assistant, coached us in Miami, and we went out and won."
By June, UNLV was in a groove as a team and the Rebels arrived at Albuquerque determined to win. They had come up short two years before, losing by three shots. Now, as the tournament was winding down to its final three holes, UNLV and Clemson were neck-and-neck. One bad shot could mean the difference between winning and losing.
"Those last three holes are really tough. The wind was blowing straight in," Knight said. "But we knew the course. We knew the greens really well. I told our guys, 'We're going to play every shot for what it's worth. We're not going to worry about bad shots.'"
Berry, then a junior, had a tremendous par save at the par-4 17th. He would finish second in the individual race at 16 under, a far cry from the 56 over he had carded in 1996 at the NCAAs.
"Think about it, a 72-shot swing," Knight said. "Chris was so clutch for us in Albuquerque."
Anderson, 38, who works for Merrill Lynch, said he's thrilled for him and his teammates to be receiving Friday's honor.
"It's incredible," he said. "I know I'm extremely humbled to be going in, and it's great that our accomplishments are being recognized and have this honor added to our legacy."
Contact Steve Carp at scarp@reviewjournal.com or 702-387-2913. Follow on Twitter: @stevecarprj