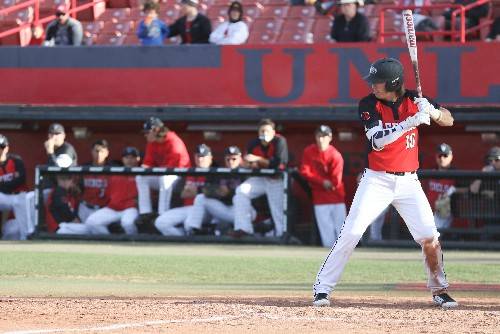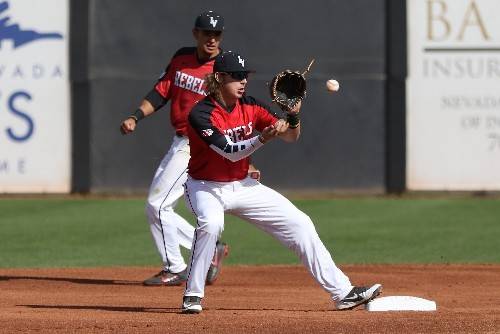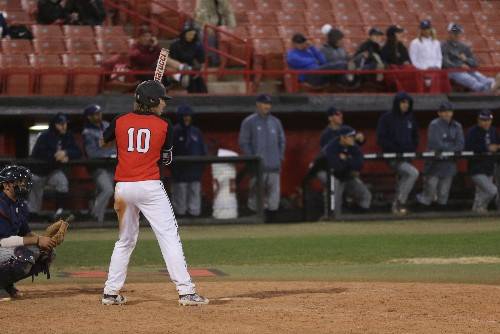 Derek Stott stood behind center from 1989 to 1991 as UNLV's starting quarterback, and he ranks seventh in school history in career passing yards.
He met a Rebels cheerleader, Shana, who would become his wife.
Their devotion to their alma mater was strong, but son Bryson didn't share that enthusiasm and was attracted to the idea of playing college baseball elsewhere.
"We always told him, 'Make your own decisions,'" Derek Stott said. "So if he wanted to leave town, he could've done that. I think he's got some real strong ties to Las Vegas with us being here, but it was always his own decision. It was never going to be an issue."
Despite Bryson's misgivings about attending college in his hometown, he gave UNLV the opportunity to sell him on the program when he took his recruiting trip. He saw the Anthony and Lyndy Marnell III Baseball Clubhouse, which opened in March 2016, and was sold.
"He felt like they could compete with other schools with what they have to offer," Shana Stott said. "He just felt at home. Really liked the coaches and felt like it was going to be a good fit, and I think it has. He's done amazing and made a lot of great friends."
Now Bryson Stott is all in, and as the Rebels head into their final home series of the season Friday through Sunday against UNR at Wilson Stadium, he's looking at some serious postseason honors.
Stott, a sophomore shortstop from Desert Oasis, is the likely Mountain West Player of the Year and could become an All-American. He also has been selected to play this summer for the Collegiate National Team.
"It will help a lot because he's playing against the best of the best and alongside the best of the best," UNLV coach Stan Stolte said. "He'll probably be humbled a few times, and once you do, it does everybody good. He'll compete. He'll represent us well."
Stott leads the conference in batting average (.398), runs (55), hits (84), doubles (27) and on-base percentage (.473). He also leads the nation in doubles and is tied for third in hits.
Not that this kind of production is surprising. He made an immediate impact last season, hitting .294 with 31 runs, 29 RBIs and 11 doubles. Stott also reached base in 44 games, including 20 in a row. He was named conference Co-Freshman of the Year and to Collegiate Baseball's Freshman All-America Team.
"Doing what I did my freshman year as a 19-year-old was pretty awesome and gave me a boost of confidence coming into my sophomore year," Stott said. "I tried to keep doing what I did last year into this year."
Only better.
Stott cut down on swinging at pitches outside the strike zone, and the more disciplined approached resulted in a batting average that has risen by more than 100 points.
"Sometimes it's tough because some of the umpires, their zones float from day to day," Stolte said. "Some days, it's big. Some days, it's tight. He's really mastered that and has a good feel for what's a strike and what isn't."
UNLV probably will have Stott for one more year before he becomes eligible after his junior season for the pro baseball draft. He will need to find a way to block out talk about going pro while trying to build on what he's accomplished.
"Hopefully, the pressure doesn't get to him," Derek Stott said. "As long as you're having fun, everything else will come. All he has to do is work hard, and that's all he's done. As long as he keeps doing that, he'll be fine."
The player who didn't want to be at UNLV is having an all-time great season for the Rebels.
He's happy with the choice he made.
"My mom always told me I was the one who was going against whoever they liked," Bryson Stott said. "They liked UNLV, so I would go against them and I would like whoever they were playing. I really didn't think I was going to come here until my junior summer when I came on my visit and fell in love with it. I wanted to leave, but coming here and seeing everything they had to offer, I couldn't leave."
More Rebels: Follow all of our UNLV coverage online at reviewjournal.com/Rebels and @RJRebels on Twitter.
Contact Mark Anderson at manderson@reviewjournal.com. Follow @markanderson65 on Twitter.
Game day
Who: UNR vs. UNLV baseball
When: 6:05 p.m. Friday, 2:05 p.m. Saturday, 1:05 p.m. Sunday
Where: Wilson Stadium
Tickets: Adults $8, seniors $6, 12 and under free
Bryson Stott file
Position: Shortstop
Year: Sophomore
Size: 6 feet 3 inches, 195 pounds
Honors: Collegiate Baseball Freshman All-American, Mountain West Co-Freshman of the Year, second-team all-conference
High school: Desert Oasis