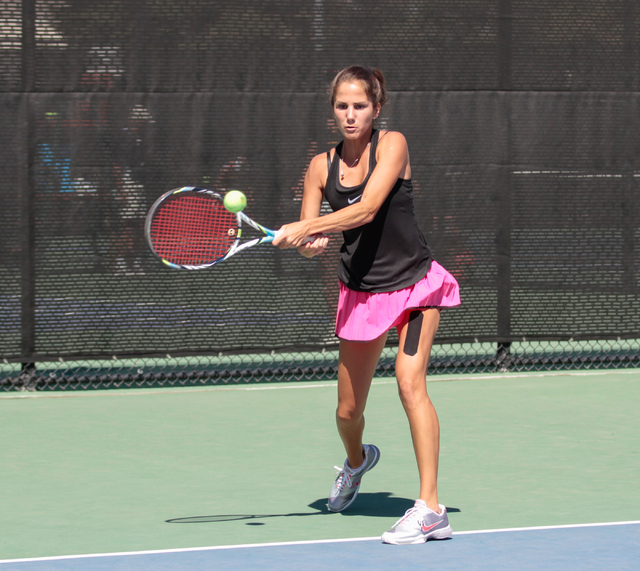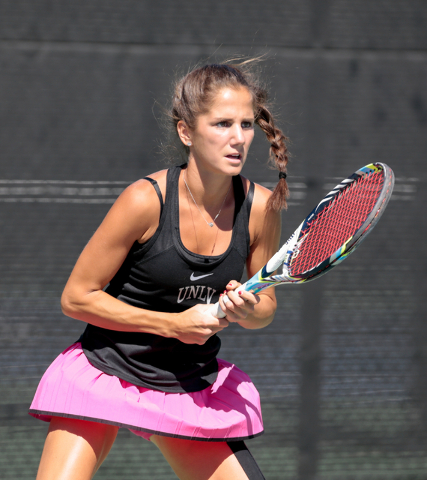 Jovana Kenic wasn't even in the United States for a year when she discovered she had to move again.
Kenic, who is from Belgrade, Serbia, was playing at Albany when the coach informed the team the school was dropping the program. The players were given the option to transfer, but if they stayed, they would remain on scholarship.
"I didn't want that because I came to America to play tennis, not just to study," Kenic said. "The day after, I started talking to other schools, and (transferring) was the best choice for me."
She favored UNLV as the landing spot from the start, and was particularly intrigued with Las Vegas and the idea of playing in warmer weather. Kenic also knew a UNLV player, sophomore Cristina Moroi of Romania.
But Kenic was in demand, receiving 19 scholarship offers, and Southern Methodist even sent both coaches to watch her play during the spring season. Then the Mustangs offered Kenic a scholarship.
"It's one thing to send your assistant, but how do you leave your team in the middle of the spring?" UNLV coach Kevin Cory asked. "I'm like, 'Man, they're really going after her.' "
That's when Cory, who had been deciding whether to offer Kenic, knew he couldn't wait any longer.
Kenic will have three seasons to play for the Rebels, and she made her debut on Friday through Sunday in the UNLV Invitational at the Fertitta Tennis Complex. She is playing anywhere from the fourth to sixth seed, a familiar spot for Kenic, who rose three spots up to the No. 1 spot at Albany.
She went 28-5 last season with the Great Danes, earning the America East Conference player and rookie of the year honors.
"You've got to have somebody winning at the bottom if you're going to be good," Cory said. "She's not coming in saying, 'I'm No. 1, I want to play No. 1.' She's 'I'll do whatever you need me to do, Coach. I want to help the team.' So she's exactly the kind of person you like to have."
Kenic joins a UNLV team with high expectations. The Rebels' top three seeds were All-Mountain West last season for the conference tournament champions.
And she's happy to be part of that repeat effort.
"Albany was really cold, and here is awesome," Kenic said. "The campus is awesome. The city is so pretty. I love my team."
■ WOMEN'S SOCCER — The team is moving into a larger locker room and needs financial support for the proper upgrades.
"These resources will will help us compete at the highest level and become one of the premier women's soccer programs in the country," coach Chris Shaw said in a news release.
Those interested in donating can go here.
■ SOFTBALL — Fall practice begins this week, with the Rebels playing a doubleheader against Mount San Antonio College at noon Saturday at Jim Rogers Field. UNLV plays an alumni game on Oct. 8 and then exhibitions later in the month against Brigham Young and Salt Lake Community College.
UNLV opens its regular season Feb. 11 by hosting Texas Tech in the Sportco Kick Off Classic.
Contact Mark Anderson at manderson@reviewjournal.com or 702-387-2914. Follow on Twitter: @markanderson65
SCHEDULE
Men's soccer: vs. Cal State Bakersfield, Peter Johann Memorial Field, 7 p.m., Friday; vs. San Jose State, Peter Johann Memorial Field, 1 p.m. Sunday
Women's soccer: at Wyoming, Laramie, Wyoming, 3 p.m. PDT Friday; at Colorado State, Fort Collins, Colorado, noon Sunday
Men's tennis: at ITA All-American, Tulsa, Oklahoma, Saturday-Oct. 10
Women's tennis: at Riviera All-American Championships, Pacific Palisades, California, Saturday-Oct. 9
Volleyball: at Fresno State, Fresno, California, 7 p.m. Thursday; at San Jose State, San Jose, California, 1 p.m. Saturday