Amazing comeback puts UNLV in Mountain West title game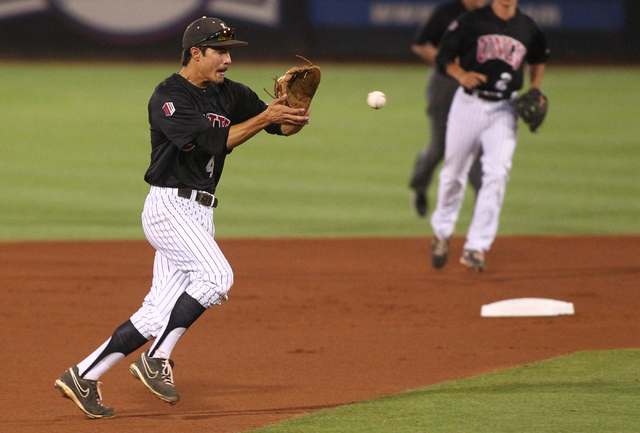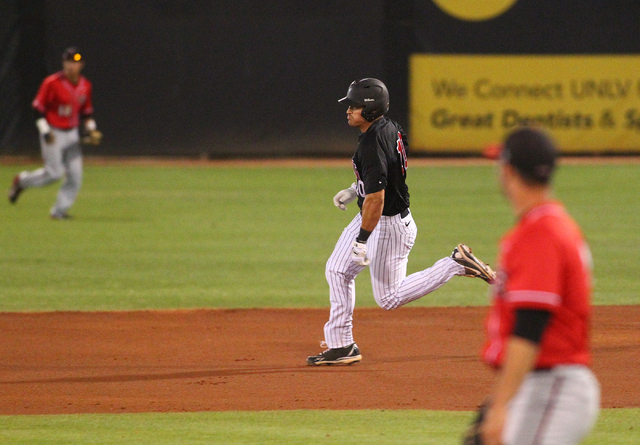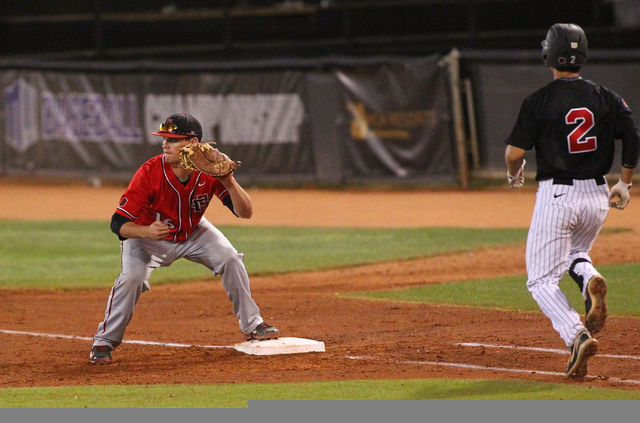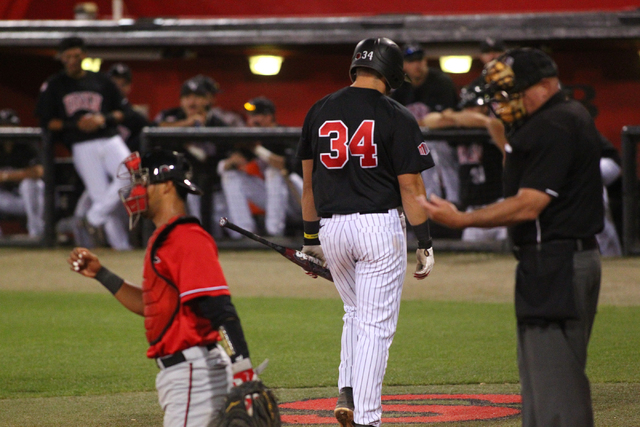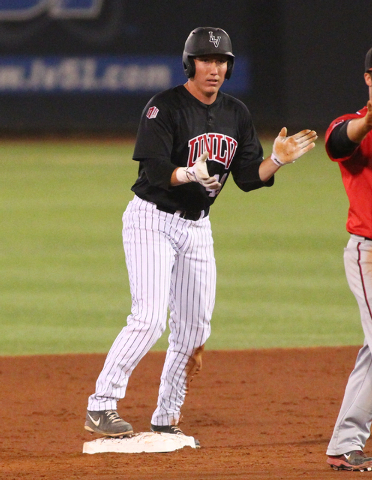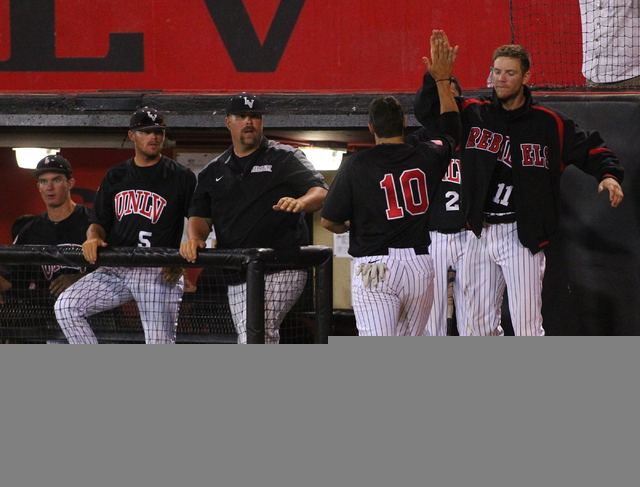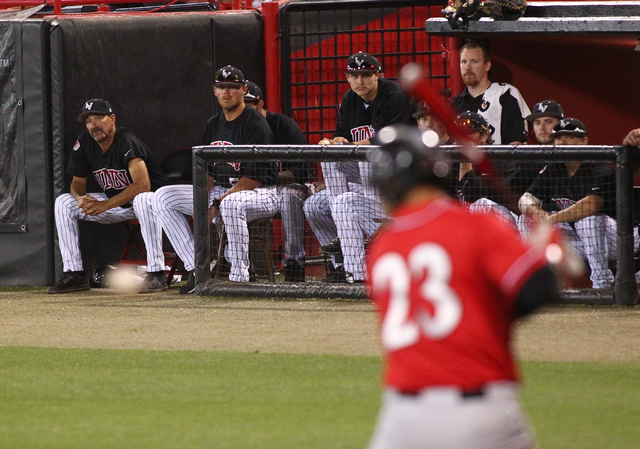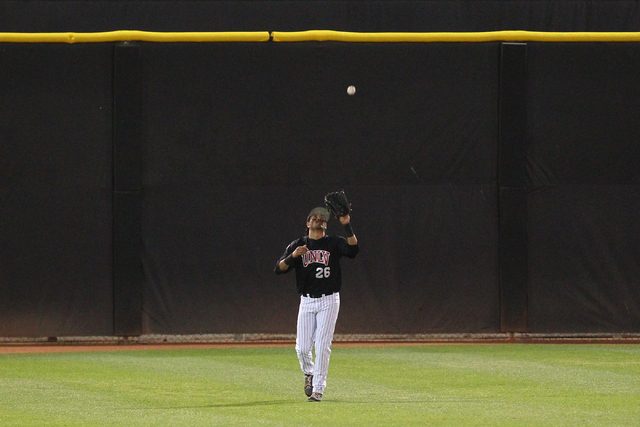 What remained of the crowd of 1,076 cheered so loudly and UNLV's players whooped and hollered and hugged so much, it was as if the Rebels had just won the Mountain West baseball tournament championship.
They hadn't, but even as rain fell and the clock edged close to midnight, no one could doubt the magnitude of what the Rebels accomplished Friday at Wilson Stadium.
UNLV, lifeless all game, had just rallied from three runs down against perhaps the country's best closer, using a three-run homer in the bottom of the eighth inning to tie the game and a double in the ninth to win it, 5-4 over San Diego State, to advance to the tournament title game.
The top-seeded Rebels (35-21) play No. 3 San Diego State (39-19) or No. 4 UNR (31-26) at 7 p.m. for the championship and automatic NCAA regional bid. Should the Rebels lose tonight, they will play a winner-take-all game at 1 p.m. Sunday.
San Diego State and UNR meet at 3 p.m. today.
Avoiding the afternoon game is huge for the Rebels, who now don't have to dig so deep into their pitching staff. Right-hander Kenny Oakley (4-6, 2.92 ERA) gets the start tonight.
"We don't have enough starting pitching right now to be able to come back three games," UNLV coach Tim Chambers said. "If we don't come back in that one, we don't win this tournament. I like our chances now."
The fact UNLV doesn't have to play the 3 p.m. game is startling considering how much the Rebels struggled to get anything going offensively against the Aztecs in a game that didn't start until 8:40 p.m. because the UNR-New Mexico game went 11 innings. UNLV was scheduled to play San Diego State at 7 p.m.
The Rebels trailed 4-1 with one out in the eighth inning and seemingly little hope when Patrick Armstrong then walked. The situation became even more dismal when the Aztecs brought in Michael Cederoth, who has 19 saves, to finish the game.
Even Chambers wasn't optimistic, telling associate head coach Stan Stolte he hoped UNLV's batters would make Cederoth throw a high number of pitches so the Rebels wouldn't have to face him again tonight.
UNLV did more than that.
Morgan Stotts singled to put two runners on, and after Erik VanMeetren struck out, Edgar Montes came to the plate. Cederoth can hit 100 mph, and Montes was looking for a fastball.
He got it, driving the pitch over the left-field wall to make the score 4-4.
"I got a pitch I could hit, and it carried," Montes said. "He left it in the middle, and I put a good swing on it."
The momentum certainly had shifted, but that didn't mean the game was over.
San Diego State threatened to go right back in front in the ninth, but UNLV reliever Brayden Torres (2-1) induced a double play and recorded a strikeout with runners at the corners to keep the score even.
Having already gotten to Cederoth, the Rebels were confident they could do it again.
Leadoff hitter Matt McCallister was hit by a 3-0 pitch, and T.J. White was next in the order. He already was feeling good, having gone 3-for-4.
"I've been seeing it really well recently, so I had some confidence going up, even though it was Cederoth," White said.
After McCallister advanced to second base on a passed ball, White took a 2-2 pitch the opposite way for a double to score his teammate and bring the rest of the Rebels racing out of the dugout.
UNLV hasn't won the tournament championship since 2005, and the Rebels still aren't there.
But this comeback felt close.
Getting to Cederoth with so much on the line will give a team that kind of feeling.
"It means we feel like we can come back on anybody," Chambers said. "He's as good as there is in this country."
Contact reporter Mark Anderson at manderson@reviewjournal.com or 702-387-2914. Follow him on Twitter: @markanderson65.
MW Baseball Championship
Watch the Mountain West baseball championship live.