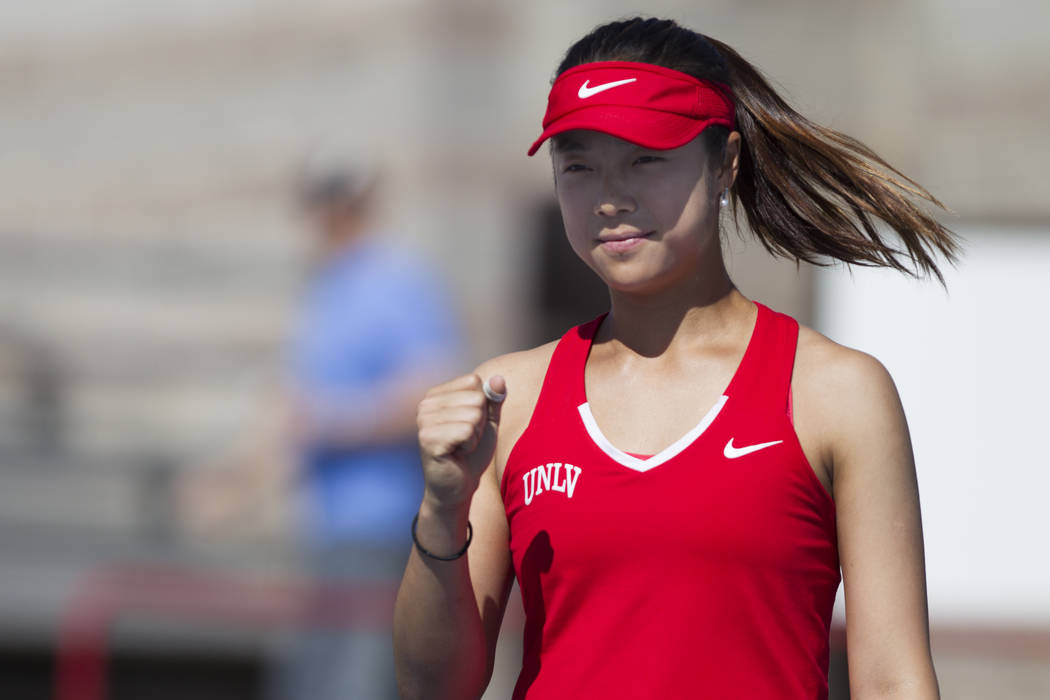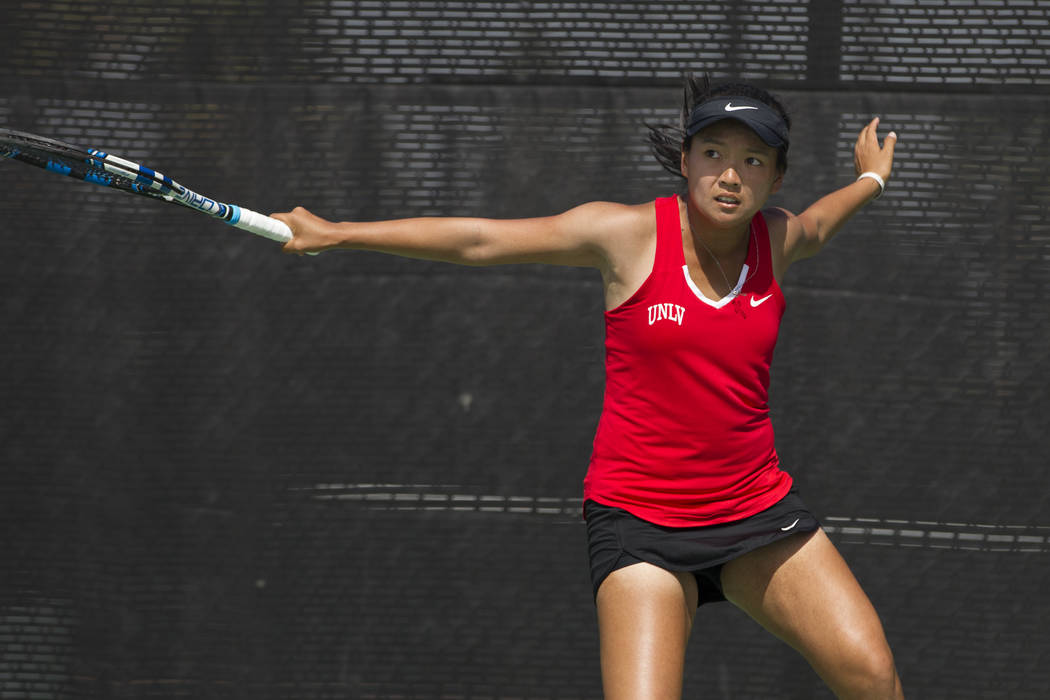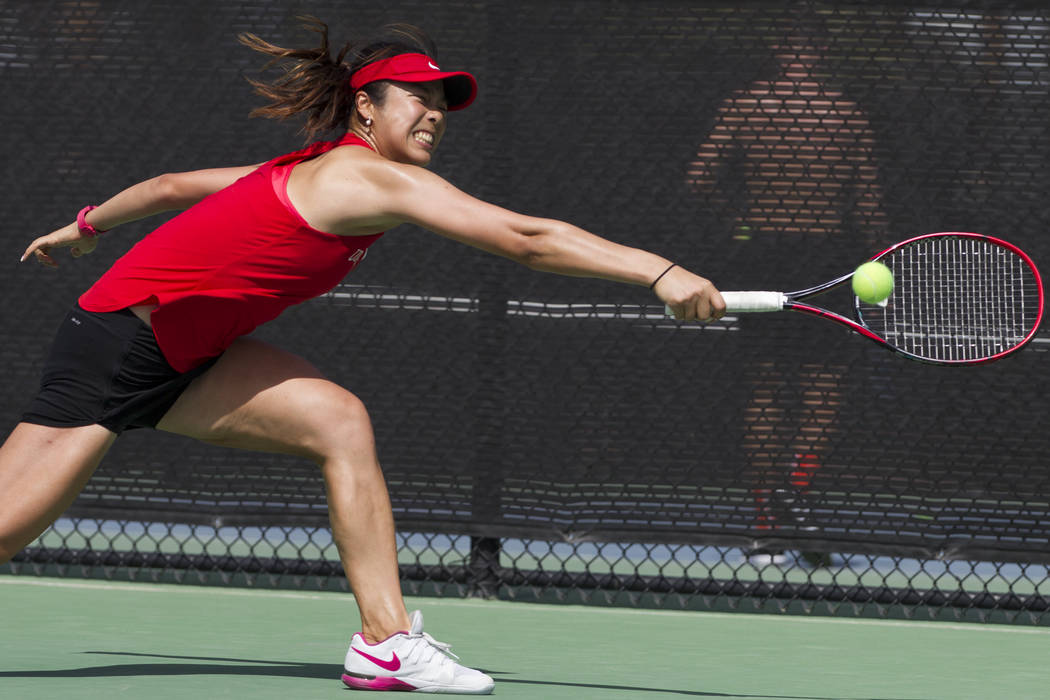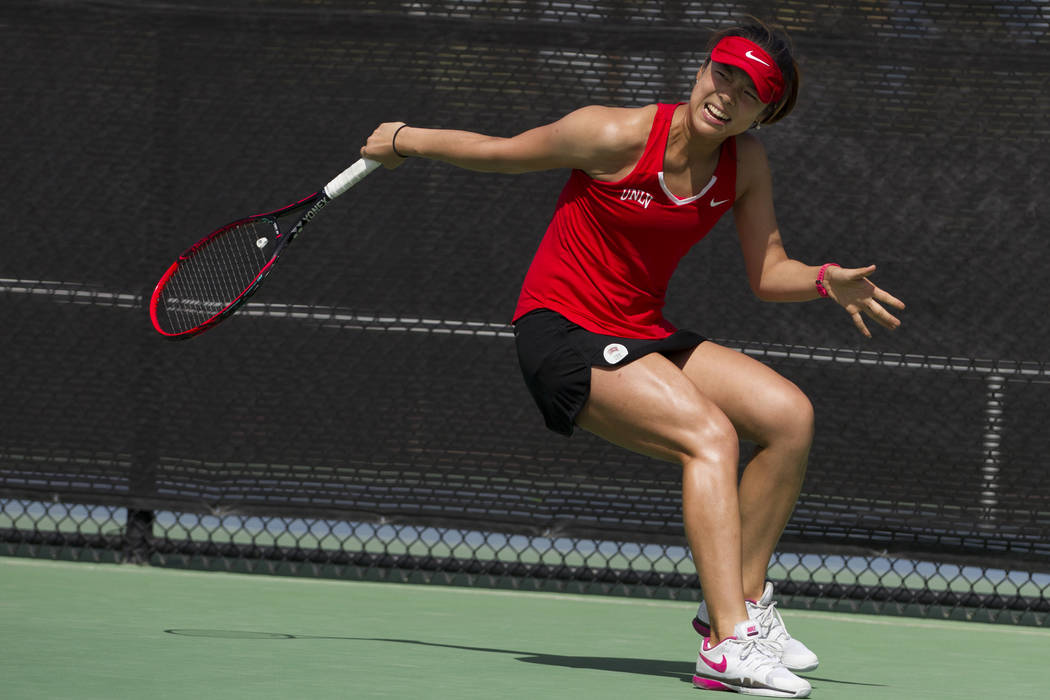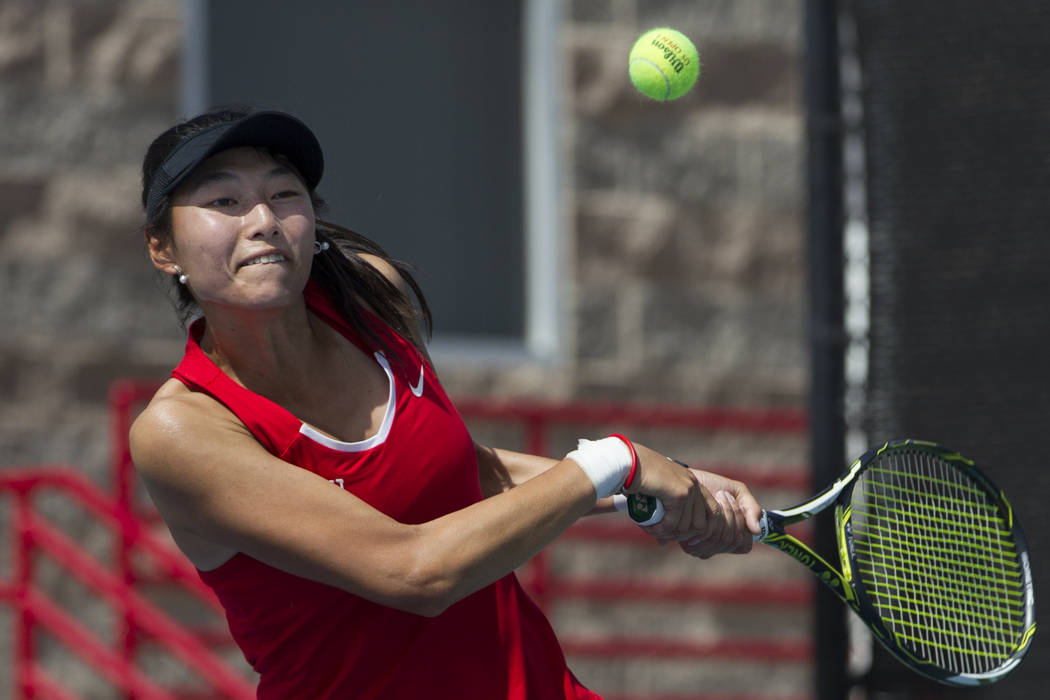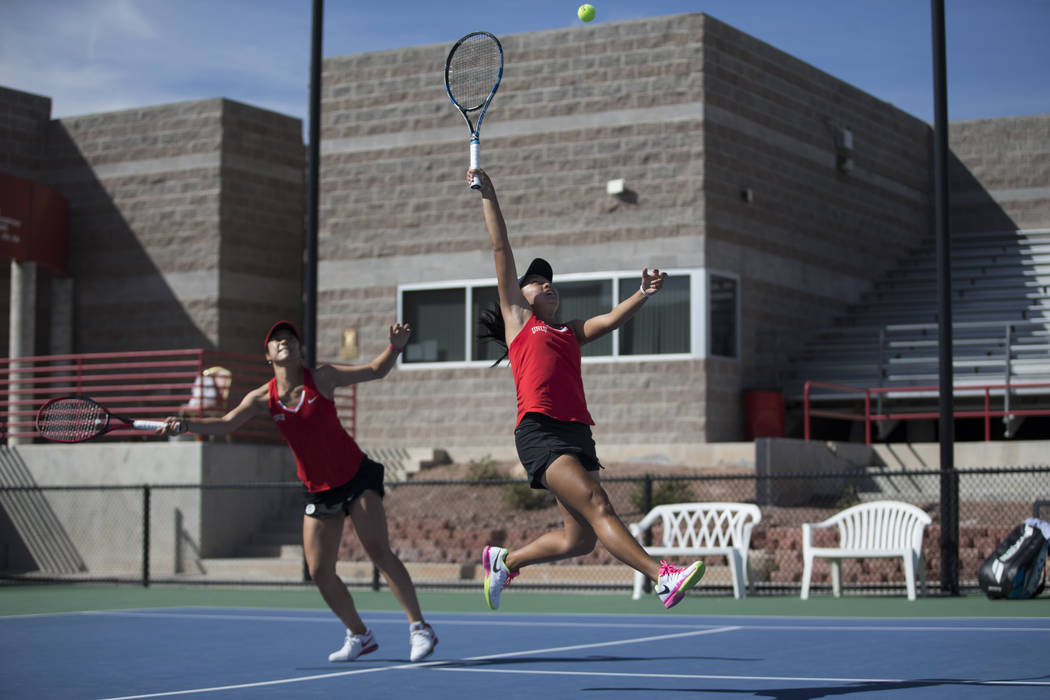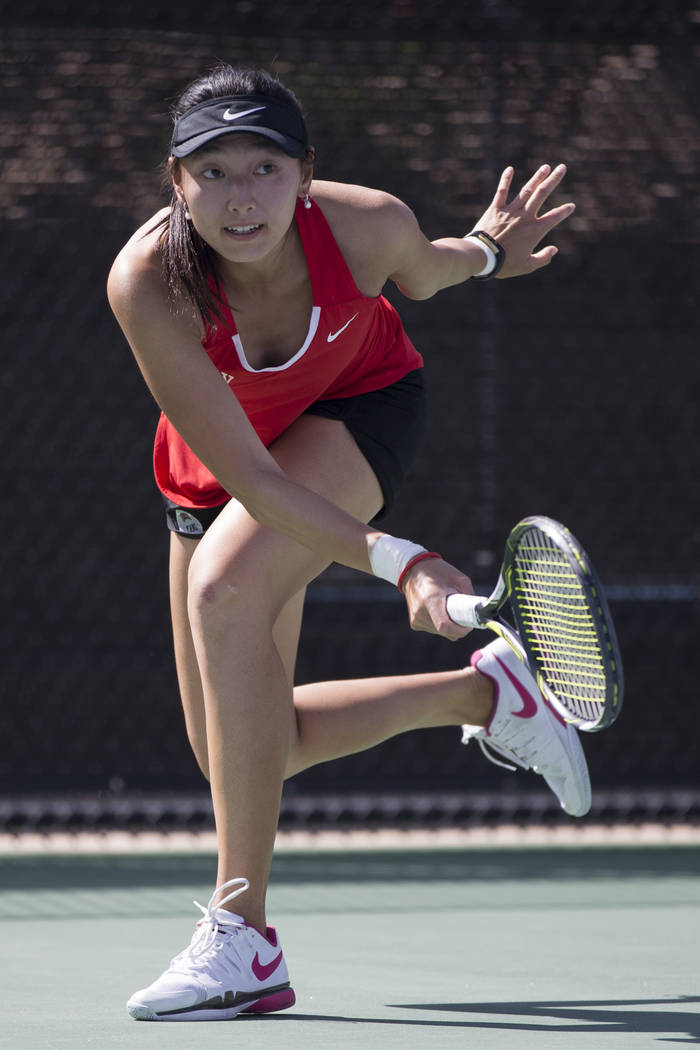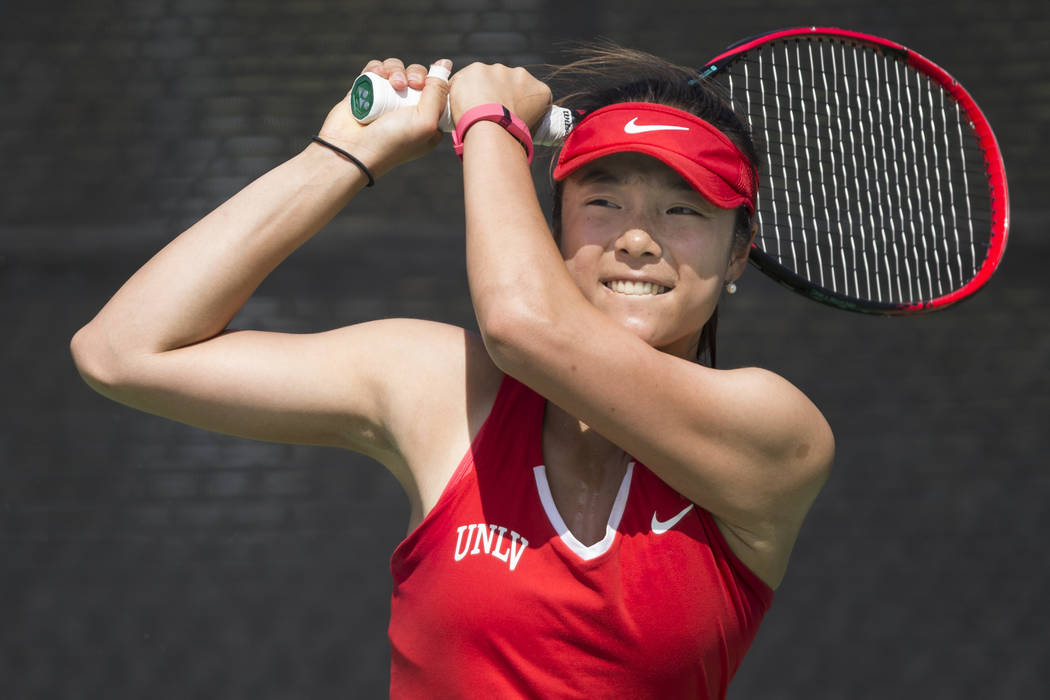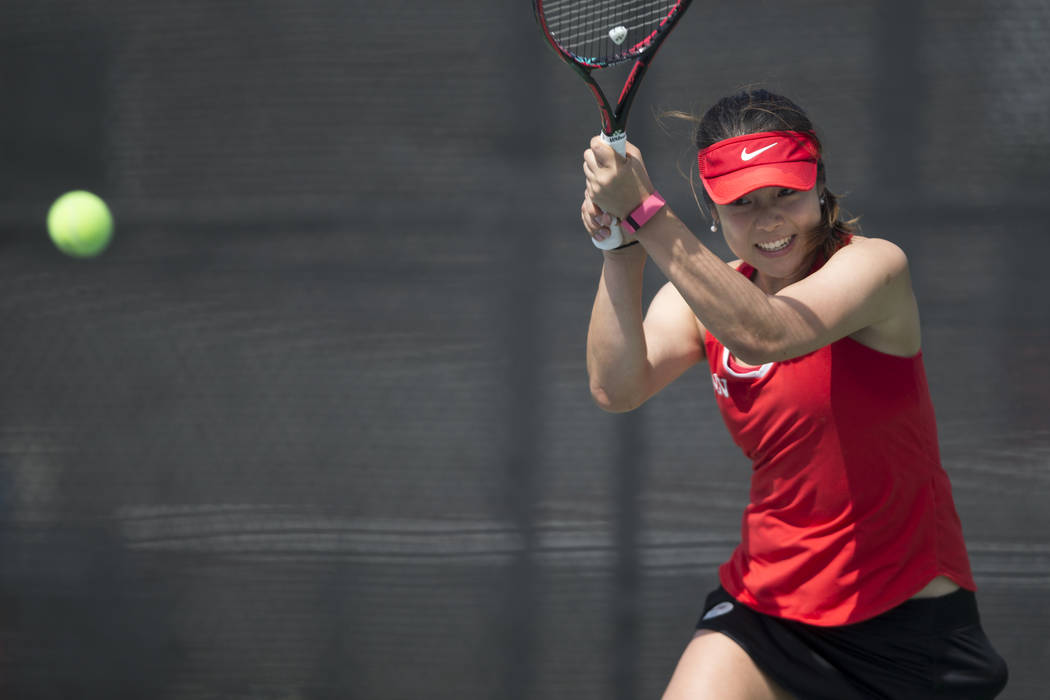 Carol Yang had one word to describe her top-10 victory this month.
"Incredible," she said with a big smile.
The No. 1 singles player for the UNLV women's tennis team defeated Oklahoma State's Viktoriya Lushkova for a comeback three-set tiebreaker on March 12. Oklahoma State was ranked seventh in the nation at the time, and Lushkova is No. 10 on the individual rankings.
"I was shocked," Yang, a senior, said about losing the first set 6-0. "I was pretty upset and my coach (Tim Nichols) was like, 'You'll be fine. Just keep playing.' I calmed down and made my adjustments. I was so happy."
The memorable win was a sigh of relief for Yang. A reminder that she belongs with the best tennis players in the nation.
"Carol has gotten so much better since last year," Paola Artiga said. "She's doing so well right now."
Yang, who redshirted in 2015, was thrown into the No. 1 singles spot last season and struggled with an 11-7 record.
She has found her stride this season, with a record of 21-5 and 9-1 in dual matches.
"We knew she had the potential to be really good when she came," UNLV coach Kevin Cory said. "She had to sit out a year, so it's tough to get ready to go after sitting out. Now she's a senior leader and pulling out big wins."
Yang is currently ranked 37th in the country but she's expected to have a big jump after the top-10 win. Yang was ranked No. 24 in February.
A native of Shenzhen, China, she was dealing with blisters during Wednesday's dual-match victory against Washington State.
"It doesn't hurt during games, but it's painful after," Yang said. "I just have to keep playing. I want to get to the NCAA Tournament this year."
Yang and Artiga are the senior leaders for the defending Mountain West champions. UNLV is 10-5 with the five losses coming against top 25 teams.
Artiga, who majors in international accounting, said the tough schedule will help them play better during the conference season.
Aiwen Zhu, UNLV's No. 2 singles player, and freshman En-Pei Huang are also having standout seasons.
"You can tell that everyone is starting to play well," said Artiga, a senior from El Salvador. "This is my last year, and I want it to be a good one. I think this team can go far."
WOMEN'S TRACK & FIELD
The Rebels set two new program records during the UNLV Spring Invitational on Saturday.
Taylor Pegram ran the 100-meter hurdles in 13.43 seconds, 0.17 seconds faster than her previous personal record.
Najia Hudspeth, Drea Austin, Destiny Smith-Barnett and Kaysha Love were part of the record-setting 4×100 relay that finished first with a time of 44.08 seconds.
Contact Gilbert Manzano at gmanzano@reviewjournal.com or 702-383-0492. Follow @gmanzano24 on Twitter.
SCHEDULE
Baseball: at Texas Tech, Tuesday, 4:30 p.m.; at Texas Tech, Wednesday, 10 a.m.; vs. New Mexico, Friday, 6 p.m., Wilson Stadium; vs. New Mexico, Saturday, 6 p.m., Wilson Stadium; vs. New Mexico, Sunday, 12 p.m., Wilson Stadium
Men's tennis: vs. Boise State, Tuesday, 11 a.m., Fertitta Tennis Complex; vs. Idaho State, Tuesday, 3 p.m., Fertita Tennis Complex; at Texas A&M Corpus Christi, Saturday, 10 a.m.; at Rice, Saturday, 3 p.m.; at Denver, Sunday, 10 a.m.
Softball: vs. New Mexico, Friday, 6 p.m., Eller Media Stadium; vs. New Mexico, Saturday, 4 p.m., Eller Media Stadium; vs. New Mexico, Sunday, 12 p.m., Eller Media Stadium
Women's golf: March Mayhem, Monday-Wednesday, all day, San Diego
Women's tennis: at Arizona State, Wednesday, 11 a.m.; vs. Boise State, Saturday, 10 a.m., Fertitta Tennis Complex; vs. Southern Utah, Saturday, 2 p.m., Fertitta Tennis Complex
Women's track: at Aztec Invitational, Friday-Saturday, all day