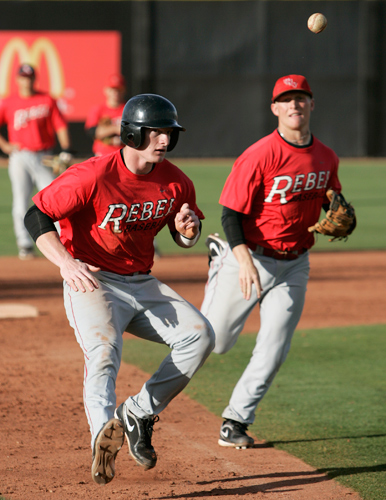 UNLV baseball players can now lounge in their clubhouse on spacious leather sofas and watch either of two flat-screen televisions.
Former supporters have been brought back into the fold, including the long-absent 335 Club, which now has right-field bleachers all to itself.
The person those stands are named for, legendary former coach Fred Dallimore, will throw out the first pitch before today's 6 p.m. season opener against Maine at Wilson Stadium. It is the first game of a three-day, four-game series.
Tim Chambers' message during this time of dramatic change, his first season as Rebels coach, is unity.
So Dallimore is back, fans who had felt alienated are welcome again, and a team equally divided between newcomers and returnees is one.
That's at least part of the reason behind the refurbished clubhouse.
"It's important for your players to want to be around the facility, around the field, around campus," Chambers said. "If there's not a place for more than five of them to sit comfortably, they're not going to hang around here."
By hanging around, Chambers said, players are more apt to work on their baseball skills on their own time and get to know their teammates.
The bottom line is whether more unity will translate to more wins, namely the kind of success Chambers enjoyed in his 11 seasons as coach at the College of Southern Nevada, where he went 466-195-1 and won the 2003 national championship.
Not much is expected from UNLV this season. The Rebels, who haven't had a winning season since 2005, were picked to finish fifth in the Mountain West Conference.
But their internal expectations are considerably higher. The team breaks huddles by yelling "Omaha!" — the site of the College World Series — and Chambers said he hopes to win at least 38 games, which "would be an incredible target for us."
UNLV last experienced that kind of success in 2003, going 47-17.
"There's a new vibe out here," said sophomore Brandon Bayardi, UNLV's lone preseason all-conference selection. "It started with the coaching staff and the mentality they brought."
Chambers has been careful to make sure the returning players feel just as important as the newcomers. Of the 16 new players, 13 are junior college transfers — 11 from CSN.
"When we made so many changes, it wasn't fun," Chambers said. "We looked at the roster and said this has to happen if we're going to be better right away. There was some uncertainty with the returners. You're watching a dismantling of your friends and teammates from the year before."
Chambers said it took time for the team to begin to unite, but chemistry isn't an issue now. The coach also did his part by assuring the returnees that whoever plays best will take the field.
Still, change often includes sacrifice. Senior Richie Jimenez was asked to move from the glamour position of shortstop to third base.
"I came here as a shortstop, and everyone growing up wants to be a shortstop," Jimenez said. "You've got to do what's best for the team, and right now for me moving to third is probably going to be best for the team."
Hitting is expected to be a strength again — the Rebels batted .314 last season — but new NCAA-mandated aluminium bats are designed to take much of the offense out of the game.
Pitching has been a weakness. The Rebels' ERA was 7.22 last year, and four pitchers are hampered by injuries — bad news for a staff that faces an early stretch of 11 games in 13 days.
"We're not going to run the pitch counts up to get a win," Chambers said. "I'll lose a ballgame before I run a kid out there at a 100-plus (pitches) to hurt his arm down the stretch, because it's really about trying to figure out who you are and what your team's all about.
"Then when we get into conference play, you've got to be ready to win. Or at least try to win."
Contact reporter Mark Anderson at manderson@reviewjournal.com or 702-387-2914.