Fedde expected to elbow way into first round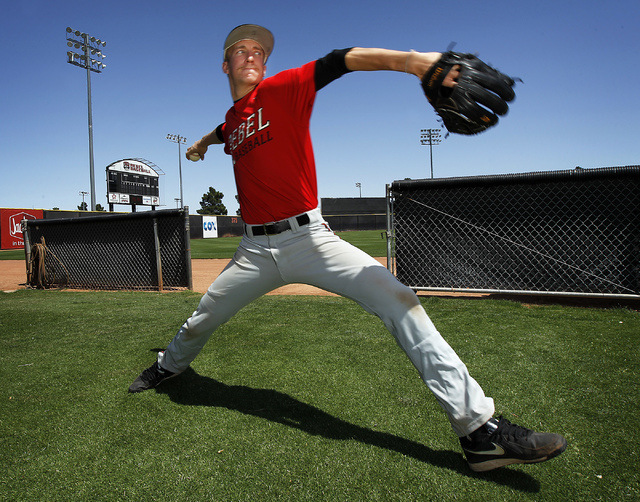 UNLV pitcher Erick Fedde sounded pleased with how Tommy John surgery went Tuesday, and now he's hopeful of more good news today.
He has been projected as a first-round pick, but with the cloud of the right elbow injury hanging over the major league draft, how high he goes largely comes down to a club looking past the surgery and to Fedde's potential.
The first two rounds are at 4 p.m. today, and will be televised on the MLB Network. The 40-round draft continues Friday and Saturday.
Fedde (6 feet 4 inches, 180 pounds) said the operation, which was performed in Los Angeles, "went great" and "everything in the elbow is clean. We expect a full recovery."
He was considered a potential top-10 pick before learning May 9 he needed surgery on his pitching elbow. Tommy John surgery, however, has become fairly routine and successful, which probably keeps Fedde in the first round, though not near the top.
"The good news is the Tommy John surgery track record of guys getting back and being as good as they were before is pretty good," MLB.com analyst Jim Callis said. "If it was a torn labrum, people would be pretty concerned about that."
Callis cautioned, however, that Tommy John surgery "isn't a 100-percent guarantee. It isn't a lifetime guarantee. Guys have had a second Tommy John surgery six or seven years later."
The surgery isn't the only factor that could influence where Fedde is taken. He is represented by Scott Boras, an agent known for driving a hard bargain. Could Boras be looking for top-10 money regardless of where Fedde is selected?
"It he looks to get close to what he would've gotten before he got hurt, that takes a bunch of teams off the market," Callis said. "If he's looking for 50 cents or 60 cents on the dollar … there will be a bunch of interest."
Fedde didn't address what he would like financially.
"We haven't really discussed money or anything of that manner," Fedde said. "We're hoping things work out. We're not worrying about what teams are looking for."
Whatever team drafts Fedde will be looking at a long-range investment because the typical recovery time for Tommy John surgery is 12 to 18 months, though it's more common for some players to return in as little as nine months.
Once healthy, Fedde's future organization will hope he produces numbers similar to this season at UNLV when he went 8-2 with a 1.76 ERA. The Mountain West named him the Pitcher of the Year.
Fedde, who also went to Las Vegas High School, throws a fastball that usually was clocked in the low 90s and will touch 95 mph. He also throws a slider and changeup.
Baseball America lists Fedde as the 24th-best prospect.
"I will be completely surprised if he doesn't go in the first round," UNLV coach Tim Chambers said. "I think he'll drop some spots, but Toronto's got two first-round picks, and they love him."
The Blue Jays own the ninth and 11th picks.
Fedde will watch the draft from his home, and he also will be celebrating his brother Kevin's 18th birthday and graduation from Las Vegas High.
"Hopefully, it will be an exciting day for all of us," Fedde said.
As for other UNLV players who could be selected, Chambers said he expected right-hander John Richy to go in the second or third round, and third baseman T.J. White and catcher Erik VanMeetren to be selected between the 12th and 20th rounds. Chambers also was hopeful first baseman Patrick Armstrong would be picked.
Of those players, only Richy is listed in Baseball America's top 500, at No. 203. Arbor View right-hander Gabe Gonzalez, who has signed with the Rebels, is No. 311 and the only local high school player on the list.
College of Southern Nevada outfielder Grant Heyman is listed at No. 336.
Contact reporter Mark Anderson at manderson@reviewjournal.com or 702-387-2914. Follow him on Twitter: @markanderson65.