Former UNLV player Ernst pockets first PGA Tour victory, $1.2 million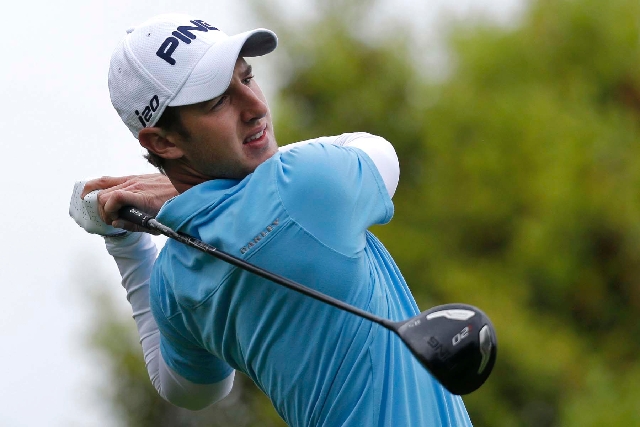 CHARLOTTE, N.C. — One phone call changed his plans. One shot changed a whole lot more for former UNLV golfer Derek Ernst.
Six days after Ernst received a call that he was in the Wells Fargo Championship as the fourth alternate, the 22-year-old rookie found himself one shot out of the lead and 192 yards from the flag on the 18th hole, the toughest at Quail Hollow in the cold, wind and rain of a grueling final round.
Ernst choked up on a 6-iron and hit a draw that landed 4 feet from the hole for one of only four birdies on the closing hole Sunday.
"I was trying to hit it as close as I possibly could," he said.
The birdie gave him a 2-under 70 and tied him with David Lynn of England, who also had a 70, to finish regulation at 8-under 280. And it turned out to be no fluke. Returning to the 18th in the playoff, as the rain started coming out harder, Ernst hit a 3-iron to about 15 feet left of the flag that set up his stunning victory.
Ernst, who played at UNLV from 2008 to 2012, was playing only his ninth PGA Tour event. He was No. 1,207 in the world ranking. He was in a car headed to Athens, Ga., to play a Web.com Tour event when he got the phone call that there was a tee time for him at Quail Hollow.
"This feeling is unbelievable right now," said Ernst, who wasn't sure where he was going at the start of the week and can't believe where he's going now.
For starters, the victory at Quail Hollow gets him into The Players Championship this week. He qualifies for two World Golf Championships, the PGA Championship, the Tournament of Champions next year at Kapalua and the Masters next April.
Ernst grew up in the central valley of California and has cloudy vision in his right eye from a freak accident as a kid, when a piece of plastic pipe sliced into his eyeball and required 10 stitches.
Before coming to Charlotte, the rookie swapped out rental cars in Georgia so he wouldn't have to pay the $1,000 fee for dropping the car in another location. Along with a two-year exemption on tour, the win earned him just over $1.2 million.
Phil Mickelson didn't get a chance to join the playoff. He had a one-shot lead with three holes to play until making back-to-back bogeys, missing putts of 6 and 10 feet. His 20-foot birdie putt on the 18th narrowly missed, and he closed with a 73.
"I felt like I was in control, and I let it slip away there the last few holes, so it was disappointing," Mickelson said.