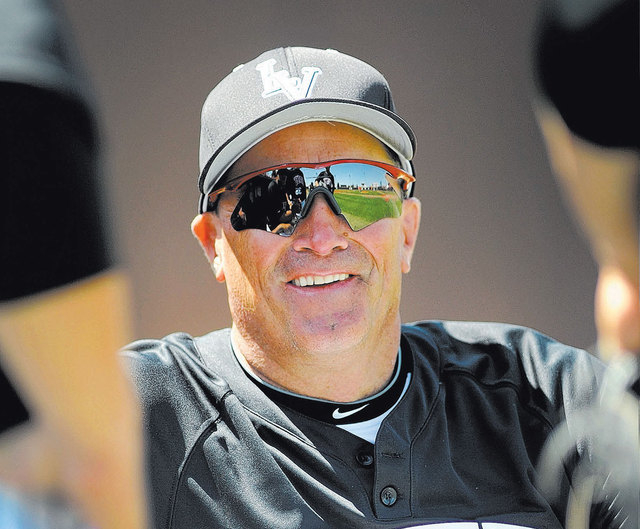 The talk before the season was of making it to Omaha, Neb.
For a program that had never played in the College World Series or even in an NCAA regional since 2005, it was bold talk from UNLV.
But it also was talk based on the real hope the Rebels had the starting pitching to keep them in every game. They did, but little did they know how much injuries would hit the team, including to ace pitcher and probable first-round draft pick Erick Fedde, who missed more than a month at the end of the season because of an injured elbow. He is scheduled to undergo Tommy John surgery today in Los Angeles.
So even though the Rebels fell well short of Omaha, they still captured a share of the Mountain West regular-season championship and competed in the regional in Corvallis, Ore., losing two of three games. UNLV finished 36-25.
With a strong recruiting class coming in, UNLV should continue to be a contender in the conference and for future regionals.
"I think we've got a chance to be good next year, I really do," said coach Tim Chambers, who just completed his fourth season. "Some young guys are going to have to step up, but it's not unusual now to start freshmen."
Even though UNLV's program is heading in the right direction, nothing is guaranteed.
Replacing Fedde and fellow front-line pitcher John Richy won't be easy, and third baseman and .318 hitter T.J. White could be gone as well depending on what happens in the major league draft, which begins Thursday. First baseman Patrick Armstrong, a first-team all-conference player and team leader with eight home runs, is a departing senior.
Most of the team returns, though, and UNLV welcomes a recruiting class that includes shortstop Austin Anderson of Columbine High School in Littleton, Colo., right-hander Blaze Bohall of Mountain Ridge High in Glendale, Ariz., outfielder Hunter Bross of Notre Dame Prep School in Scottsdale, Ariz., right-hander Gabe Gonzalez of Arbor View and shortstop Payton Squier of Greenway High in Glendale.
At least three players in the class will be drafted, perhaps four or five.
"I really like our recruiting class coming in if we can get them all on campus," Chambers said.
Until this season, Chambers has had to sell recruits more on hope than results. Now he has the results to go with the recruiting pitch.
One key recruit is Chambers himself.
He has one year left on his contract with a $110,000 annual salary and already turned down a five-year extension because it contained no raise. Having taken the Rebels to a regional and shown solid growth, Chambers has leverage. But UNLV is cash poor, meaning the athletic department will need outside help to give the coach what he wants.
Handing Chambers an extension would be a further signal to UNLV recruits the program is in solid hands, and won't go through the turmoil suffered after Jim Schlossnagle turned the Rebels into winners for two seasons and then bolted in 2003 for Texas Christian, where he built a national power. Schlossnagle might have left anyway because of family ties in Texas, but he also never felt adequately supported at UNLV.
The school paid a steep price for letting Schlossnagle walk. Chambers prefers not to go elsewhere because of his long history in the community, but he also might be willing to listen to other offers if UNLV doesn't respond in the way he hopes.
It's not unreasonable to expect a deal to get done by the end of this month, and if that happens, it will be another step toward providing stability.
UNLV doesn't need another nine-year drought between postseason appearances, not when the program is in the position to build on the success of this season. A slew of injuries kept the Rebels from realizing their dreams of making it to Omaha, but a foundation was established.
"In our clubhouse, we have an All-American wall," said Rebels sophomore pitcher Kenny Oakley, who also went to Coronado High. "You look at it, and you talk about 10 years ago like '03, '05 when this team was really booming. We were competing with the best teams in the country. To put together a team that plays just as well as them, it's kind of cool.
"I guess it's cool to just realize that we really had enough and to realize that we probably had enough to go a little further if things had gone our way a few more times."
Contact reporter Mark Anderson at manderson@reviewjournal.com or 702-387-2914. Follow him on Twitter: @markanderson65.