Greg Maddux joins UNLV as assistant baseball coach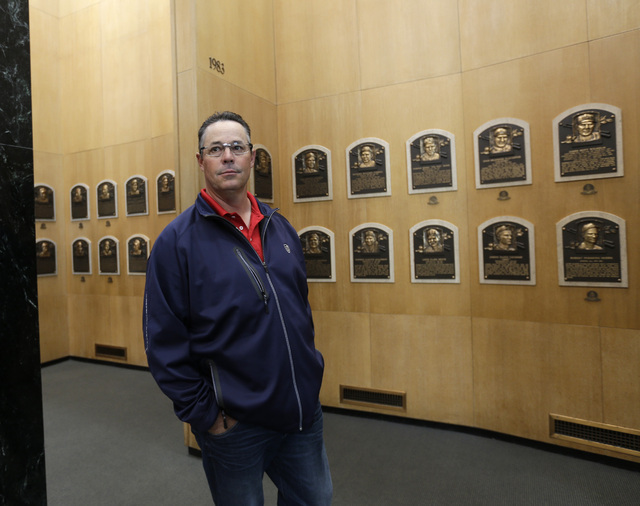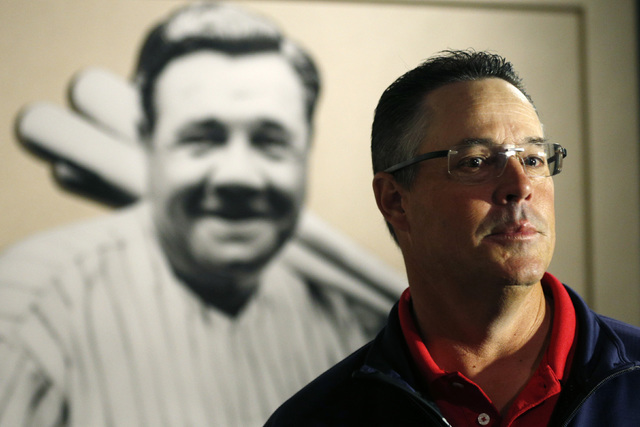 Greg Maddux is going back to school in Las Vegas.
The Baseball Hall of Fame pitcher and 1984 Valley High School graduate will join the UNLV baseball team as a volunteer pitching coach starting in the fall, Rebels coach Stan Stolte announced Wednesday.
"To add arguably the smartest player to ever step foot on a baseball field to our staff is so exciting for our student-athletes and the program," Stolte said. "After meeting with Greg, you are so impressed with him not only with his knowledge of the game, but how grounded he has remained and his genuine desire to share his knowledge with up-and-coming players.
"He may be the most respected teammate in the game past or present, which is the ultimate compliment as a player. We look forward to his immediate impact once we begin our fall season."
Maddux — whose son, Chase, a Bishop Gorman High School product, will be a sophomore pitcher for UNLV next season — retired in 2008 after winning 355 games and four Cy Young Awards in 23 seasons for the Chicago Cubs, Atlanta Braves, San Diego Padres and Los Angeles Dodgers. He was inducted into the Hall of Fame in 2014.
"Looking forward to helping the UNLV pitchers in the upcoming season," Maddux wrote in a text message to the Review-Journal.
Since 2010, Maddux has worked in the front offices of the Cubs, Texas Rangers and Dodgers, for whom he currently serves as a special assistant to Andrew Friedman, the team's president of baseball operations. He's expected to join the UNLV staff after finishing the season with Los Angeles.
Stolte said he first asked Maddux if he would be interested in the job in December, when Stolte was named interim head coach after Tim Chambers resigned. Maddux declined at the time because he had just agreed to take the job with the Dodgers.
After Stolte received a three-year contract to stay on as UNLV's coach on June 1, he said the first call he made was to Maddux.
"I told him, 'I wouldn't sleep at night if you would take this job and I never asked you,'" Stolte said. "He told me he was happy with what he was doing and would get back to me. A few weeks later, he called me up and mentioned he'd be interested."
Stolte said Maddux's presence has already had a positive impact on recruiting.
"It definitely will help. Any pitcher who wants to get better, obviously Greg Maddux will be a great mentor," he said. "Just the knowledge he'll bring to the pitching staff and to the entire team. Just the mentality. He'll have a view that probably hasn't been shared with them yet, to the extreme he will.
"At the same time, he keeps it pretty simple and very understandable for a kid to develop."
Maddux, 50, will inherit a young pitching staff that lost its top three starters and closer in June's Major League Baseball Draft.
"It's a good time for someone like Greg to come in and get them going in the right direction again," Stolte said. "But he's not going to be pitching for us. The pitchers are going to have to make the pitches."
Larry Quaney, a Cimarron-Memorial High School product who compiled a 5.19 ERA in 17 1/3 innings for the Rebels as a true freshman last season, said he's excited for the chance to learn from one of the best pitchers ever.
"I think it's a great thing that's going to happen for us," he said. "I remember Chase telling me he might be coming to help out, and it actually happened. It's kind of like a dream come true."
Despite being born in 1997, two years after Maddux won his fourth consecutive Cy Young Award, Quaney has seen plenty of his future coach's highlights online.
"I was too young to really watch him and remember," he said. "But I've seen all the cool videos on YouTube."
Maddux bolsters a UNLV coaching staff that was short-handed last season, with only one paid assistant in former big leaguer Kevin Higgins and volunteer assistant Pat Armstrong, a former Rebels player. The team is allowed to have two paid assistants and one volunteer. Maddux taking the volunteer position paves the way for Armstrong to become the second paid assistant.
Contact reporter Todd Dewey at tdewey@reviewjournal.com or 702-383-0354. Follow him on Twitter: @tdewey33