Greg Maddux might join UNLV as pitching coach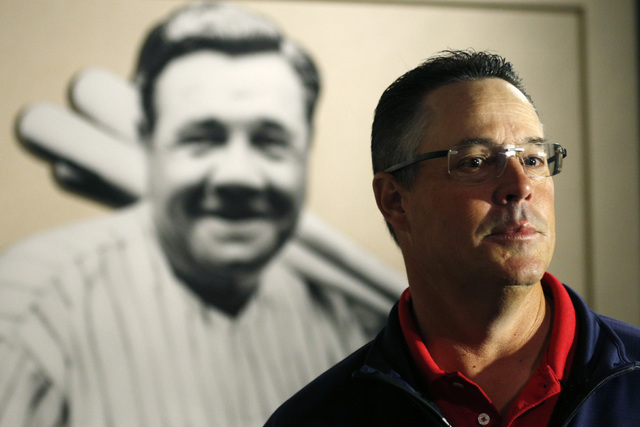 Greg Maddux has always served as his son Chase's unofficial pitching coach. Next season, the Baseball Hall of Famer might formally tutor his son — an incoming UNLV sophomore — as the Rebels' pitching coach.
UNLV coach Stan Stolte said he and Greg Maddux have had multiple discussions over the past year about him joining the team's coaching staff, and College Baseball Daily reported Tuesday that the 355-game winner will be named the Rebels' pitching coach.
"Nothing's official," Stolte said. "We've talked a few times about it, but nothing's happened yet. He's still working for the Dodgers."
Greg Maddux, who didn't return a call seeking comment, was hired by Los Angeles before this season as special assistant to Andrew Friedman, the Dodgers' president of baseball operations.
A Valley High School product, Maddux won four Cy Young Awards over a 23-year career before retiring in 2008. He was inducted into the Baseball Hall of Fame in 2014.
Maddux was hired as an assistant to the Chicago Cubs general manager in 2010, and in 2012 he took the same job with the Texas Rangers, where his brother Mike was the pitching coach. Greg left the Rangers after last season, when Mike left to become the Washington Nationals' pitching coach.
Greg coached Chase's Spring Valley Little League team in Las Vegas and also served as voluntary pitching coach at Bishop Gorman, where Chase went 4-1 with a 2.53 ERA his senior year to help the Gaels win the 2015 state title and finish second in the nation.
A 6-foot-2-inch, 140-pound right-hander, Chase struggled in nine appearances as a true freshman, allowing 13 runs on 10 hits in 7 1/3 innings with seven walks and three strikeouts.
Greg Maddux, who turned pro after getting drafted out of Valley by the Cubs in 1984, is a longtime UNLV basketball season-ticket holder, and his wife, Kathy, is a UNLV graduate.
If Maddux does become the Rebels' pitching coach, he'll inherit a staff that lost its top three starters and closer in the Major League Baseball Draft.
Contact reporter Todd Dewey at tdewey@reviewjournal.com or 702-383-0354. Follow him on Twitter: @tdewey33