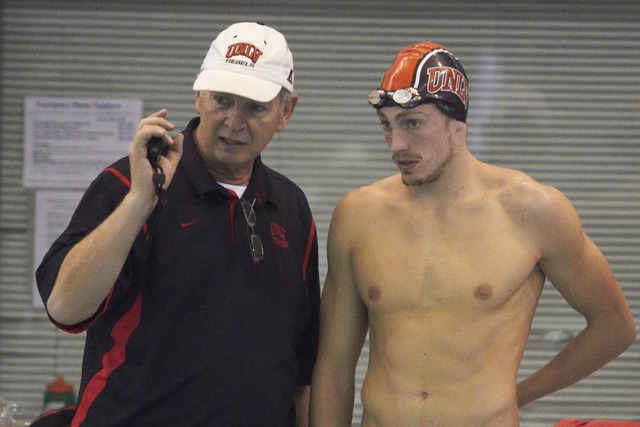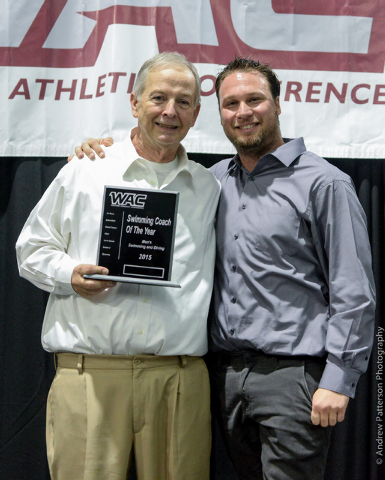 Jim Reitz, the dean of UNLV coaches, is retiring after heading the men's and women's swimming and diving program for 35 seasons.
When he took over the Rebels program in 1980, Jerry Tarkanian was the basketball coach and Tony Knap the football coach. Each of those programs has seen nine head coaches during his tenure.
Reitz, 64, announced his retirement Tuesday, effective in June.
"Without a doubt we are losing not only an outstanding coach but also an icon with Jim Reitz's retirement," athletic director Tina Kunzer-Murphy said in a statement. "Jim has built our swim program almost from the ground floor into one of the top programs on the West Coast, and the entire Rebel family will always appreciate the accomplishments and the outstanding student-athletes that came through the program in his time as our head coach."
His UNLV teams won 14 conference championships — including 10 men's titles in the past 11 years — and had success in the NCAA Championship meet with 17 finishes in the top 30.
Reitz groomed 42 All-Americans and several Olympic swimmers. His athletes were named the most valuable swimmer in the conference 29 times.
The men's teams compiled a 159-107-1 record and the women were 195-116 under Reitz. He was named conference coach of the year 16 times.
"UNLV was my first and only collegiate coaching position, and I just felt that now was the right time to retire," Reitz said in the statement. "I truly enjoyed my run here and working with these kids over the years. I will always cherish my time at UNLV, as I've seen it turn into a premier academic institution over the years. I will miss watching the kids grow in the program, as that is really the best part of coaching."
His teams had an international flavor, as witnessed by this year's squad that featured swimmers from Hungary, Russia, Tunisia, Germany, Australia, Brazil, Israel, Canada and France as well as the United States. Reitz stressed academics, and his athletes had a near perfect graduation rate and frequently won conference and national academic honors.
In the statement, Reitz thanked Kunzer-Murphy and former athletic director Brad Rothermel, "who gave me a chance 35 years ago to be the head coach."
A native of Seattle and a graduate of the University of Washington, Reitz coached swim teams in the Seattle area before moving to Las Vegas in 1976. He coached the Sandpiper Swim Team before taking over at UNLV.