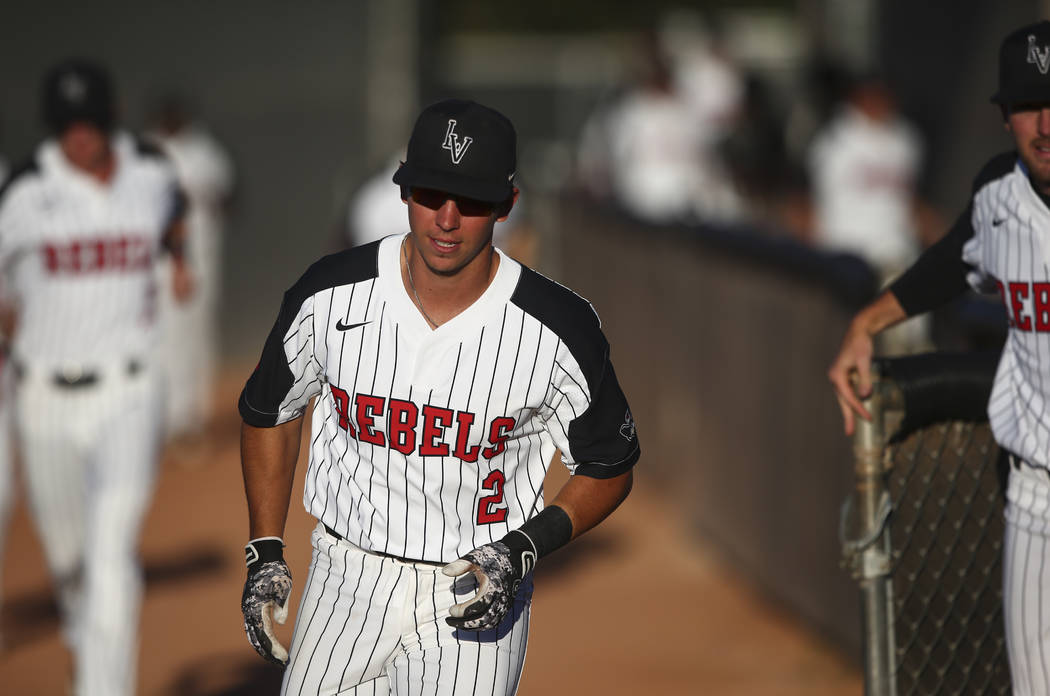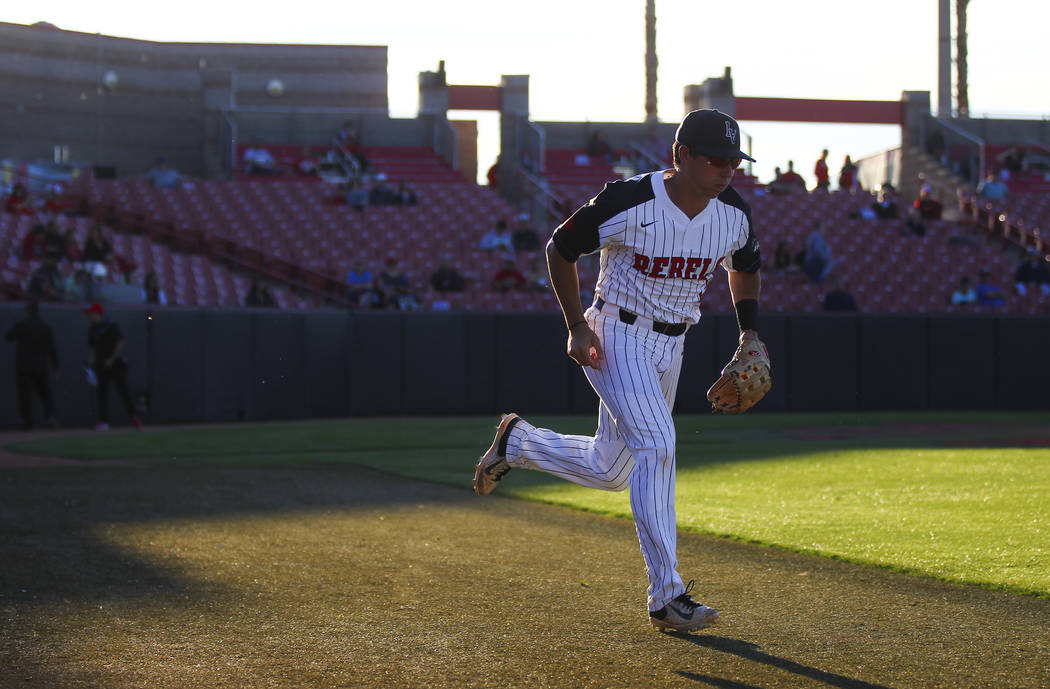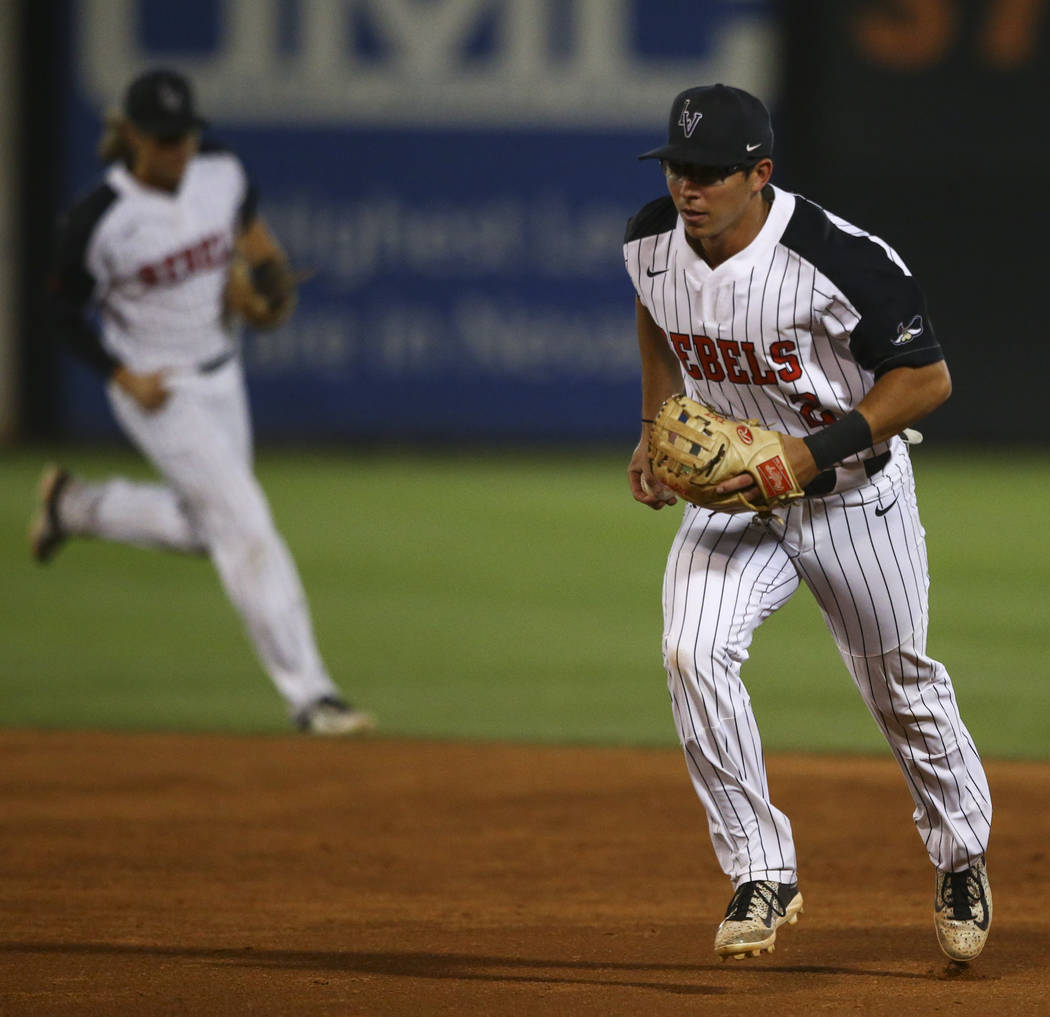 Rebels second baseman Justin Jones said he shortened his swing this year and decided to let home runs happen "by accident." Twenty-three games into the year, he's one homer away from accidentally tying his career high for homers in a season.
Senior year brought a power surge for the former Bishop Gorman standout, who boasted UNLV's best slugging percentage (.577) heading into its weekend series with New Mexico. He is also one of only two Mountain West middle infielders to rank in the conference's top-seven in slugging, a sure sign his maturity at the plate is paying off.
"This is definitely the most relaxed I've ever felt," Jones said. "I think I put a lot of pressure on myself the past few years. I've definitely figured myself out as a hitter."
Rebels coach Stan Stolte knew from watching Jones win a national championship with the Gaels that the local kid could play defense and run the bases well. But what really impressed him was Jones' mental makeup.
"Just a great kid from a great family," Stolte said. "Off the charts as far as how you want a kid to act off the field. Polite, mature, accountable."
The coach learned to appreciate that when adversity struck late in 2015. Rebels coach Tim Chambers resigned following an arrest in connection with driving under the influence and Stotle was promoted from associate head coach to acting head coach for the 2016 season. As the team navigated the year without a permanent leader, Stolte credited Jones with keeping the team together through all the turnover.
"He really helped us," Stolte, who was named full-time coach in June, said. "The program could have really gone south last year, and he helped hold it together during the changeover and all the turmoil that was going on."
Jones insists he's not an "hoo-rah" type of guy, but he knows to get on his teammates privately if they're not doing what they're supposed to. The fifth-year senior tries to lead by example, and this year he's done that by understanding what he can do as a hitter.
"I think he knows more who he is from an offensive standpoint this year," Stolte said. "He's not trying to do too much."
Jones is looking for the gaps more this season after trying to hit for power too much last year and lengthening his swing. By doing so his slugging percentage has gone up 150 points from last season, and his batting average has improved from .250 to .359.
"By accident," one of the Rebels leaders found his place in the team's lineup.
"He's shown signs of being able to do it and he's been a good player for us the previous four years," Stolte said. "It's just coming together so far this year."
MEN'S TENNIS
Following its matches in the Rice Invitational, UNLV has only one non-conference match remaining this season. The Rebels, which lost their only conference match so far to Boise State, will try to build off their finish from last year where they won the Mountain West tournament for the first time since 2007.
One of the team's strengths this season has been the top of its singles lineup, as the quartet of Ruben Alberts, Jakob Amilon, Alexandr Cozbinov and Courtney Lock combined for a 28-11 record this spring before the Rice Invitational.
Contact reporter Ben Gotz at bgotz@reviewjournal.com. Follow @BenSGotz on Twitter.