Lady Rebels seniors Aley Rohde, Amie Callaway ready for final home game
February 28, 2016 - 2:55 pm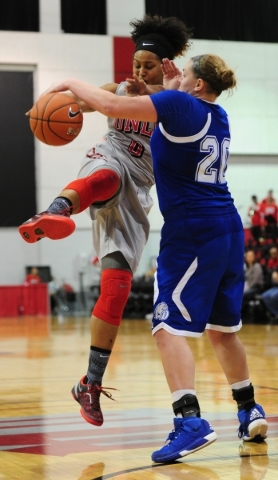 Last summer, UNLV senior basketball players Aley Rohde and Amie Callaway — the only two upperclassmen on the Lady Rebels — went to a bunch of sentimental movies together.
"Any emotional, bawl-your-eyes-out movie, we'd go to," Rohde said.
Their tears could be flowing again Friday, when Rohde and Callaway will play their final regular-season home game for UNLV against San Diego State on Senior Night at Cox Pavilion.
"I am one of the most emotional people you can ever meet," Rohde said. "I'm going to try really hard on the court to keep it together, but we have our banquet right after Senior Night. I do not think I'll be well put together there."
Callaway also expects to become emotional from simply sharing the Senior Night spotlight with her close friend.
"She's probably going to break me," Callaway said of Rohde. "I'm probably going to take one look at her and lose it."
Frontcourt starters, the 6-foot-4-inch Rohde and 6-1 Callaway have combined to average about 15 points, 15 rebounds and two blocked shots per game this season for the Lady Rebels (15-13, 8-9 Mountain West), who are hoping to remain in fifth place in the conference to earn a first-round bye in the Mountain West tournament, which starts March 7 at the Thomas & Mack Center.
"We want to go out with a bang, whether we win the whole thing or not," Callaway said. "If we do happen to lose, I don't want to have any regrets on how we play. I just want to be able to say we played our hardest and gave our all."
Rohde, who transferred to UNLV from Arizona after starting for the Wildcats as a freshman, got off to a strong start this season, earning conference player of the week honors in November after averaging 17 points and shooting 68 percent (15-for-22) from the field in a pair of wins. She missed five games with a broken bone in her foot suffered during a shootaround but has since returned to form, compiling 18 points and eight rebounds in Wednesday's home win over Boise State.
"Aley is just a presence on the floor. She gives us confidence when she plays inspired like she did against Boise," Lady Rebels coach Kathy Olivier said. "She's an excellent rebounder and she has a pretty shot. She can take over a game at any time."
The defensive-minded Callaway is the youngest player ever to start a game for the Lady Rebels, at age 17. The San Diego native, who skipped second grade, didn't turn 18 until the summer after her freshman year. Despite being younger than some of the underclassmen on the team, Callaway is considered the team mother.
"I have a very motherly personality," said Callaway, 20. "Being a senior, no one notices my age. They look at my experience. Our team is so young, Aley and I kind of help everybody learn the system and mesh together."
Said Olivier: "Amie is all about others. She's a total team gal."
Besides being students of the game, Rohde and Callaway also are stellar students. Rohde already has earned her bachelor's degree in criminal justice and will receive her master's degree in public administration in May, with future plans to pursue another master's in sports psychology and her PhD in clinical psychology. Callaway earned her bachelor's degree in hospitality management in December.
Each of the seniors also has close family ties that will be on display in Friday's pregame ceremony honoring them. Callaway has eight brothers and three sisters and will take the floor with her parents and several siblings.
Rohde's older brother, Taylor, played college basketball at Arizona State and plays professionally in Romania. She'll be accompanied Friday by several friends and family members, including her parents, Karen and Monty, who Rohde proudly said have attended every one of her UNLV home games despite having to drive more than four hours each way from their home in Cave Creek, Arizona.
"My parents are the most amazing parents ever," Rohde said. "For Wednesday night games, they'd drive up the day of the game and leave immediately after, get in at two in the morning and have to go to work."
Sounds like a scene from one of the tearjerkers Rohde and Callaway saw last summer.
Pooling their resources
Lucas James won the first conference title for UNLV in a diving event since 1987, claiming the platform diving crown Friday with a school- and WAC-record score of 344.80 points at the Western Athletic Conference Swimming and Diving championships in Houston. The senior, who took second in the 3-meter diving (345.00) event, is UNLV's first-ever platform diving champion.
Dillon Virva completed a career sweep in the 50 free, winning his fourth straight conference title in the event with a time of 19.26 seconds. Virva set a new UNLV and WAC record in the prelims with a time of 19.09 seconds and also swam a leg on the Rebels' 200 free relay champs (1:18.25), which also featured Kasey Foley, Dylan Tarazona and Samuel Lameynardie.
Freshman Pasha Semochkin won the 100 fly (46.46 seconds) and sophomore Boris Kulizhnikov won the 200 breast (1 minute, 56.20 seconds).
High tie
Kaysee Pilgrim tied Colorado State's Isobel Brown for first place in the high jump at the Mountain West Indoor Championships on Saturday in Albuquerque, New Mexico, with a height of 5-feet, 10-inches. However, the UNLV junior had to settle for second place because Brown eclipsed the height on her second try and Pilgrim on her third.
— Contact reporter Todd Dewey at tdewey@reviewjournal.com or 702-383-0354. Follow him on Twitter: @tdewey33