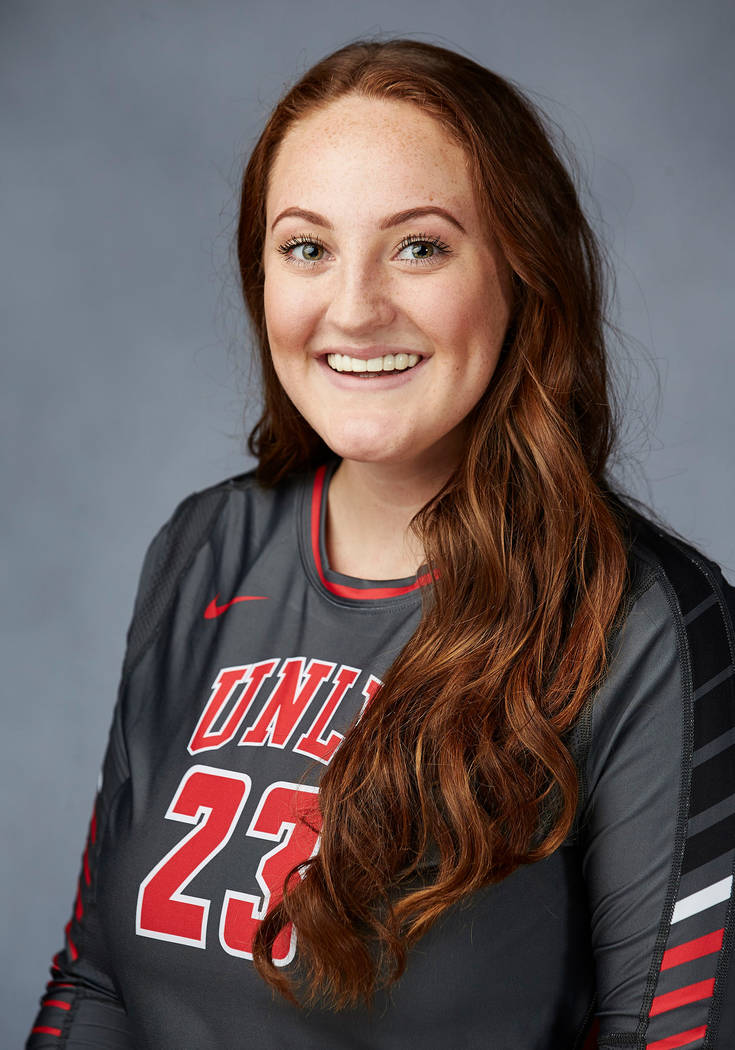 Lia Herlosky thought her days as a volleyball player were over. Then came a 3 a.m. phone call in 2014.
The former Coronado standout had been taking classes at UNLV for a year and not playing until former club teammate Marissa Lair, now at Feather River Community College in California, rang and said her team's setter had just quit. If Herlosky wanted it, a spot was available.
After a late-night conversation with her mother Gloria, Herlosky packed a single suitcase and made the nine-hour drive to Feather River in early August. Just like that, the setter's playing career was back on, and three years later similar circumstances have brought her back to UNLV as a senior transfer.
"It's been wild," said Herlosky, who opens the 2017 season with the Rebels on Friday. "Volleyball I thought was over and then I went and played at Feather River for two years, and then I came back just hoping to finish up school and a crazy opportunity happened."
Herlosky, a 5-foot-10-inch setter, wasn't ready to leave home after high school despite offers to play collegiately, but after a year off, she left for Feather River three days after the fateful phone call.
She spent two seasons at the school in Quincy, California, and despite receiving offers to continue playing, she went back to Las Vegas to finish school for personal reasons. She took the 2016 season off, and once again it seemed like her playing days were done.
"I wasn't expecting to play volleyball at all," Herlosky, 22, said. "I just felt like being (in Las Vegas) was the right decision for me."
Then on July 21, UNLV setter Alexis Patterson announced she was transferring. Suddenly another spot had opened up, and Herlosky found her way back to the court.
"We wouldn't be able to run practices if we didn't have her," Rebels coach Cindy Fredrick said. "What she brings is really phenomenal. She's got great hustle, she's got great attitude. She just has amazing perspective on things."
Herlosky certainly brings a different perspective than many of her teammates, simply because she's older than most. UNLV has eight freshmen on its 13-person roster this season, and two other newcomers in Herlosky and North Texas transfer Leka Kiner-Falefa.
"Everyone's new, so you kind of don't know what you're going to get, but I think it's cool to be able to mold people," Herlosky said. "It's like baking cookies, everything is better from scratch."
Herlosky and the rest of the Rebels, picked to finish seventh in the Mountain West this season, will begin to mold themselves on the court Friday at home when their season starts with the UNLV Invitational. For Herlosky, it'll represent the start of a baking process she once thought she put behind her — twice.
"It means so much to me," Herlosky said. "It's exciting to have something so positive in my life right now and so positive for my family. My family gets to be here for every game so it's exciting to be home."
More Rebels: Follow all of our UNLV coverage online at reviewjournal.com/Rebels and @RJRebels on Twitter.
Contact Ben Gotz at bgotz@reviewjournal.com. Follow@BenSGotz on Twitter.