Mackenzie Raim hopes to make splash at Mountain West championship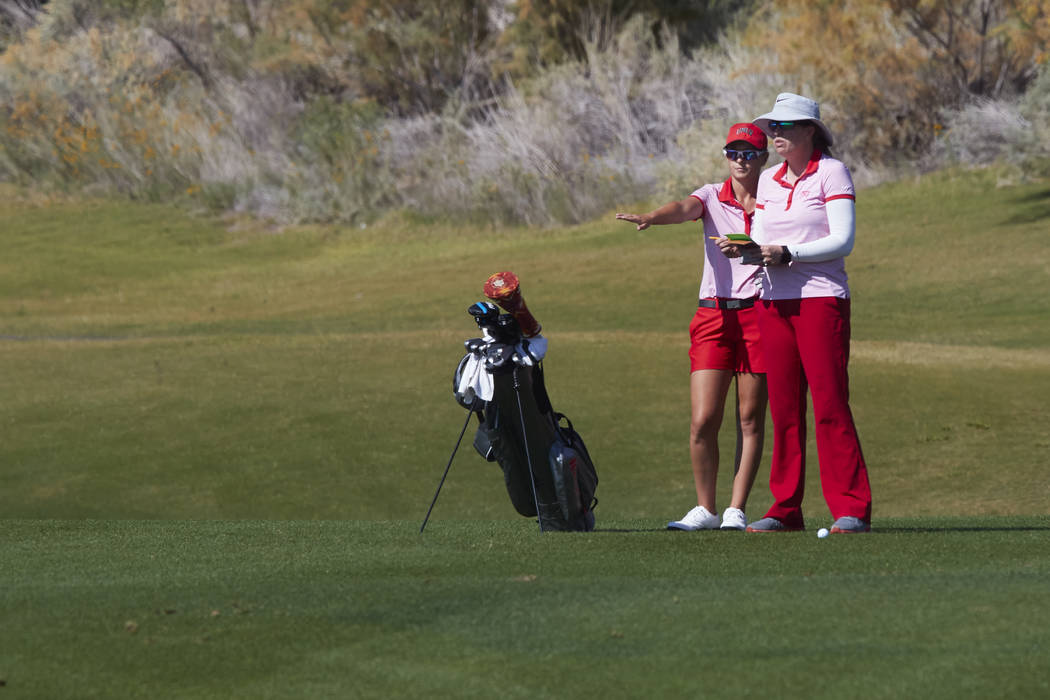 While on a recruiting trip, Mackenzie Raim witnessed the UNLV women's golf team take a dive into the water by the 18th hole on the Dinah Shore Tournament Course moments after winning the 2013 Mountain West championships.
Four years later, Raim is preparing to take the plunge for a second time. The junior, who is putting up one of the best seasons in program history, has a chance to take home both the Mountain West individual and team titles in her own backyard at Rancho Mirage, California, when the conference tournament starts Monday.
"Just watching (the 2013 team) jump in the pond, I was like, that's what I want to do," Raim said.
Raim grew up in Palm Desert, California, a 10-minute drive away from the course where she will attept to win her second Mountain West team championship. Growing up near the municipal golf capital of the world gave her plenty of opportunity to work on her game, especially when she quit team sports because she felt no one tried as hard as she did.
Now Raim, who's season average round score of 72.96 would be the fifth-lowest in UNLV history, has a chance to show off her skills near where she developed them. She has the third-lowest average score in the Mountain West and is tied for the most victories in the conference with two.
"She knows the golf course as well as anybody," coach Amy Bush-Herzer said. "She's just been playing real steady."
The first sign Raim could've been in for a special spring was her victory in the Northrop Grumman Regional Challenge in February, a tournament in which she didn't compete as a sophomore.
In a field featuring 13 top-30 teams, according to Golfstat, Raim tied for the lead despite a slow start. She was tied for 67th after nine holes but kept climbing the leaderboard until she was tied for sixth heading into the final round. Raim was still two strokes back with four holes to play, but made two birdies down the stretch to earn a share of her first collegiate victory.
"The best part is she didn't even realize she birdied her second-to-last hole, which put her into a tie for the lead," coach Amy Bush-Herzer said. "She made the par (on 18 to win) and she comes walking towards me and I said congratulations, you just won her first college event. She goes 'What?' She had no idea where she stood in the field."
Raim then played well through the rest of the spring, picking up another victory at the Battle at Boulder Creek II in March and ranking third in the Mountain West in average round score. Her biggest source of improvement has been her putting, as she used to leave herself long putts to make for par.
She's now so confident in her putting she walked by Bush-Herzer one tournament this spring and said "coach, I make five-footer for par like it's my job."
If she does her job one more time this coming week, it'll lead to a big splash for the Rebels.
"I think it'd mean a lot. We'd create history here," Raim said. "We have a lot of confidence going in."
MORE WOMEN'S GOLF
Despite not being the Mountain West favorites, UNLV is a confident group heading into the Mountain West Championship.
San Diego State is ranked 29th according to Golfweek, while the Rebels are No. 38. UNLV has a lower average round score than the Aztecs do though and has defeated San Diego State three times this year.
The Rebels also have the confidence of knowing they won the title on the same golf course in 2016. Every single day Bush-Herzer writes the same thing atop of her practice plan: "We will win the Mountain West."
MEN'S GOLF
UNLV will begin its conference tournament on April 21 at Tucson (Arizona) National Golf Club. The Rebels average round score of 283.93 is nearly seven strokes lower than the next-best Mountain West team, and three UNLV golfers lead the conference is average round score.
Follow all of our UNLV coverage online at reviewjournal.com/Rebels and @RJRebels on Twitter.
Contact reporter Ben Gotz at bgotz@reviewjournal.com. Follow @BenSGotz on Twitter.
REBELS SCHEDULE
Baseball: vs. Arizona State, Earl E. Wilson Stadium, 6 p.m. Tuesday; at New Mexico, Albuquerque, N.M., 5:30 p.m. Friday, 1 p.m. Saturday, Noon Sunday
Men's Golf: Mountain West Championship, Tucson National Golf Club, Tucson, Ariz., all-day Friday-Sunday
Men's Tennis: at San Diego, San Diego, Calif., 2 p.m. Friday;at San Diego State, San Diego, Calif., 11 a.m. Saturday
Softball: at Colorado State, Fort Collins, Colo., 3 p.m. Friday, 11 a.m. Saturday and Sunday
Track & Field: Fresno State Bulldog Invitational, Clovis, Calif., all-day Saturday
Women's Golf: Mountain West Championship, Rancho Mirage, Calif., all-day Monday-Wednesday
Women's Soccer: Alumni game, Peter Johann Field, 1 p.m. Saturday