Meet the woman who keeps breaking UNLV records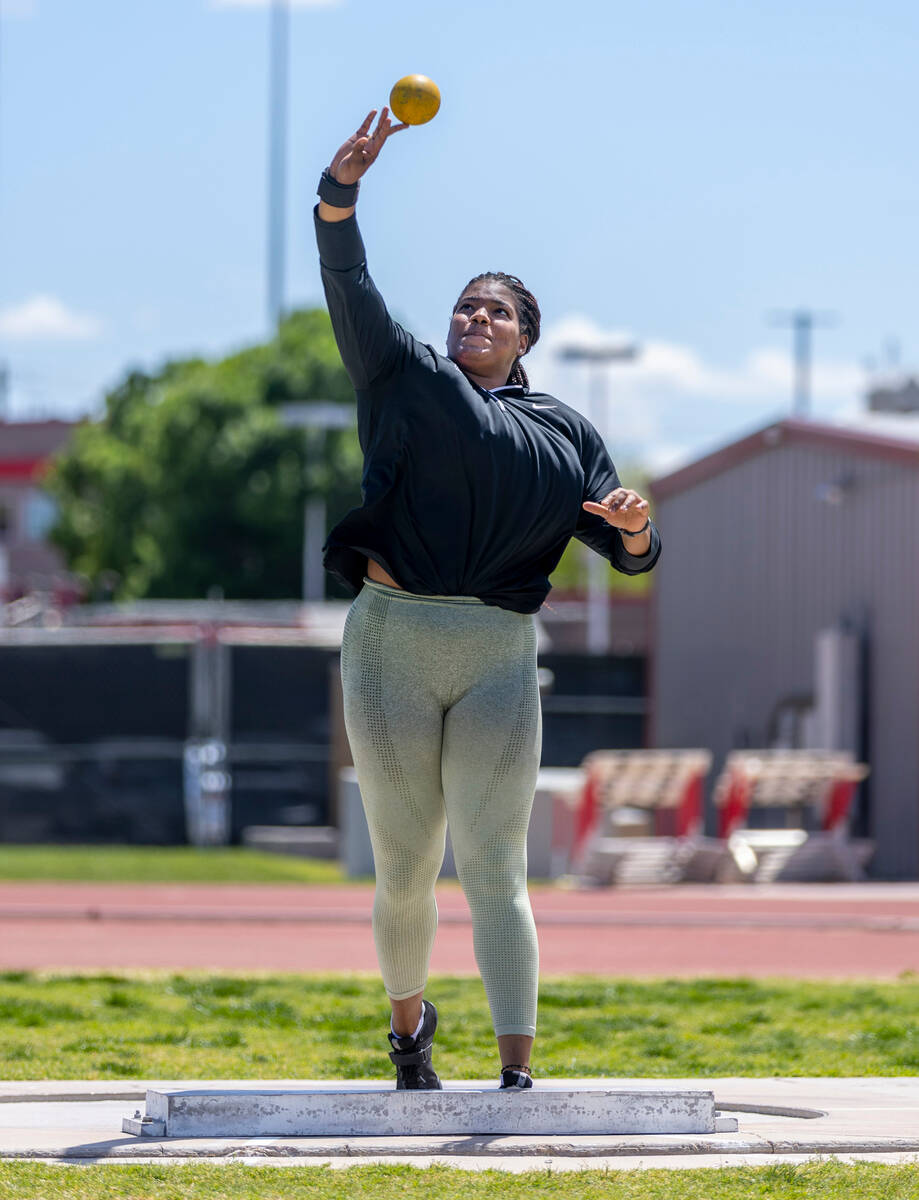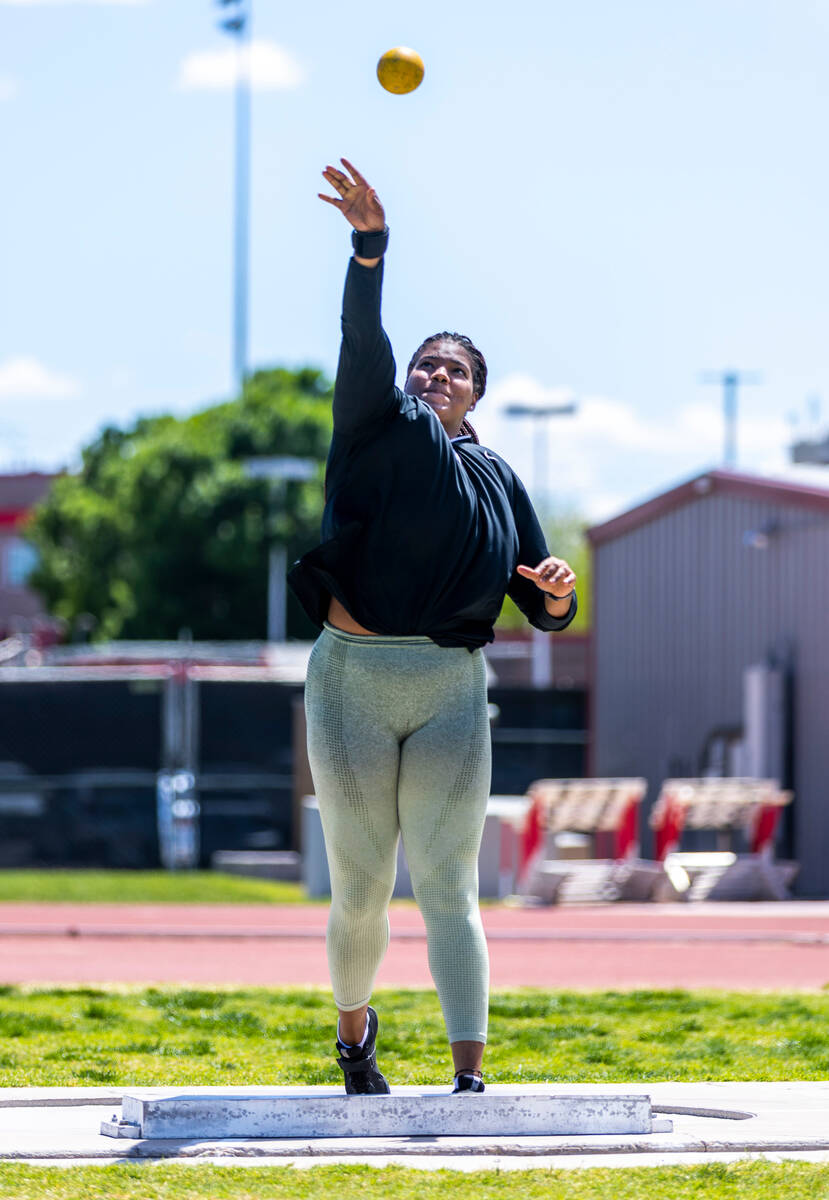 The monthlong December trip to the Costa Rican region of Pérez Zeledón was billed to Rosa Santana as a respite. Restorative in nature and restorative by nature amid the lush greenery, hot springs and mountains she'd explore.
But what Ana Irizarry ensured upon their arrival was that her 23-year-old daughter would be training for track and field season, too.
Each morning, they'd hike the countryside to a shallow river in San Ignacio de Cajon, from which Santana would pluck heavy rocks — and throw them like the 8.8-pound shot put she's thrown further than anyone from UNLV.
"You as a coach need to trick the athlete and take it to a level without them knowing," Irizarry said. "When she came back to the United States, she was 100 percent different."
Santana is a sophomore thrower on UNLV's track and field team and one of the most accomplished athletes in the history of the university's athletics department. Her top indoor mark of 18.43 meters (60 feet, 5¾ inches) obliterated the school record that preceded her arrival and clinched a third-place finish in March at the NCAA's indoor national championships in Albuquerque, New Mexico.
She has also broken the UNLV outdoor record multiple times, and her top mark of 18.39 meters (60-4) is the 12th-best in the world this year.
Santana's distances also double as records among throwers from her native Dominican Republic, which she has represented in national competition since she was 15 and remains poised to star for again this summer. But not before concluding her first year for the Rebels with the Mountain West outdoor championships this week and the NCAA's outdoor national championships next month in Austin, Texas.
"It surprises me every time I make another (record-setting) throw," the All-American said through a translator — and a shy smile. "I'm just trying to get better and move on from what I'm done in the past."
Selecting a sport
The vacation helped reinvigorate Santana, who stands a sturdy 6 feet, 2 inches, after she was diagnosed with a stress fracture in her right foot in the days before the school year began. The injury isn't uncommon for throwers, said Irizarry, formerly a heptathlete at Saint Augustine's University in Raleigh, North Carolina, and still Santana's personal throwing coach.
But it required surgery Aug. 4 and stirred doubt in Santana for the first time since she began throwing competitively.
She was born in the Dominican city of San Pedro de Macorís and lived with her grandmother while Irizarry competed and lived abroad. Santana first favored handball before pivoting as a middle schooler toward track and field, for which a scholarship to an American university would be easier to attain.
"My mom always talked to me about (college)," Santana said.
Irizarry would settle in Passaic, New Jersey, returning annually to the Dominican Republic to train Santana, who tried triple jumping and throwing a javelin in her first foray into track and field. She didn't like to run and the technique javelin throwing requires strained her back, so she settling instead on the shot put as a 15-year-old.
Skinny but skilled, Santana absorbed coaching from Irizarry via telephone and added weight through extensive training with the Dominican national team. Amateur championship after amateur championship resulted in participation in the 2018 IAAF World U20 Championships in Tampere, Finland, where she garnered the attention of American college coaches.
"That's when she really started liking the event," Irizarry said. "She got a vibe when she saw all these great athletes from around the world."
Santana first committed to Post University, a Division II school in Waterbury, Connecticut, to which she enrolled in 2020. But she was required to take English classes that didn't count for credit and wasn't on scholarship, leading to a subsequent withdrawal and return to the Dominican Republic.
She didn't compete at all at Post.
"It was a mess, to be honest," Irizarry said.
Healthy and happy
Santana continued to excel in international competition, capturing the gold medal in the 2021 Pan-American Youth Games in Cali, Colombia — and the attention of the coaching staff at UNLV.
Former Rebels track and field coach Dorian Scott recruited her through Irizarry, contacting Santana directly through the international messaging application, WhatsApp, and using Google's translation service to bypass the language barrier.
Dozens of Division I colleges were interested in Santana, who signed last spring with the Rebels because of their English Language Center — and trust in Scott, twice an Olympic shot putter from Jamaica.
Her signing was marred, though, by her surgery, during which screws were used to stabilize her fifth metatarsal, triggering an eight-week recovery and the subsequent funk from which she was freed in Costa Rica.
Irizarry said Santana "went through a very hard time. Like crazy."
Indeed, Santana was relegated to crutches during her first semester on campus and discouraged from training — and competing during the indoor season — by her doctors. She rehabilitated independently anyway while following the plan that they provided. Irizarry purchased a membership to a local 24-hour gym for Santana so she could train at her convenience, often exercising in the pool.
The pain has since dissipated, returning only when the weather changes.
"As soon as she started throwing, she was going to be happy because that's what she loves to do," Irizarry said. "She was afraid that she wasn't ready and having doubts if she was going to compete again."
Santana's fears have dissipated amid the dominance that began the weekend of Jan. 27, when she made her Rebels debut at the New Mexico Team Open and threw the shot put a then-school record 17.53 meters. She's since topped that distance several times and is thriving despite the absence of Scott, who abruptly resigned Jan. 31.
Without Scott, Santana has leaned on coaching from her mother and the support of interim coach Aniis Hopkins. Her confidence has flourished, evidenced by the improving, conversational English she'll increasingly speak and the improvement she's showcased all spring.
Another trip to the transfer portal could await Santana, though she indicated she won't decide until her sophomore season concludes.
"I don't think college is her endpoint," Hopkins said. "She wants to be a professional. She wants to continue to represent her country on the highest, biggest stage. I think that's mostly her motivation, rather than just nationals and breaking records at UNLV."
Contact Sam Gordon at sgordon@reviewjournal.com. Follow @BySamGordon on Twitter.