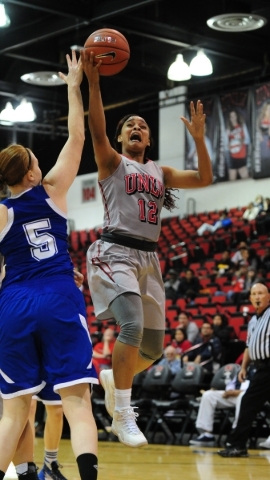 Editor's note: This is the debut of the weekly UNLV Sports Notebook. While coverage of UNLV men's basketball and football can be found regularly in the Review-Journal, this space will focus mostly on the school's Olympic sports.
The UNLV women's tennis program has seen its share of standouts over the years, but the Rebels have never before had a player with the pedigree of Carol Zi Yang.
A junior transfer from Shenzhen, China, Yang has been ranked as high as 303rd in the world in singles by the Women's Tennis Association. She's the highest-ranked player in UNLV history and is slated to make her Rebels debut at the Freeman Memorial women's tennis championships, scheduled from Friday through Sunday at the school's Fertitta Tennis Complex.
Yang, who was ranked among the top 40 players in the world in juniors, sat out last year after transferring from the Shenzhen School in China.
"She was very highly recruited," 16th-year UNLV coach Kevin Cory said. "She has a world-class backhand and she knows how to win."
Yang's skills will be put to the test immediately at the elite tournament, which is free to the public and features five teams ranked in the nation's top 10 in No. 2 USC, No. 3 Florida, No. 4 North Carolina, No. 8 Stanford and No. 9 UCLA.
"It's a loaded group," said Cory, who 14 years ago named the event after his grandparents, who introduced him to the game. "This has kind of become one of the premier events in college tennis."
In addition to Yang, the Rebels will be led by three freshmen who've each earned WTA rankings in China's Aiwen Zhu (career-high No. 738), Romania's Cristina Moroi (No. 1,016) and Ukraine's Anna Bogoslavets (No. 1,020).
"It's the first time in the history of our program we've had four players with WTA rankings on the roster at the same time," Cory said. "It's a pretty talented group."
With the relatively small group of elite American players in each recruiting class usually taken by the aforementioned top-ranked teams, UNLV's perennial top-50 program is made up entirely of international players, including ones from Bulgaria, Hungary, El Salvador and Spain.
"It's hard for people to understand why we get so many international kids," said Cory, a California native who played tennis for Oregon. "The funny thing is people think I live in Europe in the summer, but I've never been to Europe."
LAS VEGAS LOCALS RETURN — A pair of former Las Vegas prep tennis standouts — USC sophomore Gabby Smith and Stanford freshman Kimberly Yee — will compete in the Freeman Memorial.
Smith, who won the 4A state title as a freshman at Coronado High School and earned All-American honors as a senior, is ranked fourth in the country in doubles with her senior partner Giuliana Olmos.
Yee, who attended Odyssey Charter High in Las Vegas, was the nation's No. 1 player in juniors and was recruited by UNLV before opting for Stanford.
"We would've loved to have her on our team, but how do you pass up Stanford?" Cory said.
LADY REBELS HIT ROAD — The UNLV women's basketball team (8-6, 1-2 Mountain West) will try to even its league mark Wednesday night at New Mexico (8-6, 1-2) before taking on winless Air Force (0-14, 0-3) on Saturday in Colorado Springs, Colo.
The Lady Rebels snapped a four-game losing streak in emphatic fashion Saturday, whipping Wyoming 66-37 in their best defensive effort in more than four years before a Cox Pavilion record announced crowd of 1,703.
Nikki Wheatley had 19 points and 10 rebounds for UNLV, Brooke Johnson scored 17 points and Dakota Gonzalez added 13 points and eight rebounds. The three sophomore guards average a combined 38.1 points and 15.5 rebounds per game.
Contact reporter Todd Dewey at tdewey@reviewjournal.com or 702-383-0354. Follow him on Twitter: @tdewey33