Off sweep, UNLV baseball faces challenging stretch
February 23, 2015 - 11:08 pm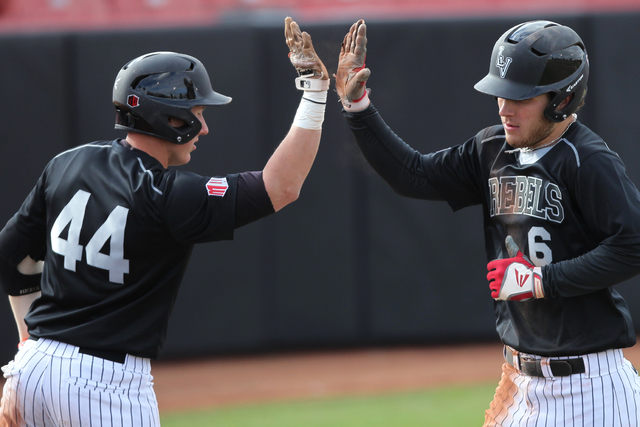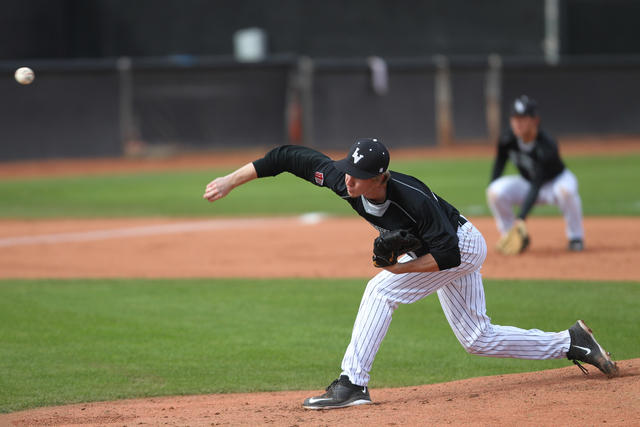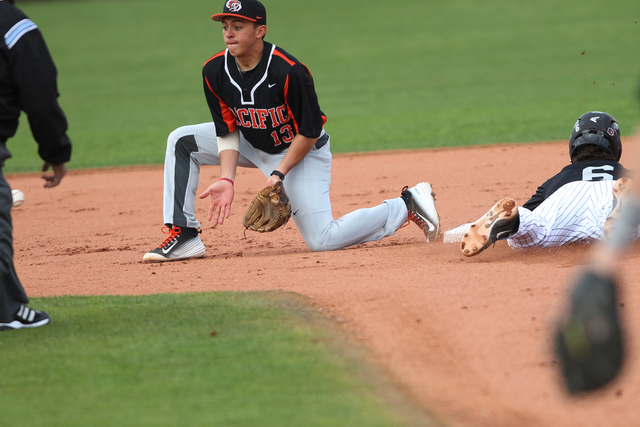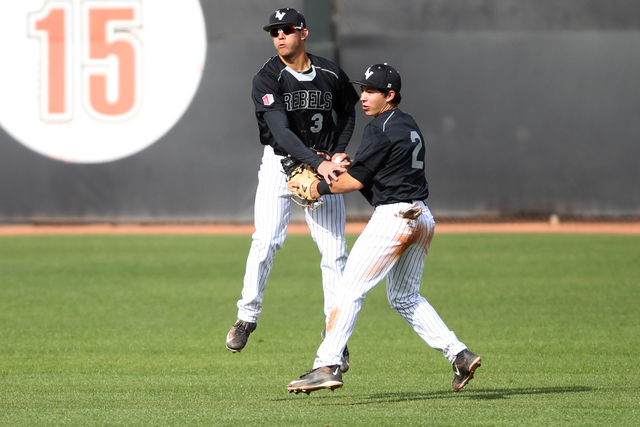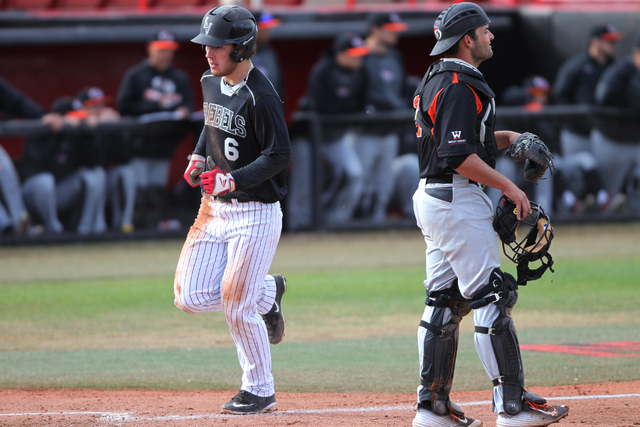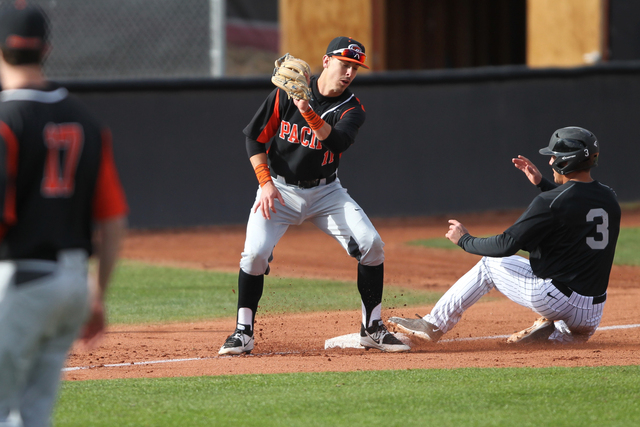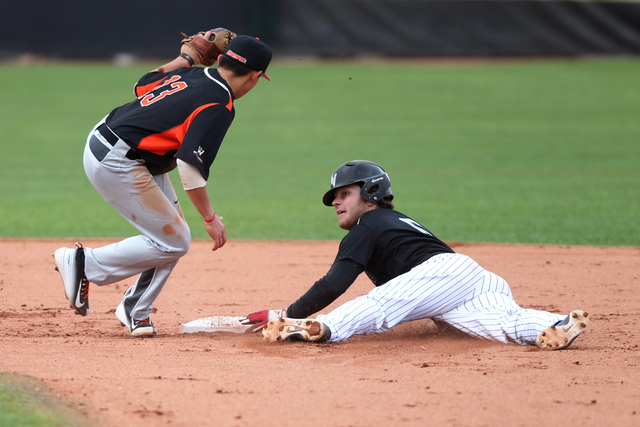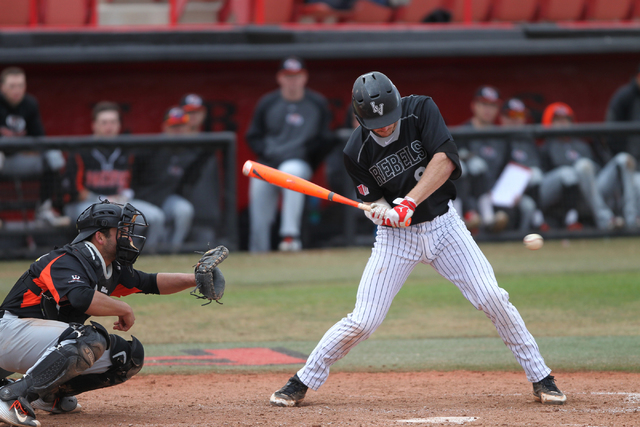 When UNLV took the field at Wilson Stadium, the temperature was 48 degrees, what had been short-sleeve weather turning into a reminder winter isn't over.
But the heat will return soon to the Rebels' baseball season, and as soon as the Rebels wrapped up a four-game sweep of Pacific with an 11-1 victory on Monday, it was time to turn attention to the demanding upcoming schedule.
It's a stretch that should clarify if this is a team capable of competing in a regional for the second year in a row or if reaching the postseason is more of a dream than reality.
The Rebels (6-2) hit the road for three games against Fresno State beginning Friday and two more against No. 19 Oklahoma State (4-3) on March 3 and 4. UNLV then returns home for three games on March 6 to 8 against UNR (7-0), which took all three games from Fresno State over the weekend, which was 3-1 entering that series.
"It's going to be very challenging these next few games," UNLV right-hander Blaze Bohall said. "We'll see where we stand with these guys."
If UNLV continues to get the kind of pitching it has received in this young season, then the Rebels should at least be competitive.
The Rebels' 2.15 ERA is easily the Mountain West's best. UNR is next closest at 3.66, and every other team is higher than 4.00.
Against Pacific (0-8), UNLV's pitchers allowed seven earned runs over 36 innings, a 1.75 ERA.
Bohall (1-0) started Monday's game, and he allowed three hits over four innings. NCAA rules allowed UNLV to award the victory to Bohall, who threw 65 pitches, because he was on a pitch count.
UNLV's staff is still without left-hander Zak Qualls, who injured his left bicep in the season opener. Coach Tim Chambers said Qualls will begin throwing soon, and he'll look for an opportunity to put Qualls in relief before throwing him back into the rotation.
"We knew we were deep on the mound, and when we get Zak back, we'll be even deeper," Chambers said. "It's more pitching than we've ever had here, so I'm excited about that."
Whether the Rebels have the hitting to go with that pitching is another matter.
They are hitting .273, which is fourth among the conference's seven teams, and freshmen have been the key players at the plate. Three of their top four batters with at least 15 at-bats are freshmen.
"Our older guys haven't really got it going," Chambers said. "The seniors are pressing because they smell the end and they (want to) get drafted, and the juniors are pressing because they want to be drafted or they'll be seniors. The kids are too dumb to know they're not supposed to be doing it right now."
Chambers was at least half jesting when he made that last statement, but one of UNLV's freshmen, Payton Squier, is playing some serious ball. He went 3-for-3 and drove in three runs on Monday to raise his average to .560.
"It feels good to get some pitches early, especially as a freshman," Squier said. "Hopefully, I can keep it rolling throughout the rest of the season."
He also stole three bases in the finale against the Tigers, just one behind the school record held by three players. UNLV as a team stole seven bases, three behind its high mark.
Being aggressive is a Chambers trademark, and add in strong pitching and timely hitting, it's a formula that could take the Rebels a long distance.
The upcoming stretch will provide insight into whether it's as far as they want to go.
"The next couple of weeks," Chambers said, "are crucial for us."
Contact Mark Anderson at manderson@reviewjournal.com or 702-387-2914. Follow him on Twitter: @markanderson65.