Oliveto relishes ace, leader roles for UNLV softball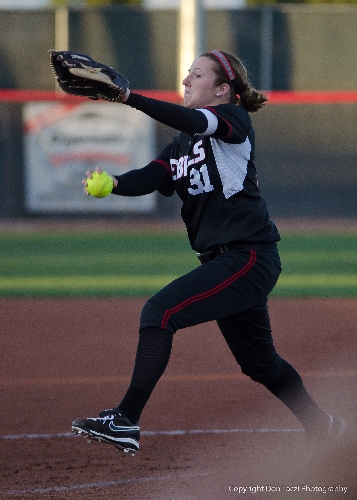 Most college coaches turn to their upperclassmen when they need team leadership. For the past two seasons, UNLV softball coach Pete Manarino has turned to Amanda Oliveto.
Oliveto is just a sophomore, but necessity has forced her to grow up in a hurry. The 5-foot-9-inch pitcher from Simi Valley, Calif., has become a mainstay at the center of the diamond, making 16 starts and 22 appearances in the Rebels' 33 games this season.
"I don't mind being the workhorse at all," Oliveto said. "I've worked my butt off because I want my teammates to know I'm going to give the team my all. I came in knowing they needed another leader on the mound, and I wanted to be that person."
So far, so good.
Oliveto has compiled an 11-9 record with a 1.71 ERA to lead UNLV to a 17-16 mark. She leads the staff in wins, appearances and shutouts (four), and her 131 innings pitched is more than the team's other three pitchers combined.
But Oliveto is no stranger to hard work, having been thrown into the role of staff ace last year as a freshman. She led Rebels pitchers in wins (21), ERA (2.81), appearances (39), starts (28), complete games (22), shutouts (four), innings pitched (199) and strikeouts (179), and also tossed two no-hitters.
"I knew last year that I was going to get to pitch," said Oliveto, who came to UNLV knowing the staff was short-handed. "But I wasn't expecting to start practically every game."
Manarino said he knew early that Oliveto would be a pivotal part of his team.
"I knew she was going to be a good pitcher," Manarino said. "What separates the good pitchers from the very good pitchers is preparedness and demeanor. She had those things from a very young age."
Oliveto, who went 21-10 as a freshman, said the experience helped prepare her for this season.
"This year I'm maintaining things much better," the right-hander said. "I am aware of what my body is telling me."
Though the Rebels have won seven of their past 11 games, they have struggled to rise into championship contention.
"We haven't shown any real consistency out there," Oliveto said. "One game we'll be good at the plate but not defensively, and the next game we'll struggle at bat and play good defense.
"We need to come together more as a team. Everybody just needs to get on the same page."
Getting the team on the same page, at least in part, is Oliveto's job.
"I still have a lot of growing to go, but I do like to think of myself as a leader," she said. "That's what the coaches tell me they need."
While Oliveto still believes the Rebels have great potential this year, she has high hopes for next season.
"People have said that if we can get a couple more solid pitchers in here, then our team would be set," she said.
Manarino hopes so, as he wants to avoid burning out his ace.
"I've got to slow her down a little bit," he said. "She wants the ball all the time."
Assuming he can keep his standout pitcher healthy, Manarino suggested Oliveto has the potential to make her mark on the UNLV record book.
"If she continues to work hard, she's just going to get better and better," he said. "We brought her in here knowing she was good, but she's already putting up numbers beyond anything we expected."
Oliveto hopes her coach is right.
"I really want to get my number retired on the (outfield) wall," she said. "And I want to break some records."
Jeff Wollard is a freelance reporter for the Las Vegas Review-Journal. He can be reached at jwolly@aol.com.