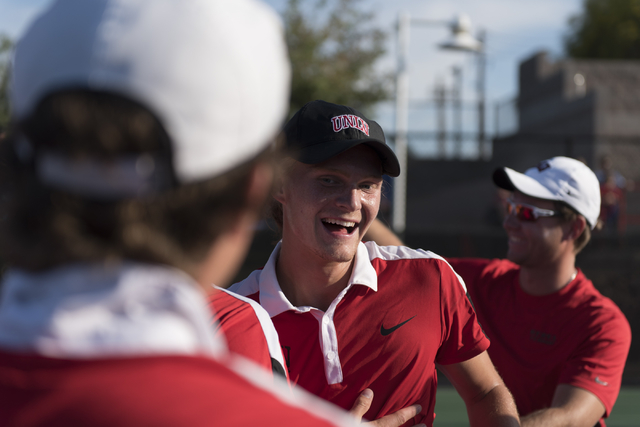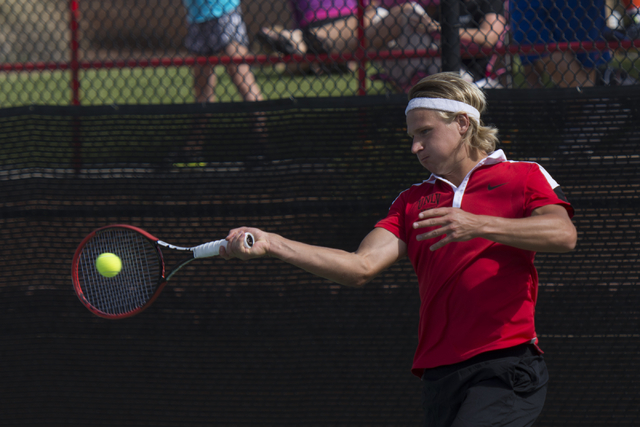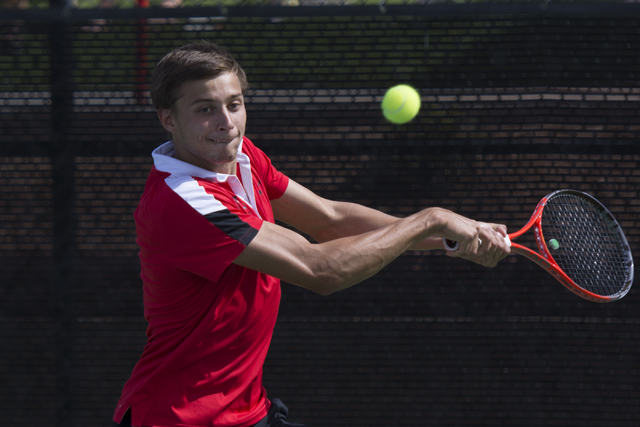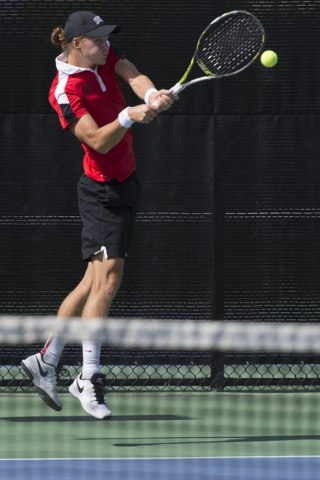 Call it the Country Club Slam.
UNLV's men's and women's tennis teams swept the Mountain West Championships on Sunday, a week after the school's men's and women's golf teams claimed conference crowns.
The fourth-seeded Rebels, hosting the men's league tournament for the first time since 2010, pulled out a thrilling 4-3 upset victory over second-seeded and No. 59 Boise State, the four-time defending Mountain West champion, at the Fertitta Tennis Complex for UNLV's first conference title since 2007.
Earlier in the day, the third-seeded and 72nd-ranked Lady Rebels rallied for a 4-2 upset of No. 47 Fresno State at the Fort Collins (Colo.) Country Club to improve to 24-1 and avenge a 4-3 regular-season loss to the top-seeded Bulldogs.
Fittingly, with the men's championship tied at 3, each team's title hopes came down to the No. 6 match between the Rebels' Richard Solberg and the Broncos' Lewis Roskilly. The UNLV freshman lost the first set, 4-6, before storming back to win the second and third sets, 6-0, 6-3.
With the score tied at 40-40, Solberg blasted a forehand winner to claim the title for the Rebels. (There is no-ad scoring in NCAA Division I tennis championships.)
"The whole championship was up to me, and I love that situation. I want it to be like that," an ecstatic Solberg said. "Before the point, I said to myself, 'I'm going to win this point. There's no way I'm losing this point.' And then I went out and I won the point.
"This is one of the best moments of my life."
Solberg and teammate Jakob Amilon — UNLV's No. 1 player who went undefeated in the tourney — hail from Stockholm, Sweden, which is nine hours ahead of Las Vegas. Despite the time difference, Solberg said his father watched his match online until around 3 a.m. Swedish time.
"I think he's very excited. He might have a heart attack," Solberg said, laughing. "I have to call him to know he's alive."
The Rebels won the crucial doubles point to go ahead 1-0, then got singles wins from Solberg, Amilon and the surprising Adam Gage-Brown, who'd won only two matches all season before beating Pedro Platzeck 7-6 (2), 6-2.
"He's been a little injured and he's been struggling. But he came through today," UNLV coach Owen Hambrook said of the sophomore from New Zealand. "I was actually considering pulling him from singles because his ankle was bothering him. But he told me he was ready to go, and he came through."
The Rebels beat No. 64 New Mexico 4-2 in Thursday's quarterfinal and downed Fresno State 4-2 in the semifinals late Saturday at Life Time Athletic in Henderson after rain forced the event indoors.
"It was tough conditions with the rain, but we stayed focused," said Amilon, a junior who beat Brian Foley in straight sets Sunday, 6-3, 6-4. "It's the best feeling I've had in my college career, by far."
UNLV improved to 15-9 this season and earned the league's automatic bid to the NCAA Championship with the program's fifth conference title, including three straight in the Big West from 1994 to 1996.
■ BRONCO BUSTING — The Rebels avenged a 4-1 loss at Boise State on April 17 and dealt the Broncos their first loss in 14 Mountain West Championship matches. The victory also was sweet redemption for Hambrook, who'd never beaten Boise State in 13 years as UNLV's coach.
"We lost to Boise State pretty bad up at Boise, so it was good to get them back," he said. "This is big for me. I'll take this one over all the losses."
■ RALLY TIME — The UNLV women's tennis team trailed 2-1 in the title match before reeling off three straight singles wins to claim the program's eighth conference title, first since 2013, and the league's automatic bid to the NCAA Championship.
Anna Bogoslavets tied the match at 2 with her 24th straight singles victory, a 6-7 (6), 6-4, 7-5 win over Rana Sherif Ahmed. Paola Artiga followed with a three-set victory, and Cristina Moroi clinched the crown in straight sets for UNLV, which outlasted No. 56 New Mexico, 4-3, late Saturday in a marathon semifinal match.
Bogoslavets beat Ludivine Burguiere, 6-7, 7-6 (3), 7-6 (3) on Saturday in a four-hour, 15-minute match.
Aiwen Zhu, an all-conference selection who was named the Mountain West Freshman of the Year, also won her singles match Sunday for the Rebels. Carol Zi Yang, ranked No. 96 in the nation in singles, lost all three of her singles matches in the tournament.
"This is a great day for our program," 17th-year coach Kevin Cory said. "We had an amazing year, and we were not ready for it to end."
Contact reporter Todd Dewey at tdewey@reviewjournal.com or 702-383-0354. Follow him on Twitter: @tdewey33