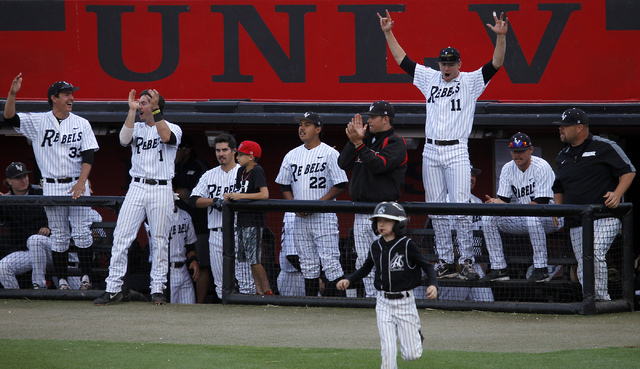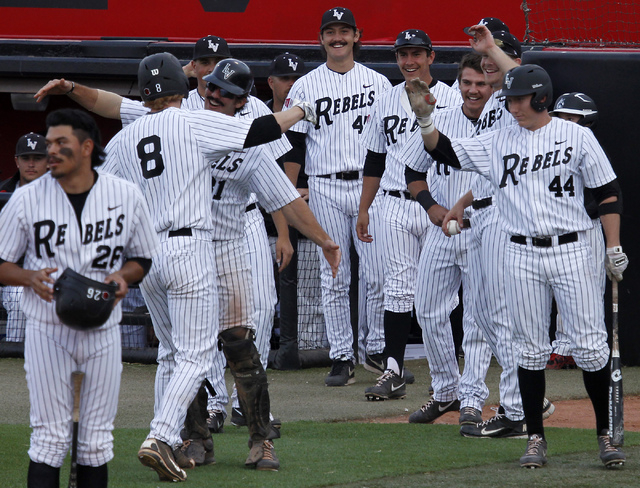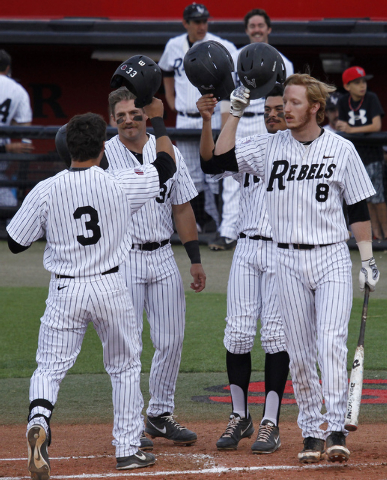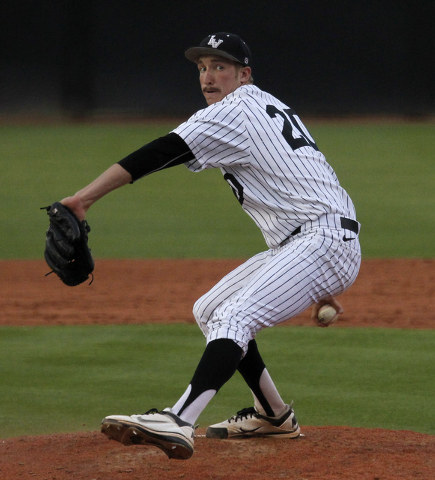 Its baseball season hanging in the balance, UNLV faced a potential tipping point Friday against Mountain West leader New Mexico.
The Lobos didn't waste any time putting two runners on against UNLV ace Erick Fedde in the first inning, threatening to take the early lead and prolong the Rebels' sudden slump.
The Rebels needed something big, and they got it. Fedde worked out of the jam, and his teammates provided six runs in the bottom of the inning to propel UNLV to an 11-2 victory over the Lobos at windy Wilson Stadium.
This is a key series for the two teams that sit atop the conference standings. New Mexico (31-12-1, 14-5 MW) will try to even the series against the Rebels (26-15, 14-8) in the second of the three-game set at 1:05 p.m. today.
Both teams came into this series with considerably different momentum. The Lobos, who appeared in regionals the past four seasons, rolled in having won nine in a row and 12 of 13 games to soar into first place, displacing a UNLV team on a five-game losing streak.
A conference title isn't all that's at stake for the Rebels. Until their recent cold spell that included a three-game sweep at last-place and frigid Air Force, they appeared to be a lock for the postseason.
Now nothing is certain, though the Rebels still are a good bet to make a regional. At least if they continue to play like this.
"We talked in the dugout (Thursday), and I said, 'We always talk about don't jump on the panic button,' " UNLV coach Tim Chambers said. "I said, 'We need to jump on the panic button. It's got to count right now. We've got our backs in the corner, and it's playing time.'
"And that's how we showed up today."
The Rebels always have a burst of confidence when Fedde (8-2) is pitching, but he opened the game by walking the first batter and allowing a single to the third hitter.
Neither runner made it home, however, establishing a theme.
Fedde, a junior right-hander who is projected to be a first-round draft pick, gave up just one run while striking out seven batters in 6 2/3 innings. He accomplished that despite giving up nine hits and allowing at least one hitter to reach in each inning but one.
As is his habit, Fedde bear down at the most crucial times.
"I think of it as a mentality — limit the damage at all costs," Fedde said. "That's kind of the motto of our team. I was happy I was able to do it today."
UNLV gave him plenty of help by scoring six runs before even making an out. T.J. White produced a run-scoring single, Patrick Armstrong a two-run double, brother Joey Armstrong a two-run home run and Erik VanMeetren a solo homer.
Justin Jones added a two-run homer in the seventh to give UNLV three home runs in a game for the first time this season, the Rebels taking advantage of the 30- to 35-mph wind blowing out to center field that included gusts up to 45.
The Rebels also finished with 18 hits, and six players had multiple hits. White and VanMeetren each collected four hits, with VanMeetren falling a triple short of the cycle.
Now the Rebels must hope there is carryover with all this hitting when UNLV sends junior right-hander John Richy (6-3, 2.96 ERA) to the mound today against New Mexico junior lefty Colton Thomson (5-4, 3.77).
"We've got to come out and win tomorrow," VanMeetren said. "But this was a good win to get us back on track."
Contact reporter Mark Anderson at manderson@reviewjournal.com or 702-387-2914. Follow him on Twitter @markanderson65.