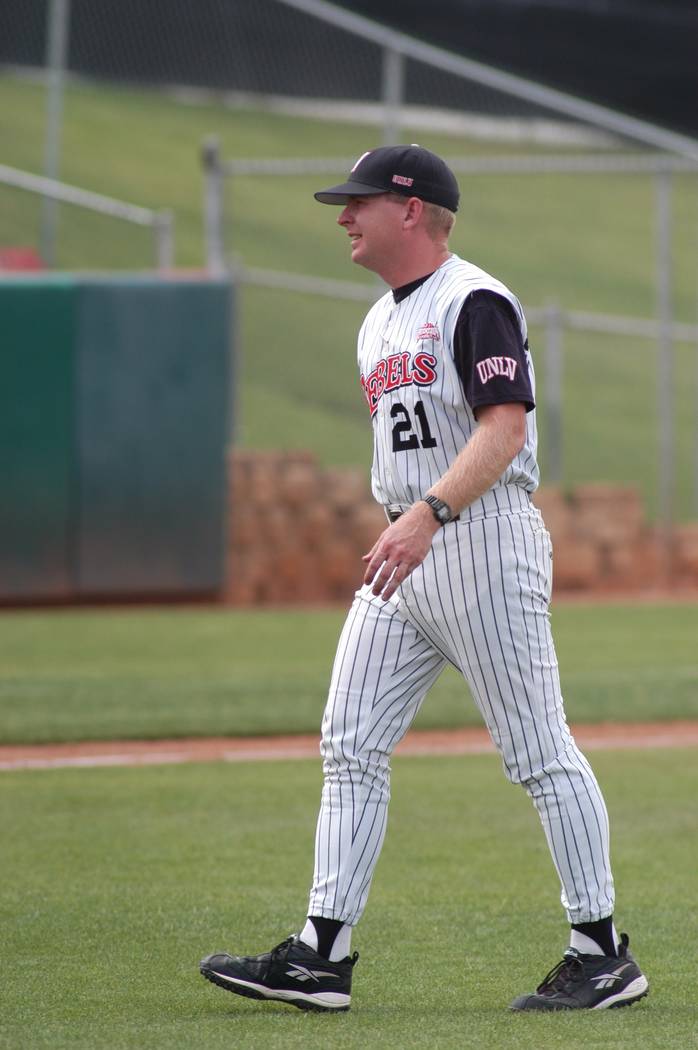 As one of the nation's most respect baseball coaches who has turned Texas Christian into a power, Jim Schlossnagle has plenty to do this time of year.
He especially has plenty to do this week, with rival Texas visiting TCU for a three-game series beginning Friday.
But Schlossnagle had to be in Las Vegas on Thursday to attend the induction ceremony for the UNLV Athletics Hall of Fame. The 2003 Rebels team he took all the way to the final day of an NCAA regional will be honored.
"The older you get, the more reflective you become," said Schlossnagle, 46. "There are a lot of events like this I've had in my life that I've missed. UNLV is still very special to me. They gave me an opportunity to cut my teeth as a head coach and try to figure some things out, and I'm very grateful for that. I'm very thankful for those players, and I want to be able to look them in the eye and say that."
The reception, dinner and induction ceremony are at the Strip View Pavilion inside the Thomas & Mack Center beginning at 5:30 p.m. Eight individuals will be inducted as well, including outfielder Eric Nielsen, who played on that 2003 team.
"Coach Schloss set the tone from the day he got on campus," Nielsen said. "I think it was his overall demeanor. He was young at the time. Coming from a great program in Tulane, he brought a lot of fire, a lot of passion. He was really focused on the little things in the college baseball game, which are huge."
As much of a celebration the ceremony will be of that team, it also will be a stark reminder of what could have been.
Schlossnagle took the job at UNLV after eight years as an assistant coach at Tulane because he believed UNLV's was a program that could win big.
"I still think UNLV is a program that should be a top-30 program every year as long as they're committed to it," Schlossnagle said. "That takes into account a lot of things. You have to be supportive of the coach. You've got to budgetarily give them the things they need. You have to keep up with the facilities race."
In his first season, in 2002, the Rebels went 30-30 for their first nonlosing record in four years.
Then came 2003 and a 47-17 mark that included making the NCAA regional in Tempe, Arizona, before the Rebels ran out of pitching in a 16-1 loss to an Arizona State team that included Dustin Pedroia and Andre Ethier.
TCU recognized the talented coach UNLV had in Schlossnagle. UNLV also was going through a transition in its athletic department, with no permanent athletic director to make a real run at keeping Schlossnagle.
"It definitely would've made it harder if they had even Coach (John) Robinson still staying there," Schlossnagle said of the outgoing AD. "(Former senior associate AD) Jerry Koloskie is the greatest guy ever, and he tried to keep this thing together as best he could. It was kind of the perfect storm of my wife being from Texas, and we had two really young children … having a chance to raise them around someone's family.
"It was a unique situation, and honestly I wasn't really proud of it. Sometimes you don't get to pick and choose the timing of things. I felt like we were going in the right direction, but at the same time, you didn't know who the boss was going to be."
He went to TCU and transformed that program, immediately winning a school-record 39 games and making the team's first regional appearance in 10 years. The Horned Frogs have since gone to another level, having made the past three College World Series and four of seven.
Schlossnagle has become the Frogs' all-time winningest coach with 597 victories.
UNLV made regionals each of the next two seasons after Schlossnagle's departure, but the Rebels' victory total declined each year. Aside from making a regional in 2014, the Rebels have been wandering in the desert ever since that time.
"UNLV baseball can be good," Nielsen said. "It can be on a national scale every year as long as there's support from the top."
Contact Mark Anderson at manderson@reviewjournal.com or 702-387-2914. Follow @markanderson65 on Twitter.