UNLV advances with 2-1 win in NCAA baseball regional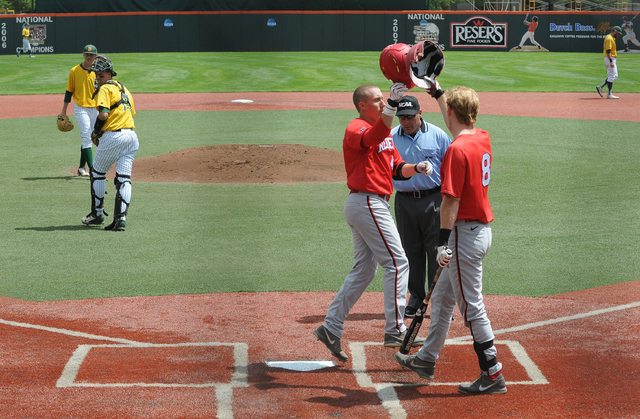 CORVALLIS, Ore. — UNLV survived to play another day, and that was no small thing.
The baseball regionals have resembled the NCAA basketball tournament with a field littered with upsets.
No. 1 seeds Florida and Florida State went two-and-out, and three No. 2 seeds were gone as well.
UNLV wasn't one of those No. 2 seeds. The Rebels put their travel plans back to Las Vegas on hold Saturday when they escaped late-inning drama to eliminate No. 4 North Dakota State 2-1 at Goss Stadium.
"To get to play another day and delay those flights," UNLV winning pitcher Bryan Bonnell said, "it's a great feeling."
UNLV (36-24) fell into the losers' bracket Friday with a 10-3 loss to No. 3 UC Irvine, and the Rebels hope to get another shot at the Anteaters (37-22) tonight.
First, UNLV has to get past national top seed Oregon State (43-13) at 2 p.m. The host Beavers suffered a 14-2 blowout by Irvine late Saturday, leaving the Anteaters as the region's only unbeaten team. If the Rebels oust Oregon State, they would play Irvine at 8 p.m., hoping to force a winner-take-all Monday matchup.
Kenny Oakley (4-7, 3.25 ERA) will start against Oregon State, and fellow right-hander Joey Lauria (2-3, 4.10) is the probable starter for the night game should the Rebels advance.
Trying to win three in a row certainly isn't an easy path, but for the Rebels, it sure beats being done after two games.
"We talked about it last night and today, let's make it one more day," coach Tim Chambers said. "I don't want to go home."
Even though the Rebels are happy to be playing, they still have major issues, such as injuries. Second baseman Justin Jones is the latest, and after playing with a broken right wrist for about a week, he took a seat against North Dakota State (25-26).
The injuries are the major reason UNLV has struggled to produce key hits. The Rebels are 0-for-16 with runners in scoring position in the regional, including 0-for-9 on Saturday.
But North Dakota State also had trouble coming up with key hits, going 2-for-11 in those situations. And the Bison hit into four double plays, a season high for UNLV's defense. The Rebels turned two three times April 15 at Arizona State.
Bonnell (7-5) said that kind of defense was like getting four runs in the first inning.
"You can miss a spot, and if they hit it hard, you know a guy's going to be there to catch it," the right-hander said. "It's a huge confidence booster."
Bonnell overcame a 25-pitch first inning, throwing 68 the rest of the way. He gave up five hits and one run in seven innings.
"I just needed to settle down," Bonnell said. "In the first inning, my heart's always racing. I always want to do well and set a good tone."
He set up left-handed closer Brayden Torres for his ninth save, but it wasn't easy.
North Dakota State put runners at the corners with one out in the eighth before Torres ended the inning with a strikeout and popup. Two of the first three batters reached in the ninth, prompting a mound visit by catcher Erik VanMeetren.
"He just said to settle down and throw strikes because that guy wasn't going to score," Torres said. "And what's what we did."
Torres induced two groundouts, the last with runners at second and third, to end the game and allow UNLV to lead wire to wire.
The Rebels scored both their runs in the first inning. After T.J. White came home on Patrick Armstrong's grounder, Morgan Stotts followed with his third home run of the season, a shot to left field that seemed to float out of the yard.
"I thought I got it pretty well, but I definitely didn't think I got it out," Stotts said. Bison pitcher Parker Trewin "left the pitch up in the zone, and I happened to run into it. The ballpark plays a little deep, so once I hit it, I just started taking off."
North Dakota State scored in the bottom of the first on a sacrifice fly, and despite the opportunities that came both teams' way, that was all the scoring.
Not that it mattered to UNLV.
The Rebels' season is one day longer.
A lot of teams can't say that.
"Nobody," Stotts said, "wanted to come here and go two-and-out."
Contact reporter Mark Anderson at manderson@reviewjournal.com or 702-387-2914. Follow him on Twitter: @markanderson65.